6 Best Seat Belt Covers to Buy in 2018
Seat belts are designed to retain people in their seats, and so prevent or reduce injuries suffered in a crash. They ensure that as little contact is made between the occupant and vehicle interior as possible and significantly reduce the risk of being thrown from a vehicle.
Do you get neck rub when in a car from the seat belt? If so, you need to buy a seat belt cover. The reason belt covers are needed so much is protection. However, unlike car seat covers and protectors, it is not the belt that needs protection. Seat belts are durable. It is very hard to make them dirty, and even if you somehow manage to stain them, they are very easy to clean. Even if, somehow, it will be impossible to salvage the seat belt, they are some of the cheapest parts of a car seat, regardless of its type. So no, seat belts do not need protection. The neck, on the other hand, does. We have reviewed 6 best seat belt covers for you and your car!
Best Seat Belt Covers to Buy in 2018
6. Bell Automotive 22-1-33240-8 Black Memory Foam Seat Belt Pad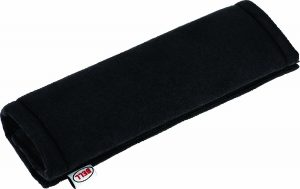 Bell Automotive Products, Inc. is a leader in aftermarket automotive accessories. They offer fashionable and functional accessories. Bell Automotive's memory foam seat belt and shoulder pads are made of supple microfiber material and use a hook and loop closure for universal fit and comfort. With the visual appeal that will match any interior, these memory foam seat belt pads will soon be a comfort you won't be able to live without. This item has a universal fit designed to fit most seat belts. It can be used for your seat belt shoulder strap or a luggage strap. This product is designed for your ultimate comfort. Bell Automotive 22-1-33240-8 Black Memory Foam Seat Belt Pad will definitely meet your expectations.
5. Cutequeen trading 10″ Black Sheepskin Seat Belt Shoulder Pad Cover – Pair


The Cutequeen Sheepskin Seat Belt Shoulder Pad provides comfort and helps relieve chafing. This pad is easy to install, and the attractive design fits almost any interior. This product adds comfort as well as fashion to your seat belt safety. It is made of super soft man-made sheepskin. The length of the pad is 10″ and it can cover more area and match any car interior. Moreover, it can also be used on anything with a strap – luggage, bag, laptop case, etc. It is inexpensive, nice-looking seat belt cover you will be satisfied with. They do what they're supposed to do and look and feel nice at the same time. Buy Cutequeen trading 10″ seat belt cover and you will not regret it.
4. Pair Reversible Seat Belt Soft Comfort Shoulder Pads 9″ – Machine Washable Synthetic Wool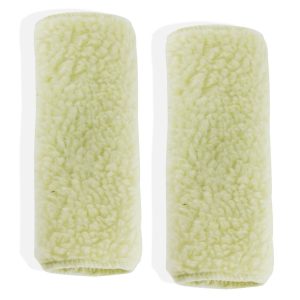 The next one in our review is a Pair Reversible Seat Belt Soft Comfort Shoulder Pads 9″ from Sterling. These pads will eliminate irritating and distracting chafing from car seat belts. This product is made of soft hypoallergenic synthetic sheep's wool with Velcro closure. It is also reversible to last twice as long. This item is sold in sets of two – order extras for passengers and other uses. It is also great for child car seat restraints, laptop bag & luggage shoulder straps. They are very soft and comfortable. Another good feature of these pads is that they are machine washable. These pads will match any car interior so you can buy them without any doubts.
3. eBoot 1 Pair Car Seat Belt Strap Covers Shoulder Pad (Black)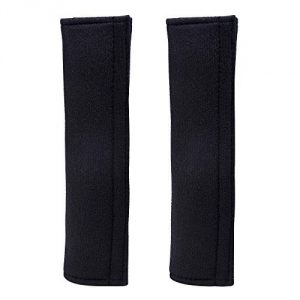 Being comfortable is one of the challenges when you are on the road, but with this eBoot 1 Pair Car Seat Belt Strap Covers Shoulder Pad, the comfort issue will be resolved. Two basic car seatbelt covers by eBoot, both in black and meant for your front car seatbelts. They will keep your seatbelts from annoying you on long journeys and make the ride that more comfortable. The material doesn't scratch or itch and has caused NO allergic reaction. With this item, you will avoid discomfort rubbing and irritation from the seat belt. It fits most straps up to 5.5 cm wide and can be easily disassembly. It is a good product that worth your money.
2. Zento Deals Soft Faux Sheepskin Seat Belt Black Shoulder Pad – Two Packs – A Must Have for All Car Owners for a More Comfortable Driving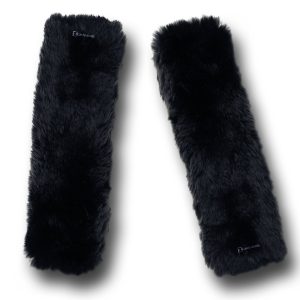 If you drive somewhere with luggage in your car, you can just remove them from the seat belt and use for your luggage strap, and you'll have a more comfortable time carrying your bags around. Zento Deals Soft Faux Sheepskin Seat Belt is a luxury looking and feeling seat belt cushion that would be great in many seasons, while driving. Buy these black sheepskin seat belt cushions and protect your neck while driving about. It has quite a thick comfortable sheepskin surround and on the inside has Velcro which connects the cushion to itself when you wrap it. They are really solid little things, well-made and very comfortable, which is very important to all car owners. This is not just simple and fashion trend but also fully functional and practical.
1. Zento Deals Soft Faux Sheepskin Seat Belt Gray Shoulder Pad – Two Pack – A Must Have for All Car Owners for a More Comfortable Driving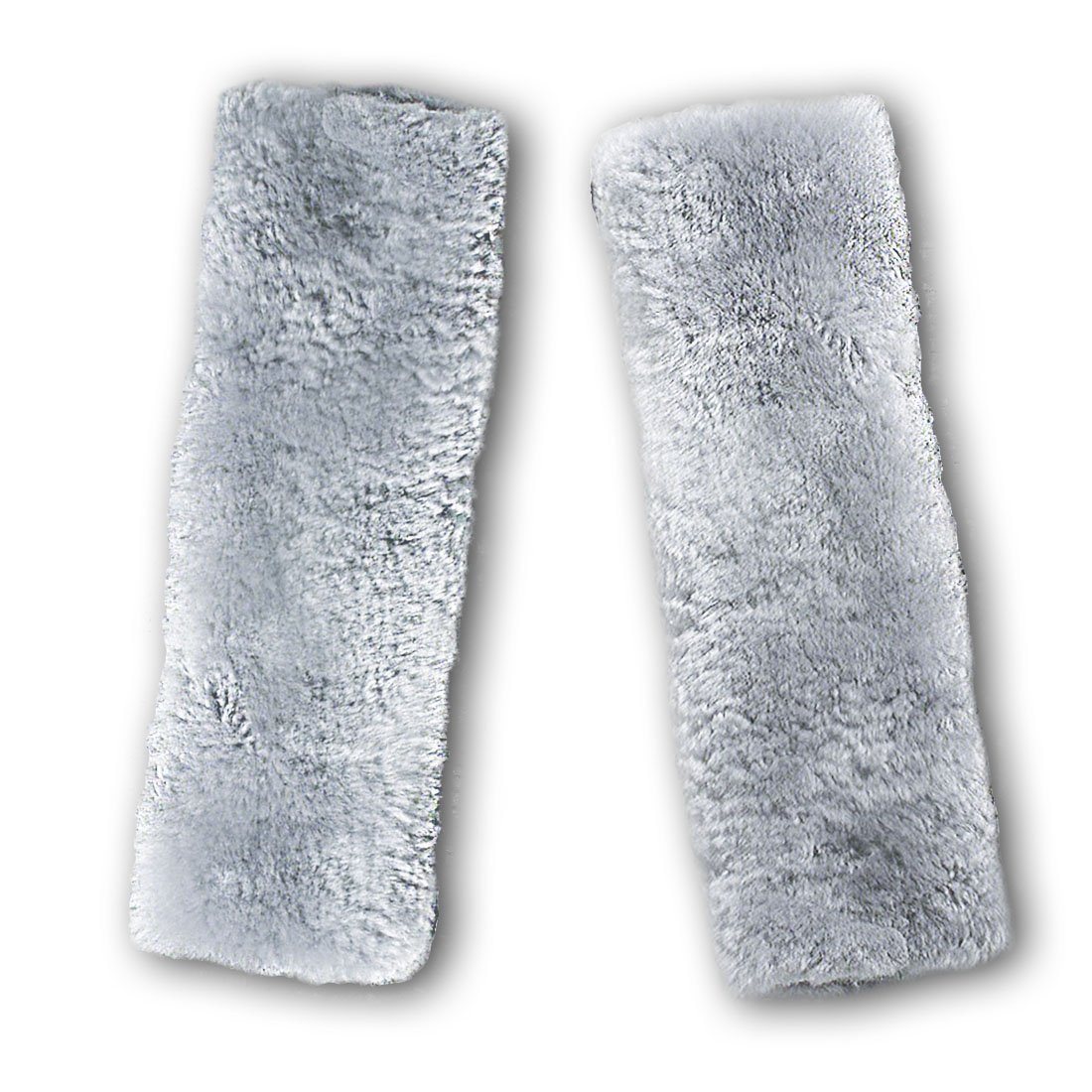 The Soft Faux Sheepskin Seat Belt Gray Shoulder Pad will provide you the most convenient driving experience ever. This is made of high-quality faux sheepskin. Its premium quality, affordable price and trusted brand make it a "must have" for any car owner. This is also the strongest most durable shoulder pad. It will last you superbly year after year. It won't fade, flat or discolor. The pads are very soft, and it has the right amount of padding without being too bulky. This adds comfort and makes your driving more relaxing. The Soft Faux Sheepskin Seat Belt Gray Shoulder Pad is very easy to install; there are no tools required. They have a piece of durable Velcro on the underside that you simply open, fold over the seat belt and then close again. We highly recommend buying this top-quality product.
---
A seat belt, also known as a safety belt, is a vehicle safety device designed to secure the occupant of a vehicle against harmful movement that may result during a collision or a sudden stop. Avoid the irritation of an uncomfortable seat belt with one of the soft and comfortable seat belt covers. Ideally, the seat belt should not rest over the neck. This is extremely dangerous, especially for a little child. As a matter of fact, this is why booster seats exist. However, even if the belt goes over the shoulder as it should, it is still in contact with the neck. That means it can gradually rub it raw. That would be more than a simple inconvenience even for grown-ups. For children, however, that might be plain torture. A belt cover prevents that from happening. Seat belt covers are usually very soft and do not rub against the skin. They are also rather comfortable and can be a good thing for sleeping while in the car seat.
Purchase a seat belt cover now to add more comfort to your seatbelts and for a more convenient trip. They are cheap, and if you do not like the result, you can simply get a new one.