7 Best Blind-Spot Mirrors with Reviews
It only takes a split-second lapse of concentration to change lanes on a motorway and pull straight into the path of another vehicle. You might think it is impossible to miss something as big as a car creeping up from behind, but blind spots catch out even the most careful of drivers.
Blind spot mirrors aim to cover the parts your standard mirrors miss, giving you a far greater view of what's going on behind your car. There is a wide range of options on the market, from large clip-on mirrors to simple stick-on products. Most use convex glass which, when angled in the right place, covers the area your standard mirrors don't pick up. Take time to make sure the mirror is positioned correctly when fitting the first time – especially if it's a stick-on product, as they tend to lose their tackiness if you reapply them. Here we have collected top 7 best blind-spot mirrors to help you with your choice.
Best Blind-Spot Mirrors to Buy in 2018
7. Total View 360 Adjustable Blind Spot Mirror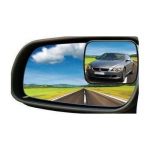 We start our review of the best blind-spot mirrors with Total View 360. Total View are the amazing adjustable blind spot mirrors that help increase your field of vision so you can change lanes safely. With ordinary factory mirrors you cannot see so much, but add Total View and blind spots are virtually eliminated. You can fit Total View on any make or model of side mirror in mere seconds. The ingenious concave design greatly increases your field of vision so you can see it all. Besides, it can be rotated and adjusted to your liking for optimal visibility. With Total View it is like having an extra set of eyes. It makes changing lanes safer than ever and comes in handy when maneuvering boats and trailers. It also makes parallel parking into tight spaces much easier. These are two great mirrors at reasonable price.
Technical Details:
Part Number:   TV
Item Weight:   4.8 ounces
Product Dimensions:   8.6 x 1.4 x 6.7 inches
6. Ampper HD Glass Convex Wide Angle Rear View Car SUV Universal Fit Stick On Lens

The next one in our review is Ampper HD Glass. Buying this product you get 2.52? x 1.81? curved male face frameless ultrathin slim mirror to maximize your view with a wide angle in car. All convex spot mirrors are equipped with tiny adjustable swivel mounting bracket for easy installation. Flexible convex shape of blind spot mirror helps you to forecast the surroundings when passing or changing lanes. These mirrors are suitable for interior or exterior use and will fit for any vehicle. They are also 100% weatherproof. This product is backed by hassle-free 2 years warranty. Note that this item does not fit for motorcycle. You need this must-have blind spots mirror to keep your driving safe. They work perfectly and look nice as well.
Technical Details:
Brand:   Ampper
Model:    Am-BSM02
Item Weight:   0.32 ounces
Product Dimensions:    2.4 x 1.7 x 0 inches
5. Cardeco Moving Slim Circle Blind Spot Mirror SL Lens 50.8mm 2-pc Set For All Universal Vehicles Car Fit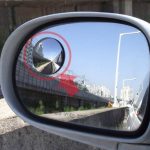 A number of the customer reviews tell that the Cardeco Moving Slim Circle Blind Spot Mirror SL Lens 50.8mm 2-pc Set For All Universal Vehicles Car Fit are a splendid item to purchase. Also, it really is a fairly good product for its price. The mirrors themselves are excellent. Even though they are plastic, they look like any other quality mirror. They are super sticky being a 3M tape. This item is sure to improve the look of your exterior. You will be pleasantly surprised with the ease of installation. These mirrors are made in Korea. Cardeco Moving Slim Circle Blind Spot Mirror SL Lens 50.8mm 2-pc Set For All Universal Vehicles Car Fit is a supreme product and we are glad to recommend it! We guarantee you will like the excellent panoramic view you get with these mirrors.
Technical Details:
Brand:   CARDECO
Item Weight:   0.32 ounces
Package Dimensions:   6.5 x 4.2 x 0.5 inches
4. Best Blind Spot Mirror – 4 Pack Blind Spot Mirror For SUV & Blind Spot Mirrors For Cars – Essential Accessory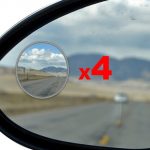 Every time you get behind the wheel, blind spots cause serious hazards that must be dealt with. These incidents pose a threat to drivers, passengers and other motorists on the road and in many incidences cause serious or fatal injuries to bicyclists, motorcyclists and pedestrians. With Essential Contraptions Blind Spot Mirrors you will be able to prevent crashes occurring due to blind spots. These blind spot mirrors provide a simple, safe solution. There are 4 mirrors in a package rather than 2 like it usually is. These aluminum frame car mirror blind spot mirrors are a must have for every vehicle. They will not crack or rust and are 100% weatherproof! These are a great set of blind spot mirrors at affordable price. This item is very helpful for both seeing other cars in your blind spots and for parking.
Technical Details:
Brand:   Essential Contraptions
Item Weight:   1.6 ounces
Package Dimensions:   8 x 5 x 0.3 inches
3. Custom Accessories 71121 2″ Blind Spot Mirror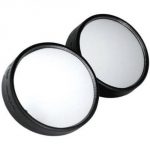 Custom Accessories, the leader in Automotive Aftermarket Accessories, is a "One-Stop-Shop" for all your automotive needs. This twin pack of mirrors is perfect for use on cars, RVs, and vans. The mirrors help to provide a wide angle view. The mirrors are easy to install with the use of pressure-sensitive tape. They are also adjustable by 360 degrees, allowing for maximum flexibility. Not only is this very helpful but it is efficient, inexpensive and fulfilling,as they get the job done well. This is a great addition to your vehicle that will enhance your driving experience. Mirrors effectively increase viewing angle for ultimate safety. This is one of the best accessories you can buy for your vehicle!
Technical Details:
Part Number:   71121
Item Weight:   0.8 ounces
Product Dimensions:   2 x 2 x 1 inches
2. Ampper Blind Spot Mirror, 2″ Round HD Glass Convex Rear View Mirror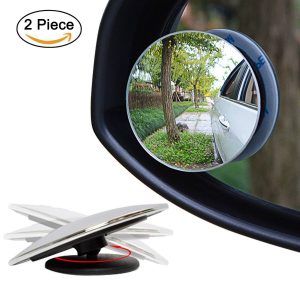 As drivers, we're all aware of the dreaded blind spot, and we do our best to try and check it before we change lanes or make turns. These Ampper Blind Spot Mirrors newest upgrade 360° rotate + 30° sway adjustable will maximize your view with wide angle in car. You'll be able to see your normal view that your mirrors currently provide, and you'll also be able to see the exact spot that is currently considered your blind spot. So in one glance you'll be able to quickly discover what's really there. These mirrors have curved male face frameless ultrathin slim design. Moreover, they are 100% waterproof, rust resistant and the glass will not haze. The mirrors indeed look and feel like glass. They are virtually rimless for a clean look. These are really nice quality mirrors we recommend to purchase.
Technical Details:
Brand:   Ampper
Model:    Am-BSM01
Item Weight:   0.32 ounces
Product Dimensions:   5 x 0.7 x 3 inches
Size:   Pack of 2
Color:    Round Shape
1. Fit System C0400 Driver/Passenger Side Stick-On Adjustable Blind Spot Mirrors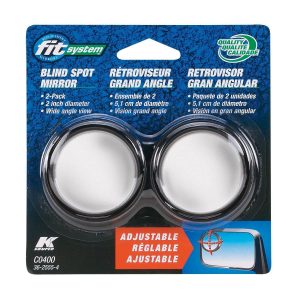 K Source is a unique manufacturer that specializes in making only automotive and motorcycle mirrors. Their experience in this category for over 60 years is exactly what customers have come to trust and rely upon, as their manufacturing and marketing expertise has consistently led the market. Today they are also presented  in the aftermarket with established brand names like K Source, Fit System, Vision System, Ken Sean, and KS Heavy Duty. They have a diverse product line, including automobile, truck and towing mirrors, and replacement glass assemblies. Fit System Blind Spot mirror significantly reduces blind spots. As with all convex mirrors, objects in the mirror will be closer than they appear. Optimal placement is on the bottom outside corner of the driver or passenger side mirror but it can be placed in any position for blind spot reduction. It is highly recommended to test positions before mounting with adhesive. K Source is the automotive mirror specialist that you can depend on. We recommend buying these low priced top-quality blind spot mirrors.
Technical Details:
Part Number:   C0400
Item Weight:   1.44 ounces
Product Dimensions:   5.8 x 0.8 x 5.2 inches
---
A blind spot in a vehicle is an area around the vehicle that cannot be directly observed by the driver while driving. Hence, you need to use a pair of blind spot mirrors. With the proper adjustment of blind spot mirrors, they can eliminate or alleviate vehicle blind spots. Blind spot mirrors come in many shapes and sizes depending on the driver's comfort level and interest. Driver's visibility is the maximum distance at which the driver of a vehicle can see and identify prominent objects around the vehicle.
Blind spot mirrors are actually very simple. They're generally curved mirrors that attach to your vehicle's stock side view mirrors. The curved surface allows the mirror to reflect objects from a wider range of angles than is possible with conventional side view mirrors. To use a blind spot mirror correctly, it should be installed so that it provides a view of the blind spots to your right and left when sitting in the driver's seat. Make sure your side view mirror itself is positioned correctly (you shouldn't be able to see the side of your car), and then adjust the blind spot mirror so that you can see what the other mirror misses.