5 Best RV Toilets in 2018
"Spend your money on traveling" – this is one of the most popular slogans or the last 10 years. There is an entire culture of recreational vehicles (RV) in North America and Europe. A great number of families spent their vacations traveling around the country using recreational vehicles. And it is obvious that such a thing should have all the necessary domestic equipment that is required during the trip: kitchen, beds, shower and, of course, a water closet. You will probably agree that some people can live without food, but not without a toilet
Nowadays there is a great variety of RV toilets so all you have to do is to choose the one you like the most. If you want to get ultra-comfortable RV toilet, you need to choose carefully before the purchase. So here are best 5 RV toilets in 2017 you can get on the Internet.
5 Best RV Toilets to Buy in 2018
5. Thetford Porta Potti Curve Portable Toilet for RV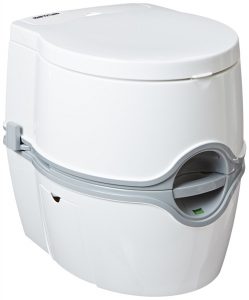 The description says it`s an "award-winning toilet". I bet you want to know how it feels when you sit on the award-winning toilet. It is made of 2 parts – the first it so-called "sitting part" with a hood, buttons and pedal and the second part which has 4 gallons fresh water tank capacity and 5.5 gallons waste water capacity. It's incredible how such a quantity of water can fit into such a small toilet. With a Porta Potti, you can be prepared for any situation: it`s durable, odorless and leak proof. It is an ideal choice to keep the comfort of life during camping, RVing, boating or tailgating.
Anyway, this RV toilet is really modern and has a home-like look. And all you need to start using is to put in six supplied AA batteries, and a specified amount of deodorizer in the bottom tank. And also it has a built-in toilet paper holder – isn`t it just a dream?
Technical Details:
Brand:  Thetford
Model:   92360
Item Weight:   10 pounds
Product Dimensions:   18 x 18 x 16 inches
Item model number:   92360
Manufacturer Part Number:   92360
Folding:   No
4. Thetford Aqua-Magic V RV Toilet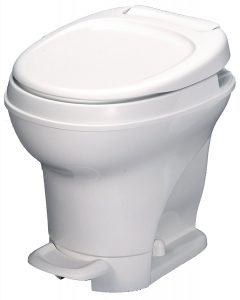 Another white hero of traveling. It looks like a real home toilet, so for the first time only a few people will see the difference between a house and this RV toilet. One of the main features of Aqua-Magic is a single pedal. As the instructions say, you should press it halfway to add water to the bowl and all the way to flush – and offers 100% bowl coverage flush. Aqua-Magic is fully made of plastic so it`s very light and you can easily carry it anywhere you want.
A great thing about this RV toilet, unlike the others, that like a regular toilet there is no discomfort in sitting stance for a tall person. Therefore, if you are tall, you do not need to put your feet under the toilet. And the last thing – you won't find a better offer on these perfect items so don`t miss a chance to buy a piece of comfort for such a low price.
Product information:
Style:   High
Color:   White
Technical Details:
Brand:  Thetford
Item Weight:   9.5 pounds
Product Dimensions:   17 x 15 x 18.5 inches
Item model number:   31671
Exterior:   Smooth
Manufacturer Part Number:   31671
Folding:   No
3. Camco Standard Portable Travel Toilet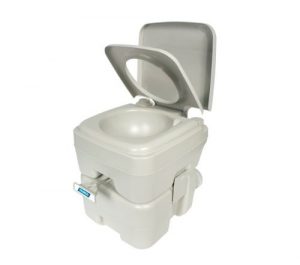 We can definitely say that this is the most typical RV toilet that you could ever imagine. And this is the fact that makes this item one of the greatest representatives of its market. Camco has created a perfect small RV toilet that has the best characteristics for its price. With a 5.3-gallon holding tank (which is detachable) and 2.5-gallon flush tank, this is probably the best choice for a traveler.
The flushing mechanism works perfectly almost imitating a household toilet. The toilet measures 15.5″H x 14″W x 16″D. It weighs 10.8 lbs empty and approximately 32 pounds when full. A packet of Camco's TST biodegradable toilet chemical is included. We guarantee you will be pleasantly surprised about this purchase. It is very convenient and worth the price. So do not hesitate and get this perfect RV toilet.
Product information:
Size:   5.3 Gallon
Style:   Standard
Technical Details:
Brand:  Camco
Model:   41541
Item Weight:   10.8 pounds
Product Dimensions:   14 x 16 x 15.5 inches
Item model number:   41541
Manufacturer Part Number:   41541
OEM Part Number:   41541
Folding:   No
2. Zimmer Comfort Portable Toilet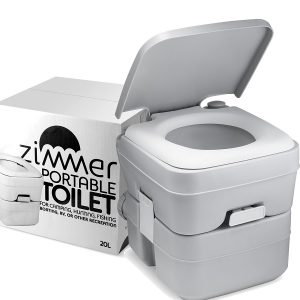 The category of luxury RV toilets is represented by a squared Zimmer RV toilet. The Zimmer portable toilet is a must for modern camping; no power or water source required. It`s positioned as a personal toilet for adults and kids. It has 2 gallons: one is for freshwater (3 gallons) and another is for wastewater (5 gallons). The incredible thing about it is that toilet construction allows you to do up to 50 – 70 flushes before the refilling the freshwater tank. Some tourists say that if you have a big tent you can put Zimmer inside (it is out of smell) and do not go outside without real necessity.
It is made of easy-cleaned polyethylene so you don`t have to worry about the smell or something like that. Furthermore, it is really weightless so you can easily carry it in one hand. It's never been easier to have your own portable loo and a thrilling outdoor experience too!
Technical Details:
Brand:   ZIMMER
Model:   FBA_ZI-CT101
Item Weight:   5.56 pounds
Package Dimensions:   16.5 x 16 x 14.5 inches
Item model number:   ZI-CT101
Manufacturer Part Number:   FBA_ZI-CT101
Folding:   No
1. Dometic 310 Series RV Toilet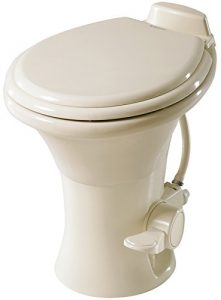 Are you absolutely a home person who cannot stand dirt and discomfort? Are you tired of your home and want new experiences but have a mental connection with your toilet and cannot leave it? Dometic 310 Series Standard Height Toilet is the solution to your problem. It is completely made of plastic, weighs only 8 pounds, comes with a rubber flange and uses a standard toilet flex hose for the water supply.
The official characteristics say it has comfortable 18″ ergonomic seat height and power flush, swirl-jet bowl rinse action ensures a cleaner rinse. It is easy to install and takes only a few minutes to do it. Consumers say it is just like the one at home, no splashing and by adding the Blue Streak dispenser with additive no more smelling waste take odors. So, if you're looking for the best RV toilet in 2017 consider buying Dometic 310.  We guarantee you will be totally satisfied with your purchase.
Product information:
Size:   Standard Height
Color:   Bone
Technical Details:
Brand:   Dometic
Model:   302310073
Item Weight:   23.5 pounds
Product Dimensions:   19 x 15 x 20 inches
Item model number:   302310073
Manufacturer Part Number:   302310073
Folding:   No
---
There is a great variety of RV toilets. You can choose whatever you like: white or dark, small or tall, square or round, etc. The only thing you should notice before the purchase is the size of the toilet to fit your RV. Besides this fact, you should also understand how it works. For the first time it seems to be all clear but after some time in the moment when you will need to clean it up or change water some problems may appear.
All the RV toilets in our list have the only destination – to make your life and vacation more comfortable. If you are tired of urban life just rent an RV, pick up your friends or family and go for a ride. And of course, don`t forget about the RV toilet. We have gathered the best RV toilets in 2017 for sale on the market. Hope this article will make buying process a quite easy and convenient.