5 Best Parking Aids to Buy for your Garage
Every person should pass a driving test at some point in his adult life. And we're sure that those who have already passed will tell that the worst part of this test was parking (especially a parallel, it's like a nightmare). Moreover, many people who successfully passed their exams still have big problems with parking the car – on the street, underground parking and, of course, in the garage
How much money was spent because of the accident with the garage walls – no one knows. But definitely, it has to be tons of dollars. And if we take into account the fact that every car owner loves his/her vehicle more than the life we supposed to say that many of them are interested in avoiding such situations.  Luckily, there are some ways to avoid a car accident while parking in the garage. And in our list we will describe some of the most popular and safe devices that will help you prevent troubles while parking in the garage.
Best Parking Aids to Buy in 2018
5. Striker Adjustable Garage Parking Sensor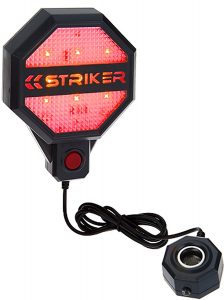 This very simple and effective device also called "parking aid," really helps you safely manage the parking process. The sensor works in the same way as a traffic light – it has green, yellow and red signals. If it flashes green, everything is okay, and you still have enough distance to move forward. When the sensor turns to yellow, you should start to slow down (well, you're already moving, like 3-4 miles per hour, because you're parking, so slowing means almost a full stop).  And, finally, when you see a red light, you need to stop to avoid an accident.
Garage Parking Sensor is a very convenient device because you do not need to perform any additional steps to install it. All you have to do is just stick it on a wall of some surface and plug into an outlet – and done! It will show you where to park at a distance of 6 inches to 6 feet. Don't miss a chance to ease your life with this superb device.
Product information:
Technical Details:
Part Number:   00246
Item Weight:   5.6 ounces
Product Dimensions:   5.8 x 3.5 x 1.2 inches
Item model number:   00-246
Batteries:   4 AA batteries required.
Color:   Dark Gray
Style:   Pack of 1
Power Source:   Battery-Powered
Item Package Quantity:   1
Number Of Pieces:   1
Batteries Included?:   No
Batteries Required?:   Yes
Warranty Description:   30 day warranty against manufacturer defects
4. MAXSA Park Right Black Parking Mat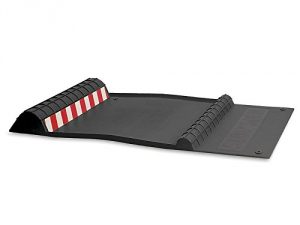 Another great thing to keep your garage intact is a parking mat. "Every ingenious thing is simple" – this movie quote seems to be characteristic for the quintessence of cars. Getting back to the parking mat we should say it is a black surface with large and small plastic crossbars on it. So, you have to put this mat on the floor in your garage in the place where your car wheel should be. And then, when you will be parking, you will feel these crossbars under your wheel. That is the moment when you need to stop.
The parking mat is made in such a way that the space between the crossbars is the same as the size of the wheel surface. As we have already mentioned, the second crossbar is bigger than the first one so to run over it you have to push your gas (which is difficult to do during breaking). The antiskid tape prevents the mat from moving so you can be sure it probably will not change the location without you willing.
Product information:
Technical Details:
Brand:   Maxsa
Model:   37358
Item Weight:   1.5 pounds
Product Dimensions:   11.5 x 21.3 x 0.7 inches
Item model number:   37358
Manufacturer Part Number:   37358
Folding:   No
3. Camco AccuPark Vehicle Parking Aid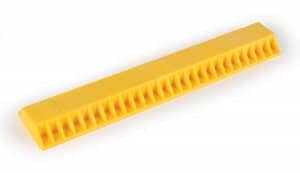 If you thought that there are no simpler parking devices than the previous ones, you are wrong. We can describe an Accupark as a resin 3D stop line. It's very easy to install exactly where you need it. The principle of operation is the same as in parking mat – you have to put this parking line on a garage floor in a place you need. After that while parking, you will fill this line by your wheels and stop.
The only thing that you should park very slowly because there is a chance that you will not feel AccuPark if you are moving fast (because it is very small). And this point also related to a parking mat. Also, you have to check is it the same distance when you are parking in a front and in the back because in a case if these distances are different you have all chances to hear unpleasant sounds of broken headlights.
Product information:
Technical Details:
Brand:   Camco
Model:   44442
Item Weight:   1.3 pounds
Product Dimensions:   19 x 4 x 2 inches
Item model number:   44442
Exterior:   Smooth
Manufacturer Part Number:   44442
2. MAXSA Park Right Garage Laser Park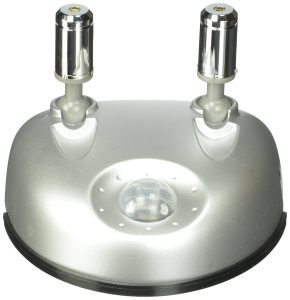 This is a really technical one. Laser Park device from MAXSA has a more difficult working principle than garage parking sensor. Firstly, you have to put a device in the middle of the garage ceiling and connect it to the wire (and yes, you have to keep the wire in the garage for it). After that, you have to tune lasers and put them in a right position. And the next step is parking itself. While you are parking a laser will slowly go through the hood up to the front panel inside the interior. When it reaches the middle of the panel, you have to stop.
There are some problems with this device. The first one is laser has a really small point so on sunny days you simply may not see it at once. The second circumstance says there is a probability that the position of a laser may be accidentally changed because of the children, birds, car`s roof and others. Also, garage laser park has 2 lasers, so it is better to install it in a tall double-car garage. And if you have a small one-car garage this device may be useless.
Product information:
Size:   Dual Laser
Color:   Silver
Technical Details:
Brand:   Maxsa
Model:   37312
Item Weight:   11.2 ounces
Product Dimensions:   8.8 x 3 x 8.4 inches
California residents:    65 warning
Item model number:   37312
Manufacturer Part Number:    37312
Folding:   No
Cover Included:   Park Right(r) Garage Dual-laser Park
Special Features:   laser
1. Park Zone PZ-1600 Precision Parking Aid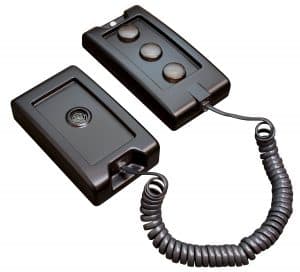 This park zone gadget works like a traffic light and shows you green, yellow and red lights when you have to stop. It is very simple to install and consists of 3 parts: light mode, sensor, and phone cord. First, you have to install a light mode on a level which is comfortable to you while you are sitting in a car. Then you have to put a sensor on a wall in front of the bumper – it will be checking a distance from the car to the wall. And the last step is to connect these 2 parts with a phone cord (it`s very convenient because if your cord is damaged you just have to buy a new phone cord but not some expensive and complicated cable). And the last thing you need is to put 4 AA batteries into the sensor and test the device!
Product information:
Technical Details:
Brand:   Measurement Limited
Item Weight:   9.6 ounces
Product Dimensions:   10.4 x 7.5 x 1.2 inches
Item model number:   PZ-1600
Manufacturer Part Number:   PZ1600
Folding:   No
---
There are a lot of reasons to buy at least one of the above things. But the only true reason for every car owner is the safety of the car, the garage, and the house from unpredictable damages. There is no big money required – all the items are under the $30. That`s why people all over the world buy such stuff and use one item for 3, 4 and even 7 years (you can watch a video on YouTube).
The only problem is to choose the right one which will be compatible with your vehicle. Probably you shouldn`t buy a laser park or parking mat if you have a big pickup because you may just not see or feel it. And in the opposite, you have to buy a light sensor if you have a long-front car. There are numerous great parking aids for garage available for sale on the market. And now is the best moment to get a parking aid and secure yourself and your precious car from damages. Do not wait, we guarantee you will be pleased with your purchase.