6 Best Car Organizers in 2018
Car organizers come in many shapes to fit your needs, from a simple sun visor organizer or side console organizer to versatile behind-the-seat systems and passenger seat storage systems. These devices are designed to help keep your vehicle clean, organized and making driving comfortable. Keeping your car organized can seem like a full-time job, regardless of your occupation. From keeping children's toys and entertainment needs to having a place to store your laptop between meetings to keeping food fresh for a day trip to the mountains – these are all reasons to find the perfect storage system for your vehicle.
These organizers attach to your front seats and provide tons of pockets and storage options for all of your child's things. For help picking the perfect car organizer to fit your needs, check out the following 6 best car organizers. These products will ensure your vehicle stays neat, tidy, and is a safe and comfortable driving environment.
Best Car Organizers to Buy in 2018
6. Autoark AK-002 Standard Car Seat Back Organizer, Multi-Pocket Travel Storage Bag (Heat-Preservation)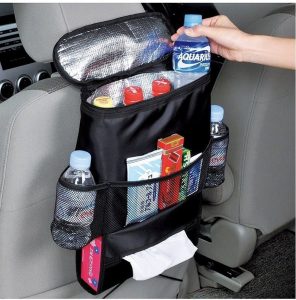 Organize your car and keep your backseat passengers happy with this convenient seatback storage bag. Made of durable polyester, this organizer bag comes with enough pockets and compartments to help you stash and stow everything your passengers need to make it through any road trip in comfort. The zippered main compartment is insulated to help keep hot things hot and cold things cold, and the mesh front pocket allows you to store snacks, playing cards, pens, maps, and anything else your passengers want to keep within easy reach. Use the 2 mesh bottle pockets to keep water or soda close at hand, and slip a tissue box into the tissue dispenser at the bottom of the bag to keep clean tissues within easy reach. Simply attach this backseat organizer to the headrest supports on the driver's or passenger's side car seat using the adjustable buckled strap to bring both convenience and organization to your car. This product is backed by one year warranty.
5. EPAuto Premium Car Backseat Organizer for Baby Travel Accessories, Kids Toy Storage, Back Seat Protector / Kick Mat


If you are looking for a car seat organizer, you might want to consider this kids toy storage offered by EPAuto. Buyers like that the handiness of the product as well as the quality of the material. This product can be used as a baby backseat organizer for diapers, wipes, bottles, toys, tablets, books and it also acts as a kick mat and protector to the seat back. It is durable and easy to clean, with a universal design that can attach to the seat and headrest of most vehicles. If you are looking for a car seat organizer for baby travel accessories, this might be a solid option. In general, users have a favorable opinion of this EPAuto car seat organizer, saying that it is convenient and handy. They state that the product has a lot of compartments for holding various things and it doesn't cover a lot of space on the backseat.
4. BackSeat/Trunk Organizer By Lebogner – 5 Pocket Auto Interior, Perfect Car Organizer, Trunk Organizer, Backseat Organizer, Multipurpose Cargo Accessories Organizer, Back Seat Storage Organizer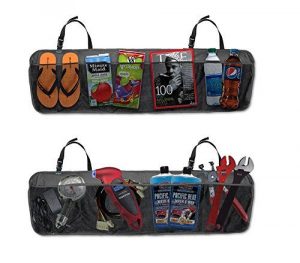 Keep your all your travel necessities in your car neat and organized by storing everything you need in this premium quality backseat/trunk organizer. Magnificently designed to suit the needs of every driver, the LEBOGNER Backseat/Trunk Organizer offers more space for carrying more items for you. Customized design fits the back seat or in the trunk of most vehicles. This item is measuring 41.5" x 12" (106cm x 31cm). The organizer is constructed out of heavy duty material and perfect for cars, vans, SUV and trucks. It is long lasting, strong, durable, good looking and will have a snug fit. It has 5 spacious pockets, a roomy center mesh pocket measuring 23" to keep bulky products, 2 side mesh pockets measuring 9" to keep larger items, and 2 gusseted pockets in the center to keep smaller items. This product comes with 100% no-hassle Lifetime Guarantee. Purchase this excellent product at reasonable price.
3. Mom's Besty Luxury Car Back Seat Organizer with Tablet Holder – Touch Screen Pocket for Android & iOS Tablets up to 10.1″ – Multipurpose Use as Auto Seat Back Protector, Kick Mat, Car Organizer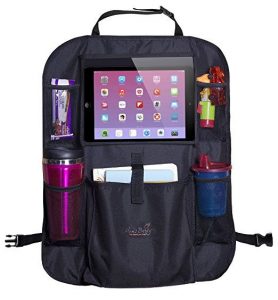 Mom's Besty backseat organizer combines the functionality of the traditional car organizer with the modern day family life style. This product features a tablet pocket with a clear touch-screen viewer window, which can fit Android and iOS Tablets up to 10.1". It will keep kids and back seat passengers entertained, hands-off and hands-free. It also features 4 additional mesh pockets with elastic tops and a polyester pocket for bulkier items with a Velcro strap to hold things in place. Universal design of this item fits most vehicles. Buying this product you will also get a free bonus gift – a cleaning cloth for gentle, no-scratch removal of dust and finger prints from your Tablet Pocket screen. In general, buyers say that this is a good backseat protector with nice storage space options. They add that it is easy to install and that material seems very sturdy and durable. This car seat organizer offered by Mom's Besty is a good option for those who need a luxury and multifunctional back car seat organizer.
2. Backseat Car Organizer by Hello Little Monsters – Kids Toy Car Storage – Travel Accessories for Baby – Child Car Seat Protector – Perfect for Baby Shower Gift – Must Have Interior Car Accessories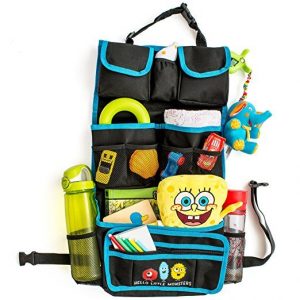 The Hello Little Monster Backseat Car Organizer was designed to help parents keep their cars cleaner and clutter-free. It is the perfect organizer to keep your car clean and stock with some of the things you may need when you are on the go. It has several pockets for holding everything you may need for a car ride. It holds an extra diapers, a change of clothes, a bottle of water, a package of baby wipes, a book, and a couple of his favorite toys. The organizer has 15 pockets of different sizes and two extra on the side to fit bottles or drinks, and other important things. The things you choose to store are endless. The organizer is designed to fit most vehicles. It is very easy to install. Secure the back seat car organizer on the back of your car seat with top and bottom adjustable straps. Backseat car organizer is made from eco-friendly materials, with double stitching in places that wear out easily. It also comes with a lifetime warranty.
1. Kick Mat Auto Seat Back Protectors + 4 Large Organizer Pockets By Lebogner – Seat Covers For The Back Of Your Seat 2 Pack, X-Large Car Back Seat Protectors, Backseat Organizer, Kick Guard Seat Saver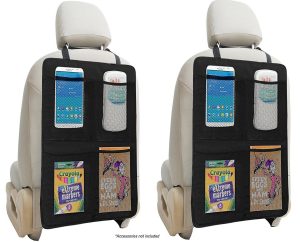 LEBOGNER Kick Mats are designed to keep the back of your vehicle's seats clean, even when your child touches them with muddy shoes. The 4 large organizer pockets on the front for handy storage of food or play toys will make your kids happy and you will have a neat car. It ensures that the things that are important are in reach of your children at all times, and that the mess rolling around the floor is limited. It comes in value pack of 2 so both driver and passenger seats can be protected. The Kick Mats are water resistant, machine washable, or easy wipes clean that will give your Kick Mats a super long life and always look good. With large maximum full coverage designed Kick Mats measuring 19″ wide x 27″ long (48cm x 68.5cm) it will cover and protect your whole seat with a snug fit, and will work with most vehicles seats. This product is backed by 100% Lifetime Money Back Guarantee. This is definitely one of the best car organizers on the market, and we highly recommend buying it.
---
Car backseat organizers either buckle or Velcro around a headrest, providing backseat passengers convenient access to reading materials, tablets, bottled water, and other miscellaneous travel accessories. Plus they protect your backseats from kicking and scuffing. They feature a variety of compartments and pockets, helping to store a variety of differently-sized items. They're frequently purchased to help entertain children in the backseat, allowing kids to 'self-service' during long car rides- accessing their toys, sippy cups, and other resources. Parents with more than one young child often purchase a pair of these car seat organizers to reduce 'sharing' issues between brothers and sisters. Each sibling gets their own organizer with their own toys – helping decrease stressful fights during long drives
The best car backseat organizers will significantly transform the general look of your vehicle. By putting everything in order, including the scattered notebooks, pens, and magazines, your car will appear clean. The current bags have been designed to hold electronic gadgets such as tablets to keep your kids in the backseat always entertained. If you have been looking for a means to change the way your car looks, then having the back seat organizer will be an added advantage to your automobile.