Anyone who uses tools is eventually faced with the need for a tool box. While a cardboard box might work for a few miscellaneous hand tools and a cordless drill, once you get past that point you need something a little more rugged. Tools are heavy and take a toll on any cardboard box it's really hard to organize them in something like that as well. To meet this need for organization, manufacturers produce tool boxes in all shapes and sizes. They range from multi-pocket soft pouches hung over a five-gallon bucket to huge multi-drawer, roll-around, tool chests big enough to need their own engine and steering wheel. What type of box you'll need depends on a lot of how many tools you have and how you're going to be using them.
Looking for the best tool box to meet your needs? The search is over. Here are top 5 best tool boxes on the market now. Each with its own unique benefits, meaning there's something for everyone.
Best Tool Box to Buy in 2018
5. Stanley STST18613 3-in-1 Rolling WorkShop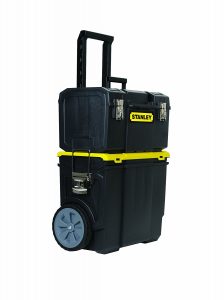 We start our review with excellent Stanley STST18613 3-in-1 Rolling WorkShop. A solution for all your tool storage needs, it includes a detachable tool box unit, portable organizer and a large bottom bin. Equipped with large 7″ wheels for onsite use, it has heavy duty latches to secure your tools and supplies that can be clicked shut with or without an organizer. It has 18″ tool box for spacious tool storage and a removable tray which allows enough space for larger tools to be stored underneath. There is also a portable organizer for small parts with multiple compartments which can be carried outside of the main unit. The large bottom bin is for larger hand tools and power tools. Moreover, this product has a telescopic handle that is very convenient. Stanley gives you a convenient and portable way to store your tools with this 3-in-1 Rolling WorkShop. The product is manufactured in the United States.
4. Plano Molding 1363 Stow N Go Toolbox, Graphite Gray and Sandstone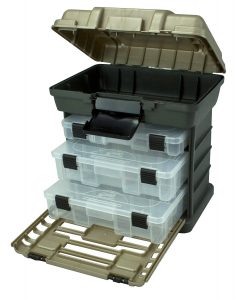 Plano Molding is an American company dedicated to making things to improve the homes and hobbies of its customers. Plano's 1363 Stow 'N' Go Rack System includes three 3600 series (11 in.) adjustable Stowaway organizers, with an additional bulk storage compartment under the lid for hand tools. The clear molded organizers allow you to easily find the parts you're looking for, while Potlatches keep contents secure. This rack organizer has a convenient carry handle for easy transportation, and a molded padlock tab allows for extra security. The dimensions of this item are 13.375 inches by 14 inches by 10 inches. This compact organizer is great for storing hand tools and small parts for all your household projects. For this affordable price, the Plano Molding Stow-n-Go Organizer is highly recommended and is a popular choice for many people. This is a great case for all of your crafting needs.
3. Stanley 016011R Series 2000 16-Inch Tool Box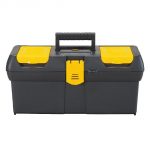 For over a century, STANLEY has built a legacy by producing some of the most well-known hand tools and storage products in the world. The Stanley 016011R Series toolbox is ideal for work projects that need small parts and big tools. The main lid has two smaller lids for you to access and organize your small parts without having to open the big toolbox lid. To secure your contents, the toolbox has been made with a lock eye that is built-in for small locks. The toolbox is 16-inch, with a handle that is soft, wide and rubber coated for easy portability and nickel-plated latches. It also comes with nickel metal-plated latches. This product has numerous positive feedbacks from clients. We guarantee you will be pleasantly surprised with the cheap price this handy toolbox costs.
2. Stanley STST19410 One-Latch Toolbox, 19-Inch, Black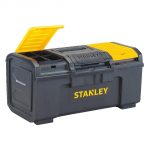 The Stanley STST19410 has 19-inch capacity storage with a range of valuable features. To begin with, there are two small compartments at the top of the box that can be accessed without needing to open the tool box. These are secured with high-quality latches for easy access yet secure storage of smaller items. This is a perfect place to safely and securely store nails, screws, connecters, and other small items. Inside the box is a removable tray that enables you to store more items inside. Beneath the tray, you can store larger items like hammers, ratchets, or screwdrivers. The handle is high quality and is very secure on the top of the box enabling you to lift a full tool box with ease. It comes with grooved grips for more comfortable handling. The latch is also self-closing which is very convenient. The 19″ latch tool box has an innovative design and a robust structure. This STST19410 Stanley Tool Box is suitable for the job site or home use.
1. DEWALT DWST17806 TSTAK VI Deep Box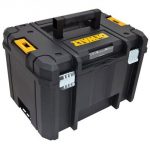 The DEWALT DWST17806 TSTAK VI deep box with flat top offers new innovation in DEWALT storage options. This flexible platform allows different combinations; all units can stack on top of each other, and able to connect with durable side latches for easy carrying and safe stacking. This unit can be used for storage of corded and cordless tools and features a removable tray for access to essential tools. Heavy duty metal latches and hinges are built for durability. The Long Handle TSTAK box features an extended length handle, heavy duty hinges, removable cups, and 3.7gal. capacity. The best part is all TSTAK tool boxes can be connected together. Stack and connect up to 3 tool boxes together for the ultimate portable tool storage solution. Ultra durable and ultra-portable, the TSTAK Deep Box is the professional alternative to the standard "tool box." We highly recommend buying this excellent product. It is certainly one of the best tool boxes available on the market.
---

Finding the best tool box is essential if you want to stay organized. Even if you don't have a huge tool collection, or use your equipment very often, it's a good idea to invest in one of these. There's no telling when you might have to make a quick fix or hasty repair. It never hurts to be prepared and have all your gear in an easy to reach location. Any homeowner with a tool set of any size can benefit from a tool box. Whether you only have a few essential items, like screwdrivers and wrenches, or are packed to the gills with all kinds of equipment and accessories, you should keep things organized. There are also a mobile rolling tool boxes which can be moved around your shop or garage while still remaining sufficiently sturdy for holding all your tools.
Storing your tools for easy access is a must. Disorganized clutter takes up too much space and makes it easy to lose essential tools and accessories. You don't want to dig through a pile of wrenches only to find that the one you need has gone missing. It's frustrating and can really delay a project's completion. Save yourself the headache of losing tools and start getting organized today.