Buying a Customised Number Plate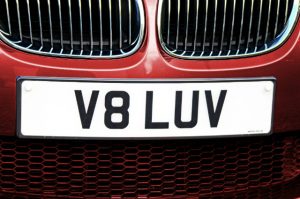 There is a personal number plate out there for everyone. Buying a personal number plate is not always a straightforward process. For example, you cannot put a personal number plate on a car if it makes it seem younger than it is – for instance, you cannot put a 'Y' number plate on a V-registered car. You are not allowed to alter the size or spacing of characters on the plate, or use fixing screws to change the appearance of the number plate. Doing so can result in a large fine and your losing the right to use the plate.
Different companies often advertise the same number plates for sale, and for different prices. Check that the company you use is a member of the Cherished Numbers Dealers Association (CNDA), their code of conduct is very strict and will protect you during the buying process. Better sellers join this association despite the fact that the industry is unregulated.
Once you have found a plate that you like, you need to obtain the legal right to use it. Get a V750 Certificate of Entitlement form from the DVLA and fill it in. If the V750 expires before you assign the number plate to a car, apply to extend it, which costs 25 per year. To register your new number plate for a new car, write to or go to your local DVLA office with the car's registration document and the V750 form.
To register your plate for an existing car go to your local DVLA office with, an insurance certificate, proof of valid road tax and the completed V750 form. You will need a MOT certificate as well, if your car is 3 years old or more. Registering a car with a new personal number plate takes an average of four working days. It is illegal to use the car on public roads until it is registered.
If you want to keep your current number plate when you sell your car, use a V778/1 retention certificate to keep your rights to the plate. Do this before you advertise the car or approach a dealer to trade it in. It costs 105 for the first 12 months and 25 a year after that. If you do not do this, you automatically lose the right to use that number plate in the future. It is important to have the retention rights to the plate before you sell the car, do not even agree to sell it until the process is finalised.
Your current number plate may be advertised for sale by several companies, do not be worried by this. It is common practice for companies to advertise plates then ask the current owner to sell it to them once they find a buyer. If you are asked to sell your current number plate ask other companies what they are willing to pay for it, before selling it.
Be patient in your search and look at all possible variations to find a number plate that tells the world who you are.