Technical knowledge and Stature of Ferraris New and Old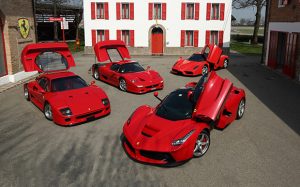 When the Ferrari California appeared on the scene back in 2008, it had a lot of new features to show the world. The first retractible hardtop, the first front-engine V8, and a dual-clutch 7-speed transmission. It also retired one of Ferrari's classic designs: the manual gearbox. It's a car that moves ahead and manages to hold onto its past.
The Ferrari California is a "grand tourer," a car designed not just for speed and handling, but for spending some quality time on the road. What makes it a bit more suitable for the long-haul is that it's a "2+," a two-door car with two seats in its backseat. The real magic may be in the driver's seat, but at least now you've got a slightly larger audience to share your joy.
The California recalls a 20th-century ancestor, another great Ferrari with a sort-of backseat. Back in the late '50s, the 250 GT California rolled onto highways and into dreams. You may know this car from the 1986 John Hughes movie "Ferris Bueller's Day Off." The red car at the center of that film was a 1961 Ferrari 250 GT Spyder California, one of something like 100 such cars built. And lest you worry that the car's swan-dive at the movie's end was a great crime against Ferrari: the car was a replica.
This car made such an impression that the Ferrari family had to carry on the name in a new generation. Sure, they could've called it the Florida, but really, California seems much cooler. And it carries that 20th-century style into the 21st. The 2008 California goes zero to 60 in a shade under four seconds and reaches a top speed of 193 mph; in wind tunnel tests, it's proved that it is Ferrari's most aerodynamic car.
It's a powerful car, sure, but it's not a monster like some of Ferrari's other machines. The California has actually acquired a reputation for being sort of, well, nice. It is a pretty car, but not exotically so. It is a fast car, but may not tear your head off like some others. And, so they've said, the car has sort of a big ass.
The Ferrari California lacks for nothing in the way of looks, performance and even backseat space (admittedly we're stretching the notion of what a backseat is here a little bit). It's really the car for the roadtrip. For taking the family on a high-speed trip across America. It's the new station wagon. Okay, maybe not that, but the California really is the kind of car you'd want to spend some time in with the people you love — or lust after.