5 Best Rear View Mirrors Reviews
It might seem that a car owner doesn't have much influence over what rear view mirror to choose, since it is already installed in a vehicle when they purchase it. However, you'd be surprised what a difference in driving comfort, not to mention safety, buying a customized rear view mirror makes.
The tricky thing about this item is that while people spend quite a bit of time choosing the color of car seat covers, picking the surface polish or car smell infusion, not many even notice the rear mirror until they actually start driving on the road. But for the sake of road safety, it pays off to spend a couple of hours choosing a good rear mirror that is modeled to provide the best road overview, made of high quality materials and offering some more useful features. Here is what you might want to choose from:
Best Rear View Mirrors To Buy In 2018
5. Fit System DN100 Day/Night Rear View Mirror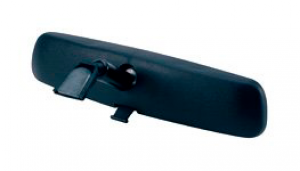 One of the biggest troubles every driver faces is driving at night with limited vision and lots of distracting lights on the road. That's where a rear view mirror that allows adjusting the optics to the day and night mode can be extremely helpful.
Its main feature is the angle of the glass that is shatterproof and greatly reduces possible glares from the light of the vehicles behind you. Fit System car rear view mirror has a pretty standard mounting system that will make it suitable for almost any American-made or imported auto.
Other than the features above, it is a very standard mirror for a rather affordable price, so don't expect Fit System panoramic rear view mirror features or other fancy additions.
Technical Details:
Brand:   Fit System
Item Weight:   10.4 ounces
Product Dimensions:   12 x 5.4 x 3.2 inches
4. BL Super Wide Angle Rear View Curve Mirror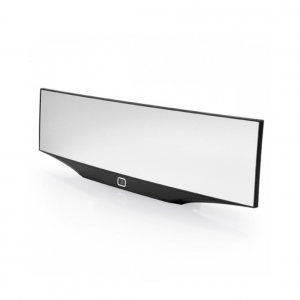 Remember the time when you just started driving? And it seemed impossible to see something in that tiny glass thing placed in your right upper corner? Well, even having mastered the art of driving, many people still prefer to have some extra visibility and buy BL Super Wide rear view mirror for their vehicles.
Based on the reviews, BL Super Wide car rear view mirror is also frequently used among parents who like to have better sight of their children in the back seat.
And while it's not featured as a BL Super Wide panoramic rear view mirror or rear view camera mirror, it is quite cheap and the visibility range you get with it can be up to both lanes to the left and right of your vehicle. Which is more than enough even for beginner drivers.
Technical Details:
Brand:   Fouring
Item Weight:   4.8 ounces
Package Dimensions:   15 x 4.4 x 1.4 inches
3. Fit System RM011 Clip-on Wide Angle Rear View Mirror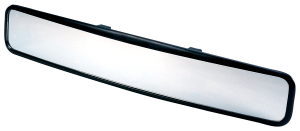 Fit System knows that a good rear view mirror should accomplish two things: offer good visibility by reducing blind spots and adjust to different lightening inconveniences. And this simple product accomplishes both tasks while maintaining low budget.
Its main advantage though is the convenient installation – simply clip it onto the existing structure and you are good to go!
This particular Fit System rear view mirror has anti-glare properties, however, there's no option to switch between the day and night mode. However, this shouldn't be a problem because the mirror is designed in such a curve that only a little of the light reaches the driver's eyes.
Some customers say that while we are all ready for things in the car rear view mirror to appear closer than they really are, the Fit System panoramic rear view mirror has an even more dramatic difference in focal point.
Technical Details:
Brand:   Fit System
Item Weight:   13.4 ounces
Product Dimensions:   20 x 2.2 x 4.5 inches
2. Broadway BW846 300mm Type-A Flat Mirror

Another tool to widen the driver's back view is Broadway rear view mirror that can be easily fixed on top of your exiting mirror and open up a whole new world to driver's eyes! On top of that, Broadway panoramic rear view mirror also promises to provide a brighter view of everything that is going on behind your car. And it also has a slight anti-glare coating on top.
Pay attention that it is a flat mirror – which will be a good fit for those who are picky about any kinds of distortions due to curved mirror shapes. But if you like to see as much of a road as possible – then choosing a Broadway car rear view mirror that is curved can be a better option for you.
Technical Details:
Brand:   Broadway
Item Weight:   6.6 ounces
Product Dimensions:   1 x 12.1 x 2.9 inches
1. AUTO-VOX Dual Video Inputs 4.3″ Auto Adjusting Brightness Car Rear View Mirror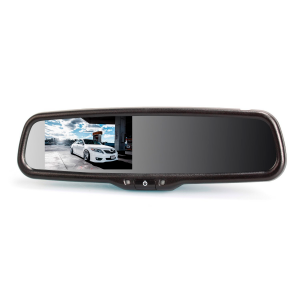 Have you already done some experimenting with car rear view mirror models and are now looking for something that would go beyond simply wider view, anti-glare effects or automatic dimming? Then it's time to enhance your car with an Auto-Vox rear view mirror that has a built-in display to stream everything from the camera installed on a car.
Combined with a good quality recording device, Auto-Vox rear view camera mirror probably offers the most visibility a driver can get in a vehicle. You can even choose to send two images to the rear view mirror from two different cameras – such as rear cameras showing your kids in the back seat. All in all it is a great thing to invest in if you are the kind of driver who likes to be in charge of everything during the journey.
Auto-Vox Dual Video panoramic rear view mirror also has all kinds of features meant for driver's convenience: automatic screen light adjustment to keep your hands free, hidden wires for esthetic pleasure and much more.
Technical Details:
Brand:   AUTO-VOX
Item Weight:   1.35 pounds
Product Dimensions:   10.6 x 0.9 x 3.2 inches
---
Rear view mirrors aren't rocket science and can be purchased in many locations that drivers visit frequently: automobile dealerships, gas stations, online markets and etc. And unless you are looking for some additional specific features, they aren't that expensive and it is worth trying a couple of them to see which model suits your driving style and habits most.