6 Best Power Washers Reviews
Everybody likes having a clean and polished car, yet very few people enjoy doing the actual car washing. Thanks to the car wash points and additional services offered by gas stations, today the driver doesn't even need to get out of the vehicle in order to have it washed.
However, not everybody has the time or money to get their automobile washed and sooner or later we all need to get out that bucket of water and a piece of cloth to do the dirty job. Or there's an easier solution – more and more customers now use power washers for getting their car clean.
Electric power washers are efficient not only in refreshing the patios or driveways, but also in getting the dirt off the car surface, eliminating unwanted odors and refreshing the upholstery. It's quick and very easy to use. However, not every portable power washer is equally good to be used on car enamel, tires and interior, there are also specific features that you will want to use. So let's review the power washer models that have the most feedback specifically from car owners.
Best Power Washers To Buy At 2018
6. AR Blue Clean AR383 1,900 PSI Electric Pressure Washer, Nozzles, Spray Gun, Wand, Detergent Bottle & Hose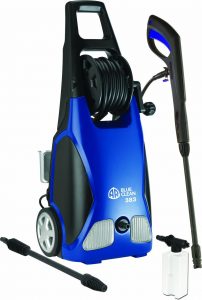 R Blue Clean power washer is a very decent model to begin with if you are only considering trying such a device for the first time. It is powerful, yet not too big, made of durable material that can survive a lot of transporting. At the same time it is one of the most affordable, lightweight and compact models on the market.
What is important in terms of convenience, all Annovi Reverberi Blue Clean electric power washers have a pretty long connecting cable, which lets the user go around the vehicle without any restraints.
This AR Blue Clean best electric power washer puts out an outstanding stream pressure, while consuming less water and electricity, which is also important if you plan on using it quite often.
5. Karcher K3 Follow-Me 1800 PSI 1.3 GPM Electric Power Pressure Washer with 4-Wheel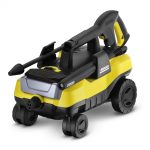 Karcher power washers are known around the world for being reliable devices for cleaning all kinds of outdoor items: patios, driveways, vehicles and much more.
Those of us who've done a fair share of car cleaning themselves, know that there are car parts that are more dirty than the others. You will probably want to use detergent water for rear and bottom parts and simply clear water for upper and front areas. Luckily Karcher power washer makes it easy to switch between the two modes.
Karcher best power washer manufacturer has put a lot of thought into user convenience: it has wheels for easy transportation, extended cable for longer reach, quick connect clickers for all hose extenders and connections.
4. Sun Joe SPX3000 Pressure Joe 2030 PSI 1.76 GPM 14.5-Amp Electric Pressure Washer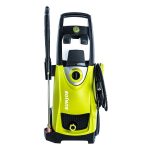 Sun Joe power washer offers a lot of options to be enjoyed by the cleaning maniacs – with different nozzles you can reach difficult places at various angles, with soap water or without. And a powerful engine puts out a great pressure that leaves dirt no chance to keep travelling on your car!
Many users say that Sun Joe is the best power washer because of the two liquid tanks that can store different kinds of detergents and long extension stick to reach the underneath of the car without having to get your arms dirty.
Interesting additional features include an automatic stop system that provides extra safety and saves power and all-inclusive warranty for a couple of years (depending on which of the Sun Joe power washers model you choose).
3. Generac 6922 2,800 PSI, 2.4 GPM, Gas Powered Pressure Washer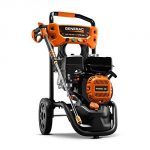 Not all power washers are electric – Generac power washer is sourced through gas generator, which makes it much more mobile and powerful. You don't have to worry about the cord when going around your vehicle and will be surprised to see the pressure General power washer is capable to put out.
The manufacturer also conveniently thought about reducing the weight of the machine, introducing two wheels and a soft padding on the handle so that you don't feel any discomfort during the process. The Generac best power washer is quite big in size though, however, for most customers it is more of a benefit, since it can roll through different terrains and holds a lot of detergent water.
With three available nozzles you can clean any area of the car: from tires to outside surface, as well as underneath parts and windows.
2. SIMPSON Cleaning MSH3125-S 3100 PSI at 2.5 GPM Gas Pressure Washer Powered by HONDA with OEM Technologies Axial Cam Pump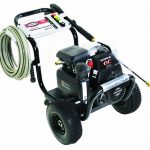 Comparing to all the models discussed above, Simpson non-electric power washer is a considerate investment into your outdoor cleanliness. But those who purchased it eventually don't have any complaints or doubts.
Powered by a durable Honda gas engine, this Simpson best power washer represents a Ferrari of all power washers available on the market: powerful engine that starts in one or two pulls, assembled in a set of oil and cleaning solution, easy to connect hose and other parts, convenient ergonomic design.
Apart from quality of materials, Simpson power washer has whole 5 different nozzles – you most likely will use only two or three of them, but having to choose the one that you like most is quite a nice feature.
1. THE FORCE 2000 – POWERHOUSE INTERNATIONAL – 1.6 GPM 2000 PSI (3000 PSI – "IPB")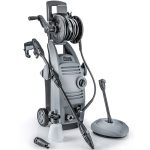 The Force 2000 electric power washers are among America's favorite cleaning solutions for all purposes, and they are especially effective with cars. This model's distinctive features include automatic engine shut off to maintain safety and presume the life of the machine, foldable handle for compact storage, option to connect to a standard garden hose and much more.
Convenience of The Force 2000 power washer is determined by handy storage compartment for all the nozzles, hose reel that prevents tangling and a soap dispenser that controls the concentration of detergent in the water (especially convenient for switching between window and tire cleaning).
According to numerous reviews and our own testing, the Force 2000 power washers are just as powerful as the gas-powered one, yet their weight is in general lighter due to construction specification. And it produces much less noise than the gas power washers do.
---

Cleaning the vehicle isn't the most fun thing to do, but it is one for the most important ones. A car clean of dirt, mold, dust and other substances will look better, serve you longer and provide more pleasure to the owner. Thanks God investing into a good power washer will make it easy and cheap to keep your automobile neat and clean. You can choose any of the options above – and won't regret it, since they are the best power washers available on the market today.