7 Best Steering Wheel Covers for Your Car
Nowadays, the steering wheel cover is a popular car accessory which owns by the car owners all over the world. The steering wheel cover is important since it can protect the factory steering wheel, and even add the luxury look to the steering wheel. Moreover, the best steering wheel covers can also add more secure grip to the steering wheel making the driving to have more control while driving on the road. Choosing the best car accessories for your vehicle should be all about matching the style and color scheme of the interior.
Using a steering wheel cover can add a lot of comforts while driving. They come in a variety of styles, but we've selected here some of the finest options on the market that you can buy now online. Here are our top 7 best steering wheel covers for your car available for purchase online.
Best Steering Wheel Covers to Buy in 2018
7. Bell Automotive 22-1-53212-1 Universal Baja Blanket Steering Wheel Cover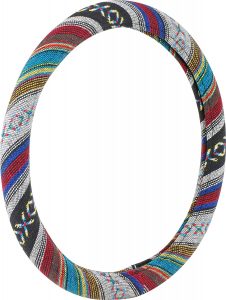 Bell Automotive Products, Inc. offers fashionable and functional accessories along with a team that is dedicated to safety and innovation. This steering wheel cover is universal which means that you won't have to go through the hassle of measuring the size of your steering wheel to get a fitting cover. The universal fitting feature is also of great advantage to people who own two or more cars because they can just use this one cover in all their cars. Moreover, it provides total comfort while in use as it is made from super soft material featuring the traditional poncho weave design. The weaving design eliminates the common and disturbing feeling of overlapping stitches found in most steering wheel covers. With the Baja Steering Wheel cover, you will never feel any difference when driving in cold or hot environments because it gives your hands a constant feeling through its comfortable and protective surface.
6. Zone Tech Plush Stretch- On Vehicle Steering Wheel Cover Classic Black Car Wheel Protector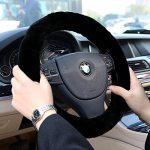 The Zone Tech Plush Stretch steering wheel cover is one of the best steering wheel cover which you should consider of purchasing. This steering wheel cover features the sheepskin which gives the warm feeling during the cold days, and sweltering during the hot days. It is actually somewhere is between which makes it the best steering wheel cover suitable for all weather. Moreover, this steering wheel cover is designed to last long, and it also plays an important role in improving the appearance of the old steering wheel. The soft grip provides a comfortable feeling to the driver while driving. Also, this steering wheel cover comes with the thicker massage which provides the comfort and the secure grip while driving. The Zone Tech steering wheel cover is one of the best steering wheel cover designed to provide comfort and adds a luxury look to your car.
5. Yontree Winter Warm Faux Wool Handbrake Cover Gear Shift Cover Steering Wheel Cover 14.96″x 14.96″ 1 Set 3 Pcs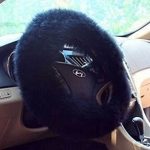 The next one in our review is Yontree winter steering wheel cover. This steering wheel covers are made of top quality faux wool and available to fit nearly any standard size steering wheel. If you have your hand ever felt freezing while you were driving during the cold night in winter, then it is time to get something that could provide you comfort while driving during the cold days. The Yontree steering wheel cover could be an ideal steering wheel cover to end this problem. This is one of the best steering wheel cover which is made of faux wool; it gives you comfort while driving and also keeps your hands warm. Moreover, this steering wheel cover comes with a unique and modern design which could bring out the luxury look as well as add a style to your steering wheel.
4. Lemonbest C0196 Universal Car Steering Wheel Stitch On Wrap Cover, 106 cm, Black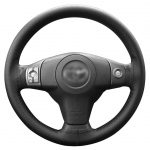 Lemonbest Universal Leather Car Steering Wheel Cover has very high quality with suitable price. If you are looking for a steering wheel cover to replace the factory made steering wheel, this is one of the best steering wheel cover for you to consider. This steering wheel cover is made of PU leather material which is the reason why it is pretty soft and durable. Moreover, this steering wheel cover is very comfortable to hold because it is breathable, and comes with the anti-slip sweatband. The edge of the steering wheel cover has a perfect thread and needle. Furthermore, this steering wheel cover is designed to fit with the diameter of steering wheel around 38 cm. The leather steering wheel cover has a classy appearance that blends effortlessly into the decor of your car no matter what its interior looks like.
3. Black Steering Wheel Cover Odorless – Warmer Hands In Winter, Cooler Hands In Summer, Includes American Style Air Freshener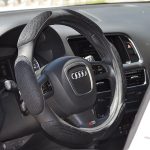 For the best driving experience in both hot and cold weather, Everything Automobiles wheel cover is considered as one of the best to use. Durable, affordable, and with an odorless black body this wheel cover is not convenient but also designed to improve the overall experience of users in all environments. Its smooth and comfortable surface, for instance, has made it a sought-after product worldwide. Its anti-slip surface boosts safety while its odorless body has an aesthetic black finish that complements the interior of modern and vintage vehicle types. This cover fits several types of steering wheels measuring between 14.5-inches and 15.5-inches and comes backed by a 100% lifetime manufacturer guarantee. Every buyer who has used it has highly praised it, and you don't have to worry about having to deal with the toxic rubber smell from new steering wheel covers as this has none of it.
2. Rueesh Car Steering Wheel Cover – Genuine Leather Heavy Duty, Durable, Sporty Wave Pattern, Universal 15 Inch – Black and Blue Line

Rueesh Technology has been devoted to designing and supplying high-quality automobile accessories to distributors and customers around the world. The Rueesh is an excellent steering wheel cover which is designed to give a new look of your original steering wheel. Moreover, this is a durable product, and it withstands many conditions since it is a kind of heavy duty, thick, heat resistant, cold resistant and wear-resistant steering wheel cover. In addition to this, the Rueesh steering wheel cover increases more safety level since it provides the secure grip which could give you more control while you are driving on the road. This cover is ideal for a 15-inch middle size steering wheel and will 90 percent of the time fit wheels with a diameter of 14.5 to 15 inches. This product will meet your expectations.
1. SEG Direct Black Microfiber Leather Auto Car Steering Wheel Cover Universal 15 inch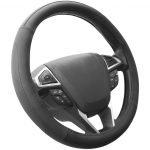 The SEG Direct steering wheel cover is the best steering wheel cover in protecting your steering wheel. This steering wheel cover is a durable product since it is made of microfiber leather which adds soft and durability to the steering wheel cover. Moreover, it is designed to last and could withstand many conditions because this steering wheel cover is skid-proof, stable and heat resistant. This steering wheel cover is suitable for middle-size steering wheels with diameter 14 1/2 inch to 15 inches. Independent of the motor vehicle brand in your possession you will drive safely and comfortably with an original version of this wheel cover in hand. The cover is also soft padded thus giving you a massaging feeling as you drive which ensures that your hands are totally protected even when on long distance driving or when driving on harsh terrains. We highly recommend this product for those who are looking for a healthy and eco-friendly steering wheel cover.
---
To allow your car's steering wheel last longer, you need to cover them using these best steering wheels include that are well designed and comfortable to the hand. The steering wheel is prone to wear and tear because of the constant contact it comes into with the hands. Thus, it would be prudent to consider protecting it by accessorizing it with steering wheel covers that serve both as a protective item and decorative accessory.
A steering wheel cover might seem frivolous, but it comes with many useful benefits. One of the main advantages of having a steering wheel cover in your car is that it increases the aesthetics of your vehicle's interior. Getting a good steering wheel cover can increase the fashion of your steering wheel and improve the overall style of your car's interior. Also, a steering wheel cover prevents your steering wheel from getting damaged by normal wear and tear over time. Also, if your steering wheel already has visible damage, a steering wheel cover effortlessly hides this damage. Our list has included various models from all the different categories available to make sure that you will find a suitable cover that fits your style and budget.