5 Best Spoilers to Buy for Automobiles
Spoilers are installed on the trunk of your car. One easy way to make your car look good is to add a spoiler. Spoilers are easy to install and an effective way to make the rear end look sportier and give some aerodynamics to your vehicle. One thing you should be concerned about when you purchase your wing is to get it painted. But don't get it painted until you have test fitted it on your vehicle. Sometimes the wrong spoiler could be shipped to you. Or, maybe you just ordered the wrong model without realizing. Regardless a test fit is essential to see how well it fits. Make sure the paint that is applied blends in with the rest of your paint. Don't go cheap.
There are numerous different spoilers available on the market. To help you make the right choice, we have gathered top 5 best spoilers to buy for automobiles.
Best Spoilers to Buy in 2018
5. NEVERLAND Universal Adjustable Aluminum Rear Trunk Wing Racing Spoiler Black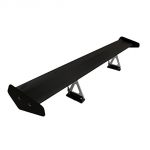 The Rear Wing Spoiler is one of the simplest mods you can do to the exterior of your car that will give your vehicle that completely different look. Not only are spoilers meant for great looks, but they also help with the aerodynamics of the car by lowering drag, or helping to put more downforce on the car making sure that the wheels stay grounded for maximum traction and grip to increase stability. Neverland Universal is made of high-quality, lightweight aluminum for extreme strength. With this spoiler, you will improve handling and make the tail more stable at high speed. This item has adjustable angles for customizable usages, efficiencies and appearances that enhance aerodynamic. This is a durable spoiler that comes with all screw, bracket and other accessories.
4. Spec-D Tuning SPL-CHG05JM-RS Dodge Charger Se Rt Srt-8 Oem Style Abs Plastic Spoiler Black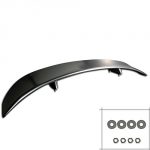 The next one in our review is Spec-D Tuning Dodge Charger Spoiler which is made of high-quality ABS plastic. It is lightweight, durable and can improve the exterior style of your vehicle. This item is made by OEM approved & ISO certified manufacturers in materials that meet or exceed strict OEM requirements. This product comes with necessary washer and nuts for installation, but still, professional installation is highly recommended. Spec-D Tuning spoiler is backed by 30 Day Money Back Guarantee & 90 Days Limited Warranty. This is a great product at a reasonable price you will be satisfied with. We would highly recommend this product, but make sure you double and triple measure before you drill holes in your car. Overall, it is an awesome spoiler for the price!
3. Spec-D Tuning SPL-GT001DD52BK 52″ Black Aluminum Adjustable Double Deck Racing Style Rear Spoiler Wing

Consider buying this Spec-D Tuning Black Double Deck Rear Trunk Spoiler is you are looking for a good durable spoiler for your automobile. This spoiler is manufactured by high-quality C.N.C machined aluminum and painted in black. The exterior view of your car will change dramatically with this lightweight spoiler. This isn't as wide as most of the other spoilers, which makes it a better fit for smaller cars. This spoiler looks great, easy to install to any car with a flat trunk if you know how to drill and measure. This product comes with a 30 Day Money Back Guarantee ; 90 Days Limited Warranty. With a reasonable price, this product is well worth the money!
2. 1 Pcs Mini Spoiler Auto Car Tail Decoration Spoiler Wing Carbon Fiber By UBOOMS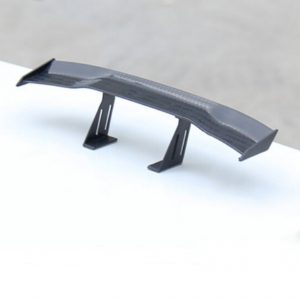 This mini spoiler will give your car a completely cute ; unique look. It is made of carbon fiber and fits for all car models. Note that after installation you should not wash your car within 3 Days. 3 days later, it will not be blown away even if the speed of the car is more than 120 MPH.
Overall Size: approx. 17 x 2.9 x 3.5cm (L*W*H) and item weight is 1.9 ounces. Do not forget to use detergent to clean the surface of the target before stick it on. Due to the hand measurement, there is a size error about 0.5-2cm. Overall, this mini spoiler is a great addition to your car. You will definitely be pleased with the affordable price this product costs.
1. NEVERLAND Universal Car Trunk 49 inch Aluminum Rear GT Wing Racing Spoiler Stand – Sliver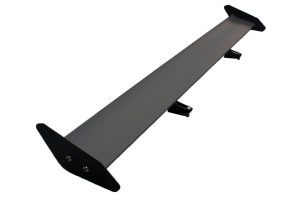 NEVERLAND Universal Car Trunk 49 inch is the best spoiler to purchase in our review. It is made of high-quality, lightweight aluminum for extreme strength. The latest design GT wing spoiler completed kit improves handling and makes the tail more stable at high speed. With this excellent spoiler, you will enhance aerodynamic, reduce drag, increase fuel efficiency and reinforce the downforce. You will be pleased how drastically improves straight-line stability. Apart from the spoiler, you will also get all screws, bracket and other accessories. Even though this product comes with no instructions, the installation process is easy. Note that drilling is required for installation, so we recommend getting help from professionals. It is not a decoration as it was a part developed for racing. This is definitely one of the best spoilers available for sale on the market.
---
When it comes to exterior upgrades, spoilers are definitely a love-it-or-hate-it item amongst car enthusiasts everywhere. In concept, a spoiler is meant to increase downforce when at high speeds, thus increasing stability and traction. Whether you're building a race car in your home garage or you just want to give your car a bit more character, these spoilers will do the trick. The function of a rear spoiler is to control the flow of air streaming over a vehicle and properly manage it when it reaches the rear where turbulence is most likely to form. A correctly designed spoiler will counteract the lifting forces that most cars experience when speeds get high, and it will enhance rear grip by keeping a vehicle's rear end planted firmly against the road – without causing excess drag.
Spoilers are supposed to spoil aerodynamic lift: the force that wants to pull your car off the ground. They're supposed to push your car onto the road. Spoilers can also reduce drag, and the less air resistance your car has, the less gas you'll have to burn. A badly installed spoiler can give the rear wheels too much grip, causing understeer.