5 Best Plastic Restorers To Buy For Automobiles in 2018
As your car is getting older each year, many external factors affect its plastic, vinyl and rubber surfaces. Black and dark gray ones will loose their color and begin to fade. If you want your car to shine and to be black again, you need to buy a customized product to make the overall look of the car better. The additional advantage of many plastic restorers is that they also protect the surface and prevent future environmental damage. Trying to find the appropriate plastic restorer can be challenging. You want to find a good product for a reasonable price. We have made a list of 5 best plastic restorers available for sale on the market:
Best Plastic Restorers to Buy in 2018

This plastic restorer will bring your vehicle back to life. It has an advanced hybrid polymer technology that seals non-porous surfaces with exceptional UV protection. You can use the regular applicators such as sponge or cloth. It is required to wear gloves to apply to faded trims (vinyl or plastic). This restorer has a powerful and effective formula. It will fight against fading and cracking, keeping the vehicle looking new for years. This product will not leave any streaky residue after a rain shower or car wash. Vinyl Magic can be used to cover up some surface scratches on the vinyl interior. This product has many positive reviews from the customers.
Technical Details:
Brand:   ProTouchUSA
Item Weight:   8 ounces
Product Dimensions:   2 x 2 x 7 inches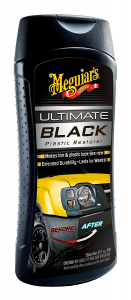 This product makes faded or non-painted exterior trim and plastic look like new. Its extended durability lasts for weeks. Your vehicle will gain rich darkness and shine while having outstanding UV protection. This ultimate black plastic restorer will renew the look of a vehicle's trim without leaving a greasy residue. A small amount should be applied to a cleaned and dried surface to get a great result. It dries fast and lasts long. Meguiar's is a famous name producing the finest surface and car care products. It has numerous positive feedback from all over the world. Try it and you won't regret.
Product information:
Size:   12 Ounces
Product Dimensions:    4 x 2 x 8 inches
Item Weight:    13.6 ounces
Shipping Weight:   13.6 ounces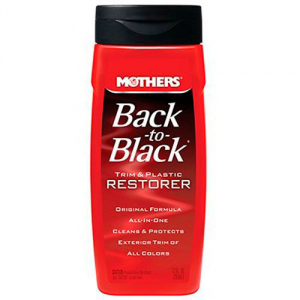 Mothers Back-to-Black Trim & Plastic Restorer has two features in one bottle. It removes dirt, light oxidation, surface film and wax residue with ease. In addition, your vehicle will get a like-new color. The back-to-black formula of this product protects against deterioration caused by the sun, water, ozone, airborne contaminants, and chemicals. It works best on rough plastics and it also smells good. You will be able to clean and protect your exterior trim of any color with this restorer. Highly recommended for your aging plastic vehicle parts. This is the great option for your car to look good again.
Product information:
Technical Details:
Brand:   Mothers
Model:   6112
Item Weight:   13.8 ounces
Product Dimensions:   2 x 3 x 7 inches

The second place goes to the plastic and trim restorer by CarGuys. This brand new restorer was originally created as a tire dressing but ended up with a great product that renews old faded materials like vinyl, plastic or rubber. It will protect your car from fading and drying caused by harmful UV rays. The formula lasts very long and is not harmful to the environment. Your vehicle will look like new even after a couple of weeks. The quality is high and the price is fair. If you like how your car looks clean, buy this restorer and you will be satisfied.
Technical Details:
Brand:   TriNova
Item Weight:   9.6 ounces
Product Dimensions:   7.8 x 3.6 x 2.7 inches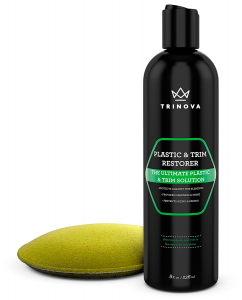 Using TriNova's Plastic & Trim Restorer you will get many benefits in caring your vehicle. This is the best solution you have been looking for. With this product, you will be able to darken the surface and make it shine, prevent cracking and fading, repel dirt, rain and salt. Wash your car, use the included applicator pad to wipe the surface and leave it dry before using this restorer. This product offers superior performance and is excellent value for money. A great amount of positive feedback and customer reviews makes TriNova the best plastic restorer for automobiles.
Product information:
Size:   18 Ounces w/ Applicator
Technical Details:
Brand:   CarGuys
Item Weight:   1.7 pounds
Package Dimensions:   9.8 x 4.5 x 2.8 inches
---
There are many different restorers available for sale. If you think it's time to make the car shine again and look like new, choose the right restorer and protect your vehicle against harmful UV, rain, dirt and other environmental damages. Make your plastic, vinyl and rubber parts looking good again. We advise to read and to follow the instructions carefully before using any of restorers. We hope this review of 5 best plastic restorers will help you choose one for you. These are the top affordable restorers available for sale on the market. Purchase the plastic restorer and bring your vehicle back to life.