Meguiar's Ultimate Black Plastic Restorer Review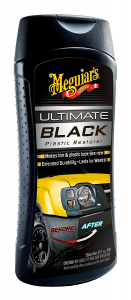 Plastic trim such as rocker panels, fender arches, tops of the pickup, the bottom of bumpers are generally used in moderns. This plastic/rubber materials have some unique properties that make them the ideal material for your car exterior design. However, this plastic used are highly susceptible to degradation from heat, sunlight and other elements which can make them lose their value and shine.  That is why you need a Plastic trim restorer to protect your car against sunlight, dirt, rain salt and other elements that can cause degradation.
The market is flooded with several manufacturers of Plastic & Trim Restorer each promising optimum solution and performance for your vehicle, but how do you choose the right one? At xlraceparts, we do the review one of the best product in the market putting in some vital consideration like quality, performance, customer ratings, the manufacturer's history and other factors that can affect purchasing and usage. The information below is to assist you in getting the best cleaner that provides the best performance for your car at a budget-friendly price. Here is our pick:
Meguiar's Ultimate Black Cleaner
The Meguiar's®Inc began in about a century ago as simple furniture polish and has grown to become one of the world's leading manufacturer of surface care products. The journey started in 1901 when Frank Meguiar founder of the international car care brand products produces furniture polish in his garage. He later turns attention to automobile due to the arrival of the first horseless carriage. Ever since then the company has developed from strength to strength and has produced the best products for car enthusiasts. They provide highly specialized products that can be used on any surface. Their inborn passion still drives the company in delivering the best products to date. Their products are 100% tested, and they will never sell a product unless convinced it was the best kind on the market.
View on Amazon.com
The Meguiar's Ultimate Black Plastic Restorer
The Meguiar's Ultimate Black Plastic Restorer shines and darkens faded plastic, rubber and vinyl surface. This product protects your car, SUVs, motorcycles from dirt, rain, salt and also prevent the exterior from fading. With this restorer, you will get all the benefits and care you are looking for in a plastic restorer. This restorer prevents cracking and fading, shines and darkens surfaces, safe on plastic, vinyl rubber, and other outer surfaces. With the Meguiar's trim restorer you can be assured you will receive the best service and high quality. Their customer service is available 24/7 to offer assistance when required. Unlike several products in the market which are an ordinary black dye, the Meguiar's Ultimate Black Plastic Restorer is a streak-free formula that will ultimately restore and improve the shine of your car.
Restore the color of your finish with the Meguiar's Ultimate Compound. The Meguiar's solution and applicator clean and bring the shine of your plastic, vinyl rubber, and other outer surfaces without scratching the vehicles paint or finish. This Ultimate compound reduces the energy and time needed to remove dirt, grime, salt and other debris while improving the appearance of the paint for an extended period. This product quickly removes and act as protective coating gel against UV rays, stains, bird dropping, and other damaging dirt. This restorer is easy and straightforward to use. Dispense a little amount of the solution directly onto the applicator or portable clean 100% cotton towel. Work on a small section at a time making several overlapping passes. When the area is clear from them, you can move to the next section. Before moving to the next part, clean the surface with a dry soft towel. Follow this steps, and you will have a clean, shiny surface.
Product details:
Brand:   Meguiar's Ultimate
Size:   12 oz.
Product Dimensions:   5.5 x 5.5 x 3.5 inches
Shipping Weight:   13.6 ounces
Average Customer Review:   4.4 out of 5 stars
Conclusion
Guard your property against dirt, rain, UV rays, salt and other particles with the Meguiar's Ultimate Black Plastic Restorer. This restorer offers several benefits like advanced UV protector, prevents fading and cracking. This restorer remains the best in the automotive industry that offers high performance with affordable market price. The plastic trim not only brings back the shine of your car but also brings aged material like rubber and vinyl back to life. It also acts as a protective coating that protects the car exterior from harmful UV rays.