Armor All – Wheel & Tire Cleaner Review
Wheel & Tire Cleaner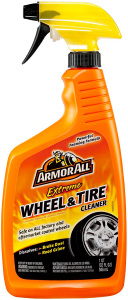 For every of the car users cleaning the wheel of an automobile is one of the most difficult and important things to do. Tires are the only part of the automobile that has contact with the road; as such, they are always exposed to several damaging things like dirt, sand, grime, dust, mud, oil residue, and every other ugly filth on the road. This dirt can build up over time and cause damage, corrode, make pitted, and rust the wheels over time especially when exposed to road salt. To avoid these the wheels and tires must occasionally be cleaned with the best wheel and tire cleaner.
The market is flooded with a lot of manufacturers of Wheel Cleaner each promising optimum solution and performance for your vehicle, but how can you choose the right one? At xlraceparts, we do the review one of the best product in the market putting in some vital considerations like quality, performance, customer ratings, the manufacturer's history and other factors that can affect purchasing and usage. The information below is to assist you in getting the best Cleaner that provides the best performance for your rims at a budget-friendly price. Here is our pick:
Armor All Extreme Wheel & Tire Cleaner
Armor All is an America automotive company that manufacture car care products. Their gels, liquids, sprays, and wipes are produced specially to clean, shine and protect both the interior and exterior of automobile surfaces. The company is stationed in Danbury, Connecticut, United States. According to documents, Armor All solution is typically made up of water, glycerin, diethylene glycol, PDMS (silicone) and various additional compounds. It all began in 1962 when polymer chemist Joe Pilcher discovered a miracle formula that could clean and protect the plastic, rubber, and vinyl of a tire and wheel without causing any damage to the wheel and making the wheel look fresher and shinier. In 1972, Alan Rypinski, a car enthusiast and marketing expect, purchased the right to the company and later renamed it Armor All.
Armor All Extreme Wheel & Tire Cleaner (32 fl. oz.)
Some companies seem to have the best formula for cleaning your automobile interior and exterior look! Armor All is one of them. The company manufactures a triple action formula that will clean grime, grease, and brake dust while managing to return their original showroom shine. Best for all kind of wheels from aluminum, chrome and white wall tires while providing the best cleaning  regardless of the material. The spray is completely acid-free and can be used to clean your SUVs, sedan, minivan, cars and other aftermarket wheels of your favorite vehicles. The cleaner contains a powerful and concentrated formula, but nevertheless is environmental friendly. This wheel cleaner is the best in the market that restores the natural beauty of your rim, and the glass-like sight  of the metal alloy rims.
The guarded secret formula which allows its chemicals to clean the surface and keep it from degradation has been used for years by car enthusiast looking for the best way of cleaning and returning the shine of their wheels and tire to its original shine. As of today, Armor All is the leading manufacturer of car care products that offer the best performance. The Armor All product is safe for you and your car. The cleaner sticks to dirt, grime, and other ugly materials, breaking it down and loosening it for easy removable. The product is the best in the market that offers a reasonable price for budget-minded customers. Simply spray and scrub the tough dirt on tires gently, and you will get a new-like finish. The cleaner takes away grime, safe for powder and painted coated wheels and won't cause damage or discolor chrome and decal wraps.
Product Information
Style:   Wheel ; Tire Cleaner
Brand:   Armor All
Item Weight:   2.3 pounds
Product Dimensions:   10.3 x 9.5 x 12.5 inches
Conclusion
Car wheel is constantly exposed to road grime, grease, brake dust that get accumulated during extreme weather of driving conditions and other dirt on the road. The Armor All Wheel and Tire Cleaner formula is specifically designed to clean grime, grease, and brake dust while revealing the beautiful shiny rims. All Armor products are guaranteed to meets your highest standards.