5 Best Hood Scoop for Your Car
A hood scoop is the upraised part of the hood with an opening that allows air to flow directly into the engine compartment. With this, the engine can have more sufficient supply of air for use in engine combustion. Some hood scoops don't have an opening, thus purely decorative. This hood accessory is made from different types of materials such as carbon fiber, fiberglass, and abs plastic. Units made from carbon fiber are known for being lightweight, stiff, and durable while those made from high impact ABS material are hard wearing and heat resistant. When searching for a hood scoop for your ride, it is wise to get one that requires easy, no-drill installation. Paintable scoops are also good because you'll be able to match it to your vehicle color and styling. There are many various hood scoops available for sale on the market. To help you with your choice, we have compiled a list of top 5 best hood scoops for your car.
Best Hood Scoop to Buy in 2018
5. Amico Car Hood Scoop Universal Air Flow Vent Black with Mesh

We start our review of the best hood scoops for cars with Amico Universal Air Flow Vent by TOOGOO(R). This hood scoop is made of plastic, color is black with silver tone. Dimension of this product is 25.7 x 18 x 3.5cm / 10.1″ x 7″ x 1.4″(L*W*H) with a weight of 181 g. With this unit, you will capture the look and style of today's top performance vehicles with long lasting universal hood scoops. This item will not be affected by extreme weather or car washes. Customize your vehicle with Amico Car Hood Scoop Universal Air Flow Vent Black with Mesh and experience for yourself the satisfaction this simple customization body trim accent can provide. It is a durable and top quality hood scoop you may consider to buy.
4. LOPURS Hood Side Shark Gill Simulation Air Flow Vent Fender Sticker for Car Decoration, Pack of 2, Size: 22cm x 20cm x 2cm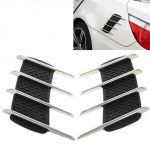 The next one in our review is LOPURS Hood Side Shark Gill Simulation Air Flow Vent. Please kindly note that the vent only for decoration, but not real air vent. This unit is sticker style to personalize and update your car, beautiful finish gives it a classy and customized look. Adhesive installation without drilling, easy to apply for most cars. Before installation, select the proper place, clean the dust, oil, etc., with the cleaning-aid. This item is weather proof and it will never fade under any rigorous condition. It has an elegant and unique shark grille design. You can stick this item on any part of car surface. You will be pleased with the low price this product costs. This fast and easy decoration makes your vehicle stand out from the others
3. Wade 72-14001 28″ Paintable Hood Scoop With Smooth Finish – Pack of 1

The Wade Smooth Hood Scoop gives your truck a completely new look, making it look sleeker, faster like it is slipping effortlessly through the air, the air passing by so efficiently that the engine has to scoop air down to get enough oxygen to breathe freely. The Wade scoops offer you a wide range of possibilities. You decide how to use them, where to put your scoops, painting them to look like they are part of the hood or painting them to stand out. You decide! Make your truck truly yours! Use the Wade hood scoops to create a design that stands out and tells the world who is coming! The Wade hood scoops will fit on any surface that is larger than the product dimensions. Hood Scoop measures 11.5 inches x 30.0 inches x 2.0 inches and is hi-impact ABS in a smooth finish.
2. Lund 80002 Medium Hood Scoop, 2 Piece

From ventvisors/side window deflectors, hood protection and tonneaus to toolboxes and premium floor liners, Lund International brands offer more vehicle application coverage in the ventvisor and hood protection categories than any other brand on the market today. Unique and universal designs have been developed to transform truck and SUV stock hoods into simulated performance hoods, providing a high-performance style without the high-performance cost. These are manufactured with a heat-resistant, UV-protected ABS thermoplastic material to allow for maximum strength and flexibility, with no chalking. The finish is a smooth black with chrome trim accents that are paint-ready and is easily adhered to the hood with 3M automotive-grade adhesive. They feature easy no drill installation and all scoops can be painted to match any factory color. The size of these medium pair hood scoops is 13″W x 28″L x 2.5″H.
1. Neverland 2 x ABS Decorative Intake Scoop Turbo Bonnet Vent Cover Hood Auto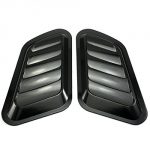 Neverland 2 x ABS Intake Scoop Turbo Bonnet Vent Cover Hood Auto a budget priced set of two decorative hood louvers that can be universally fit on any car. This set is made of durable ABS plastic with different colored finishes. The options are White, Silver and two different shades of black. At such a cheap price, these can be the perfect replacement louvers for your car if the existing ones have busted or if you are looking for an inexpensive replacement that is easy to install. These set of louvers come with preinstalled double sided 3M automotive grade adhesive tape that sticks perfectly to the car. It has a very good customer rating and does not come off even if the engine gets extremely hot or you leave the car out in rain. This looks stylish, is inexpensive and you can choose the color to match your vehicle. This item will add an intimidating and sporty look to the car.
---
Hood scoops are designed to supply additional airflow to the engine in one way or another, ultimately enhancing the performance of the vehicle. There are a variety of pros to hood scoops, but most of the benefits of hood scoops revolve around performance. The addition of the hood scoop can greatly enhance the performance of the vehicle's engine. The hood scoop usually will serve one specific function, but may occasionally have several benefits. In one application, such as that of a manifold-type hood scoop, it serves to bring cooler, less dense air into the engine compartment, cooling the engine more quickly and increasing the power. Another application (though less frequent and most commonly found in muscle car racing) is referred to ram air, in which the hood scoop serves to function similar to a supercharger. Typically though, this effect will only be seen at very high rates of speed. They are also a common fixture almost synonymous with a muscle car. Many people add hood scoops purely for the effect that it gives to the overall look of the vehicle. This excellent accessory is a fast, easy, and affordable way to dress up your car without putting much effort.