Best Halogen Headlights Bulbs – Sylvania SilverStar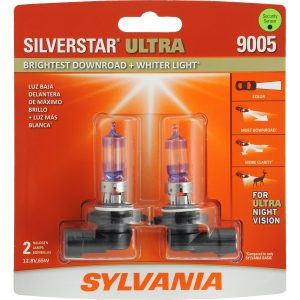 Have you ever found difficulties to see the road or street from any distance while driving car at night or poorly lit roads, particularly for rural place? Most rural areas have no street lightning.Your eyes will be tired to focus on direction of road. If you car have good lightning, it may be big problem for you. But how if you car lightning can't provide side road visibility and safety?
This situation can be handled whenever you get high performance best halogen headlight bulbs, instead of your poor car lights. Why do many car technicians recommend to use halogen headlight bulbs than HID xenon kit. Because no modifications are required, it's simple to install and will fit into your existing headlight bulb holders.
Sylvania 9005SU SilverStar Ultra provide high performance by increasing down street visibility for up to 25 % and it is claimed giving brighter light 25% from other standard halogen bulbs. By using this best Halogen Headlights bulbs, you will feel like driving on day light at night. This high performance Sylvania Silverstar provide differences for sealing beam headlights, that's why this car part is highly recommend for your safety on driving at night. You just need to install this best Halogen Headlights bulbs correctly to gain its performance and it's simple to do!

Technical Details:
Brand: Sylvania
Item Weight: 2.2 ounces
Product Dimensions: 5.9 x 2.1 x 6.5 inches
Origin: USA
Item model number: 9005SU.BP2
Manufacturer Part Number: 9005SU.BP2
Folding: No
Special Features: Wattage 65W, Voltage 12V, Base P20d
Wattage: 65.00
Similar products: