Ancel AD310 OBD II Code Reader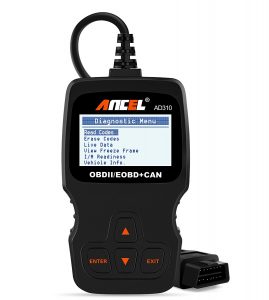 Have you find your car cranked over but did not start? This case may be caused by bad fuel pump, broken timing belt and cam or crank pulley sensor working improperly. In addition, all engine failure functions will lead to possibly engine failure or malfunction. So what should your supposed to do? Go to car mechanics and dealer and cost you much money but they can't find anything malfunctioning in your vehicle?
The first to do is checking your engine car by best car diagnostic code reader to scan your car by your own self to save money. It's the best time for you to seek out the compact and fast ANCEL AD310 OBD II Code Reader to reads your car trouble code in easy way. ANCEL AD310 OBD II Code Reader is easy to use, so it can be problem for inexperienced person to quickly determine the cause of check engine light and other trouble shoot and let you to reset the OBD II diagnostic trouble code by turning off the light.
As pocket scan tool, AD310 offers more advantages such as update-able and compatibility with future car. By connecting the pin, data and power connector from the on board computers, AD310 will read the code, view live engine data parameters , displays vehicle information such as emission status and fix the car problem without requiring batteries. This is a recommended product which is designed for all new domestic and import cars with one year limited warranty.
Technical Details:
Brand: ANCEL
Item Weight: 12 ounces
Package Dimensions: 8.9 x 6.9 x 1.4 inches
Item model number: AD310
Manufacturer Part Number: AD310
Folding: No
Similar Products: