7  Best OBD2 Scanner for Your Car
There are many scanner brands and models available for sale on the market. Today OBD II scanners are cheaper than ever, you can buy it and properly communicate with your vehicle. You will find out what's wrong with your car, if there's misfiring due to worn spark plugs, bad sensors, or any other. The information on a car can be streamed right on a display of a scanner. This compact item empowers drivers to monitor their vehicles health. We have made a list of the top 7 best obd2 scanner for your car that are great for both the mechanic and the average consumer.
Here in our review we reveal the top models, their benefits and features. We have made a deep analysis and numerous tests to ensure that you have an easier time finding the scanner that best serves your needs.
7  Best OBD2 Scanner for Your Car to Buy in 2017
7. Oxgord CAN OBD II Scanner Tool for Check Engine Light & Diagnostics, Direct Scan and Read Out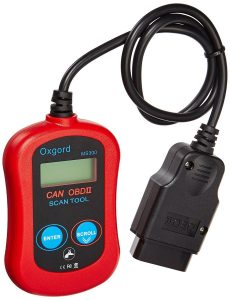 We start our review with Oxgord Scanner Tool. It reads diagnostic trouble codes, both generic and manufacturer-specific, and displays their meaning over 3000 generic code definitions in the database. This item does not give you a description of why the engine light is on, but rather gives you a code. The code is so easy to look up. As long as you have a computer, you can easily just look up online and fix or bring your car into the shop without them charging you high price just to tell you what the problem is. Easy to use and works wonderfully. This little device can be a lifesaver.
6. Autel MaxiScan MS309 CAN OBD-II Diagnostic Code Scanner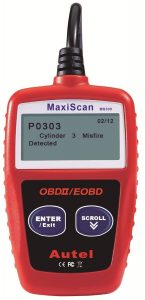 The MaxiScan CAN OBDII Code Reader retrieves generic and manufacturer specific Diagnostic Trouble Codes and displays it on a large easy-to-read backlit LCD screen. This code reader also has a multilingual menus and DTC definitions (English, Spanish, French, German). This item is powerful enough to retrieve the same information as large expensive scanners even thought it is compact and small in size. No additional cables are needed. Works with all 1996 and later OBD-II compliant U.S., European and Asian vehicles. This is an excellent and easy to use scanner for an affordable price. Make sure that you always keep the User's Manual with the device in your car.
5. Veepeak OBD2 Scanner Automotive Diagnostic Scan Tool Code Reader for Check Engine Light, Read & Clear Trouble Codes for OBD II Compliant Vehicles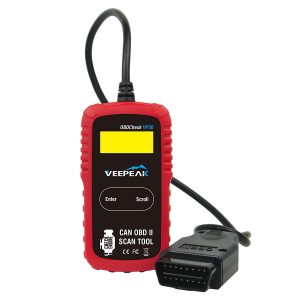 The Veepeak VP30 CAN OBDII Scan Tool provides you with easy and quick access to engine Diagnostic Trouble Codes and their definitions on all OBDII compliant cars and light trucks. With a compact design, it provides you with vehicle information, identifies engine trouble codes, and easily determines the cause of the Check Engine Light. The great feature of this scan tool that it uses bluetooth for wireless connection. Since the scanner has an on and off button it makes the logging easy to use. This item goes with 30-day money back guarantee, 12-month hassle-free replacement warranty and easy to reach, friendly customer support. This OBDII scanner device has been an awesome tool for vehicle diagnostics.
4. Blusmart OBD MATE OBDII Car Vehicle Code Reader Auto Diagnostic Scan Tool for 2000 or later US, European and Asian OBD2 Protocol Vehicle (Orange)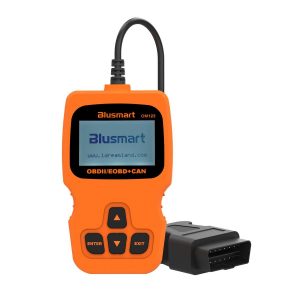 Blusmart OBD MATE OBDII Car Vehicle Code Reader saves time and money on repairs. You will find out what's wrong with your vehicle prior to repairing. This item easily determines the cause of the check engine light. It's compact, responses fast and the screen is easy to read. The display is clear and returns the code quickly. The functions are limited but it does all that you need to return the code and description of the error. It does exactly what you need. This product goes with an instruction book that is easy to understand. It is a great tool every car owner should have.
3. Autel AutoLink AL319 OBD II & CAN Scan Tool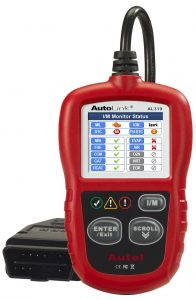 Auto Link AL319 OBD II works on ALL 1996 and newer vehicles (OBD II & CAN)-domestic and import. It has an easy to read large color screen where you get lots of information in one shot, minimizing scrolling. Built in speaker provide both visual and audible indication for readiness verification. It actually translates the computer codes for you, based on the model of your car that you enter. This item has a great design and decent buttons. Pretty fast scan time. The one small disadvantage is that the cable is not very long. A must have for your automotive tool box.
2. Autel AL519 AutoLink Enhanced OBD ll Scan Tool with Mode 6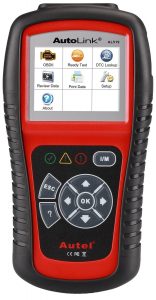 Autel is a leading developer, manufacturer and distributor of professional automotive diagnostic tools, equipment and accessories. The AutoLink AL519 OBDII/EOBD Scanner supports all 10 modes of OBDII test for a complete diagnosis. It reads the codes and gives a good description of the probable fault. This item is truly the ultimate in power and affordability, allowing customers to do their jobs faster. This product features a bright color coded LEDs and built-in speaker provide both visual and audible tone for readiness verification. This is really one of the best investments you can make. We highly recommend buying this tool. You won't be disappointed.
1. Ancel AD310 Classic Enhanced Universal OBD II Scanner Car Engine Fault Code Reader CAN Diagnostic Scan Tool – Black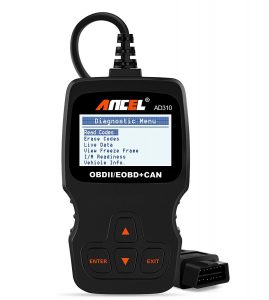 The number one and the best code reader scan tool in our review is Ancel AD310. This item has a great design, works fast and perfectly. With this product you will find out what the problem is. Works on ALL 1996 US-Based, 2000 EU-Based and Asian cars, and newer OBD II & CAN domestic or import vehicles. Supports such languages as English, German, French, Spanish, Finnish, Dutch, Russian and Portuguese. With this item you do not need any charger or batteries. It gets the power directly from the OBDII Data Link Connector in your car. This product has the highest rating on amazon and has plenty of positive customer reviews. It goes with user's manual and has 3 years warranty. We highly recommend buying this code reader as it showed great testing results and performed well.
---
It is very important to know what's wrong with your car. Knowing the reason of your car's failure will save your time and money. The first thing you need to know before you purchase this tool is whether it supports your vehicle. The cars which are produced before 1996 will not be compatible with any scanner on the market. Depending on the model of a device and a manufacturer diagnostic features vary greatly. The importance of installing an OBD2 scanner in your vehicle can not be underestimated.
A scanning tool is one of the best ways to know whether your car's performance at its optimum. Be sure to check the OBD2 scanner reviews before buying a particular unit. It goes without saying that a tool that has attracted plenty of positive reviews and has a high rating is likely to make a good buy. It is essential to have one of these for you to know when a repair job is necessary. Read and follow User's Manual before installing and using the scanner. We hope you will find this review helpful and you will pick the appropriate scanner for your car that serves you best.