GE NightHawk Platinum 9006 Halogen Replacement Bulb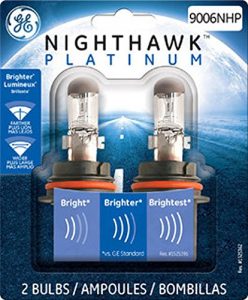 Whatever the type of your automotive headlights is, you should ensure to get the best halogen replacement bulb for intended purpose, particularly to gain optimal illumination in night travelling. So you will drive safely after dark, because you are able to see the actual condition of road for perfect sight with proper brightness. Like other car parts, headlight also has its own durability. It is recommended to take some consideration when it comes to replace or upgrade bulbs to get perfect brightness or intensity such as NightHawk's intelligent bulb and Halogen. So which one will be best halogen replacement bulb to consider buying in order to avoid wrong-way driving in night?
GE NightHawk Platinum 9006 Halogen Replacement Bulb are designed to provide great confidence in order to offer easy night driving with long lasting visibility and more lights on road for all drivers because they adopt NightHawk's intelligent bulb technology. It's better than standard halogen bulbs for producing 30 % more luminance.
So if you need big difference for excellent visibility and decreased eyestrain while driving at further distance. This high quality bulb is highly recommended because of high performance, reliability, easy installation and reasonable price.
Technical Details:
Brand: GE
Item Weight: 0.3 ounces
Product Dimensions: 5.5 x 4.8 x 2 inches
Origin: China
Item model number: 9006NHP/BP2
Manufacturer Part Number: 9006NHPBP2
Folding: No
Special Features: 2-pack of GE Nighthawk 9004NHP/BP2 Platinum replacement bulbs., GE NIGHTHAWK PLATINUM headlights provide up to 90% more light than GE standard halogen bulbs to let you see what's ahead, Clean, white light allows for better visibility and contrast, DOT (Department of Transportation) compliant for street legal lighting, Easy to install in minutes. Replaces standard 9006 low beam or fog bulb. Just plug them in and go.
Wattage: 45 watts
Similar Products: