5 Best Side Step for Your Car
If you have a pickup, SUV, or a Jeep, then you probably feel, as we do, that 4x4s are attractive in nature and serve as great canvasses for creating an individual vehicle identity. Because the overall shapes of truck designs are unpretentious, lines tend to accentuate strength. And bright work (or black work) applied in the right fashion can heighten bold styling, accentuate luxury, or both. We know that running boards or side steps have potential to make a big impact in this category, and we understand that the form is just as important as function when it comes to selecting the right ones. Side steps are a great approach for people who just want a simple step into and out of their truck. If you get side steps, you'll need to be sure that both you and your passenger feel comfortable spotting these smaller steps, so you avoid a misstep and potential fall when exiting the truck. Here we have top 5 best side steps you may consider to buy.
Best Side Step to Buy in 2018
5. Bully BBS-1101S Black Bull Series Multi-Fit Adjustable Side Step


Add a little 'beast' to your truck or SUV with this jumbo Multi-Fit Adjustable Side Step by Bully. This item mounts safely and securely on most trucks or SUVs (parts included). From stock to lifted trucks, the adjustable and durable cog gear design allows you to set step in an optimal position. It is featuring heavy duty three-inch diameter steel tubing for solid look and feel. Beautifully textured, matte black powder coat finish universally accents any truck style or color. The non-slip, high impact plastic step pad is durable and reliable for everyday use. Rated for a maximum load of 350 pounds. Built to specification with high-quality materials, the Multi-Fit Adjustable Side Step by Bully offers a practical and fashionable upgrade to your vehicle. The dimensions of this product are 14 inches wide and 11-7/8 inches wide (inside step area).
4. Bully BBS-1103 Aluminum Side Step – Pair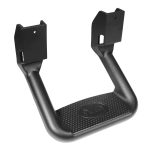 Accent your truck or SUV with a rugged, upgraded look by installing Aluminum Side Steps by Bully. Makes entering and exiting your vehicle safer and more convenient. Solidly constructed from a single-piece cast, these heavy-duty yet lightweight steps are built to last. The matte black finish has universal appeal and looks great on any make, model, or color. Textured, extra deep 3.5-inch step ensures easier access to your vehicle under more extreme conditions. This product is rated for a maximum load of 350 pounds. The dimensions of this item are 9.5 inches wide, 6.5 inches wide (inside step area), and 7.5 inches deep. Bully has proven Aluminum Side step is the most convenient way to add entry access to your vehicle. Constructed from a one piece cast ensures a strong design.
3. Bully AS-550WD Truck Bed Side Step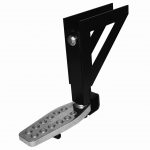 All Bully products are engineered and crafted from the sturdiest materials to ensure years of reliable and trouble-free service. After the products are manufactured, they are meticulously checked for imperfections by the company's experts, so the product you get is guaranteed to meet the highest quality standards and be free from any defects in materials and workmanship. Bully AS-550WD Truck Bed Side Step is designed to allow easy access to the front of the bed and tool boxes. This side step is made from anodized cast aluminum and is heavy duty powder coated steel. It can be installed on both driver and passenger side. Note that this product requires drilling for installation. Bully is an indisputable leader in the design and manufacture of the highest quality, innovative truck accessories designed to outlast and outperform and keep you on the leading-edge.
2. Tyger Auto TG-JA2J2239B Side Step (TYGER Star Armor Kit for 2007-2017 Jeep Wrangler JK 4 Door | Textured Black | | Nerf Bars | Running Boards)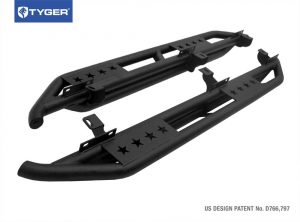 There are many choices in for running boards in the aftermarket, especially for Jeep Wrangler. One of these choices for a 4-Door Jeep Wrangler is made by Tyger Auto. This manufacturer creates solid and high-quality products for cars and trucks. In this case, Tyger Auto has a quality running board that is popular with Jeep Wrangler enthusiasts. The Tyger Auto TG-JA2J2239B Side Step matches 4-Door Wranglers of all colors. The running board has star side steps in textured black color. The design is solid, and it will make sure Jeep Wrangler stand out especially with star side step design. The fit and finish are perfect. Easy installation and sharp look make these running boards popular with Jeep Wrangler enthusiasts and hobbyists.  They want quality, value, functionality, and looks. The Tyger Auto TG-JA2J2239B Side Step will give you all this at a price that will not hurt your budget.
1. TYGER RISER For 2015-2017 Chevy Colorado/GMC Canyon Crew Cab 4inch Black Side Step Nerf Bars Running Boards


TYGER AUTO focuses on developing premium aftermarket auto parts that meet or exceed OE quality standards. All TYGER parts are covered with No-Hassle warranty and will make your vehicle stand out on the road. TYGER RISER For 2015-2017 Chevy Colorado/GMC Canyon Crew Cab 4inch Black is definitely one of the best side steps you can buy on the market. This item will fit only Crew Cab with 4 full-size doors. These step bars are made of 4inch wide heavy duty triangle mild steel tubing in black Powder-Coating for rust-resistant with UV resistant non-slip wide step pads. No drilling required, all mounting hardware and DIY instruction included. Buying this product, you get fantastic 100% brand new OE-Style step bars for both driver ; passenger sides. This item has numerous positive customer feedbacks. We highly recommend buying this excellent product. We guarantee you will be satisfied.
---

Running boards, tube steps, side steps, or nerf bars, no matter what they're called or their configuration, what they all have in common is a place to plant your foot to help in getting in and out of tall trucks and SUVs, which is especially welcome on lifted 4-wheelers. Of course, they add a lot of style at the same time. Side steps and running boards allow you and your passengers to safety plant your feet on a step in order to make it easier getting in and out of vehicles, such as SUVs and pickup trucks that are a higher reach off of the ground. Without an extra step into some of the taller models, getting into a truck will feel like climbing a mountain. Side bars and side steps provide a practical use at the same time as adding style to your vehicle.
Although these accessories are most likely used for cosmetic purposes on cars, on larger vehicles; vans, 4x4s and pick-ups, side steps and side bars will promote easier access to the vehicle, particularly if you have children. Side steps may provide an element of protection for the sides of your vehicle such as when parking in-between pillars in car parks but should not be entirely relied on.