All About Nerf Bars for Truck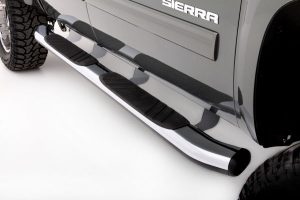 If you have been wondering what nerf bars are and why vehicle owners install them on their truck or SUV, this is a must read. You might have heard and read somewhere about this car accessory but you haven't the idea still what it looks like. Well, nerf bars are just the same as step bars, side steps, truck steps or running boards. This accessory looks like a bent metal tubular device attached to the sides of the vehicle, below the door of the passenger cab.
Whatever name you call it, truck steps serve the basic function of adding a lower step to your vehicle for passengers climbing in and out of your vehicle. The more raised the flooring of the vehicle is, the greater there is a need to install truck steps. Installing this accessory will ensure your passengers to have a step and get into the vehicle safely and easily.
Another great function that nerf bars serve is that it keeps dirt and debris from getting into your passenger cab. When your passenger have shoes that have dirt or maybe dried up mud, the spikes on the foot pads attached on the side step can be used to remove the dirt. In addition, nerf bars have a grooved surface which allows water to drain out of them during the rainy season. This also gives a better grip on your footwear when stepping on them. This is very ideal if you have children as passengers because they tend to be rowdy, playful and very excited when going on trips.
Having a solid grip on the running board is also very essential for senior adult passengers as they are the ones most likely to be requiring a solid footing when stepping into a vehicle. Senior adults like grandparents should be really made a priority as they are the ones who need the most assistance. Preventing accidents like slipping is very crucial because their bodies are fragile and may not recover if accidents happen.
For off road driving, like going on a camping and adventure trip, these nerf bars act as a protection for the side of your truck. This accessory bumps of possible debris scattered on the road and help to avoid scratching the sides of your vehicle. This is why most off road jeep and truck drivers consider nerf bars as one of the top accessories on their list. They get their money's worth because they obtain a lot of benefits by installing this accessory.