FH Group – Car Seat Cover Review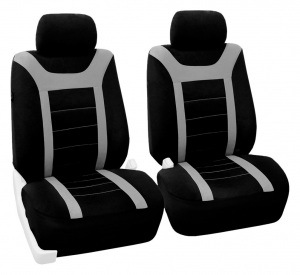 The good thing about car seat covers is that they beautify and protect the layer of our factory seats. This means that dirt, dust, and stains won't be able to penetrate the seat and will only remain on the surface. It is easy and convenient to remove the stain on the car seat surface than to remove the ones that have penetrated into the car seat. Many of the car cover material is quick to recover that means maintenance does not need too much effort. Seat covers can improve comfort if you purchase the right one, provide insulation when you need to feel warm and can improve your driving experience during shorts and long journeys.
There are various models of seat covers on the market today which makes choosing and purchasing the right one a difficult task. With this review, we have summarised one of the best models in the market which makes buying a quite easy and convenient one. Here is our top pick that you can get for your car:
FH Group Gray Bucket Car Seat Cover
For customers looking for the best product on market, this should top your list. While the price is affordable, the car protector has a front two seats also with the bonus of headrest cover. The cover has a 3mm foam padding integrated for comfort and provides luxurious feel. It also helps with the reduction of heat. The flexibility is a bonus, especially during installation. The fabric gives optimal softness for comfort in a stylish form that will upgrade your interior.
The car seat can be used in any model car, SUVs, trucks, and Vans. The car cover was specially designed and allows the airbag to puff up upon collision. The seat protector will not stop or block your side airbags from inflating upon impact. The front seat has an opening package for storage, and it is made of stretchy fabric. The cover is made of durable and comfortable breathable high-performance fabric material that is easy to clean in a machine or hand wash and air dry.
The car protector combines modern design that ensures the beauty of your car interior. The product will protect your interior from your kids, pets, and everyday wear. The installation is easy with an instructional video on their website in case you needed some help. Note that the product is only compatible with vehicles having detachable or adjustable headrests.
Product information:
Brand: FG Group
Item Weight: 1.5 pounds
Product Dimension: 11 x 3 x 15 inches
Folding: No
Cover Included: 2 Bucket Seat covers two headrest covers.

The quality and fit of the car cover are incredible. Great product that fits like a glove. Either your car seat is new or old, tattered or torn, this seat covers will give your interior a whole new look, making driving more fun. Buy the best car cover on the market to protect your factory car seat and keep your vehicle interior from any damage. Thanks for reading as we hope you make the best choice.