BDK – Car Seat Cover Review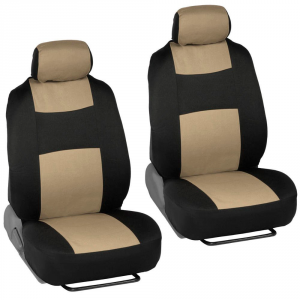 Some expenses and investment can save us a lot of our money and add benefit to us. Buying a seat protector or cover is the perfect accessory for those car owners needing an extra layer of protection for their vehicle seats. A much-needed car accessory for family or pet lovers to prevent their companions from scratching and damaging the surface of their factory seat.
There are various models of seat covers on the market today, which makes choosing and purchasing the right one a difficult task. With this review, we have summarised one of the best models in the market, which makes buying a quite easy and convenient one. Here is our top pick that you can get for your car:
BDK Two-Tone PolyCloth Car Seat Covers
The BDK car interior seat cover is exceptionally flexible and durable for a floor mat and seat cover for vehicles. The high-quality material can withstand any form of weather such as extreme cold or heat. Made from a high-quality FlexTough material that will not creak or heat whether in low or high weather condition. The product provides a lasting solution for car floor and maintains the standard of your factory seat. The breathable material prevents any odors or dirt build up and can be used to cover old torn or wear seat. The material is 100% washable and lasts for an extended period.
The universal fit bench rear is adjustable to either 60/40, 50/50 or even 40/50 split; the seat cover will go well with your needs. The zipper can be unzipped if you wish to rest your arm. The interior protector is the best product for your car. The seat cover is designed to allow side airbags to puff up in case of emergency. So feel at ease to enjoy the new seat of cover while enjoying your ride. The product is easy to install with instructions included. Renew your car seat with this classic seat cover and floor mat.
Revitalize the interior of your car while protecting your interior with the unique floor mats and seat cover. Enjoy the new classy, sporty seat cover with matching floor mats. The seat cover adds comfort to the driver and passenger, and the floor carpet adds plush comfort. The car seat is the best product for every car. Protect your seat from stains, dirt, pet hair, tearing spills, as well as damaging material and outdoor elements such as rain or dust.
Product Description:
Color:   Black and Beige
Brand:   BDK
Folding:   No
Vehicle Type:   Car, SUV, Van, Pickup, Trucks
The BDK seat protector is made of a high-quality material that features two-tone PolyCloth Car Seat Covers, and Heavy Duty Rubber Floor Mats. The perfect package for car users in search for complete interior protection. The seat cover stays in a place with the help of straps and hooks that are easy to install and a non-slip bottom. Quick and easy to remove for cleaning making it an easy accessory for every family. The product is designed to fit most cars', SUVs,. Trucks' and Pickups' front and rear seats. Buy the best product for your vehicle today to maintain and protect the interiors.