CAR PASS – Car Seat Cover Review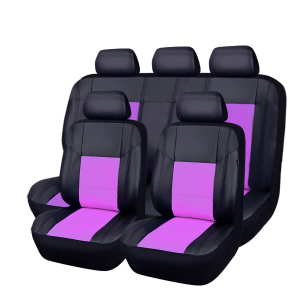 A seat cover can be beneficial in several ways; it can improve the aesthetics of the interior, protect the seat from external damages and make the car user feel more comfortable as they drive. You can only achieve these benefits when you choose the right seat cover. Regular maintenance goes a long way to keeping your seats as good as new. Buying a seat cover that is easy to clean and wash is a good start.
There are various models of seat covers on the market today, which makes choosing and purchasing the right one a difficult task. With this review, we have summarised one of the best models in the market, which makes buying a quite easy and convenient one. Here is our top pick that you can get for your car:
CAR PASS PU Seat Covers
Compared to the extra thousand of dollars automotive manufacturers usually like to charge for the leather interior, this set of the leather seat covers is an excellent bargain that you can get for your car. Apparently, you won't get the same quality of fit and finish as of having a leather interior from the company, but compared to a cloth interior, dirty seat or a well-worn seat, this protector would nicely spruce up your ride. The high-quality protection material will cover and protect the rear without any chemical odor or adverse effect on the interior.
The car cover is easy and straightforward to install in a matter of minutes. The compatibility allows the airbag to inflate in case of an emergency to protect yourself. Perfect fit for car, SUVs, Van, and Trucks. Protect your car interior from mud, physical hazards, and dirt. The CAR PASS can protect your interior perfectly. Easily washable with hand or machine if you ever consider washing. The car cover comes with a two-year quality guarantee for customers.
Protect your seats and ride in the latest design with the non-slip backing. Once you install the car cover, you don't have to worry? the protector will stay in its place, unlike many materials that are readily prone to slipping off the seat. With a three line zipper, it can fit many models of vehicles and allows you to fold down the cup holder by pulling the zipper. CAR PASS offers a range of leather car covers made from the best automotive materials and is designed to fit your car perfectly.
Product information:
Color:   Black With Purple
Brand:    Car Pass
Item weight:    6.61 pounds
Product Dimension:    15 x 5.9 x 10.6 inches
Folding:    No
If you have always dreamed of a luxurious, premium leather interior but thought it was costly or you didn't know you could upgrade your seat cloth to a leather seat. Whatever your wish is, CAR PASS can deliver it, adding style, comfort, and luxury to your car at an affordable price. Buy the best car cover on the market today to protect your car interior from damage or any potential damage. Thanks for reading we hope you make the best choice.