7 Best RC Cars to Buy in 2018
From the kid who just wants something to race with to the hardcore hobbyist adult with a bigger budget, there is an RC car out there. With so many brands and models available on the market, finding the best RC car for you can be overwhelming, that's why we have created this guide to help you find the best remote control car that fits your needs.
Now, this is time to talk about 7 best RC Cars to buy available on the market right now. We tried to pick the best ones for you and we are confident that if you pick either of these 7 from below, you will make a right solution and have a happy experience. Each of them might not be a good enough option for all of you so make sure that you read the features and the pros/cons before taking the final decision.
Best RC Cars to Buy in 2018
7. TOZO C1025 RC CAR High Speed 32MPH 4×4 Fast Race Cars 1:18 RC SCALE RTR Racing 4WD ELECTRIC POWER BUGGY W/2.4G Radio Remote control Off Road Truck Powersport Roadster Blue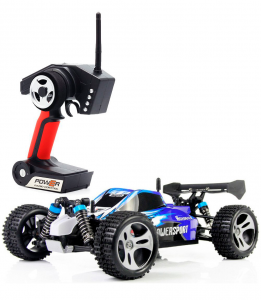 We start our review with a TOZO C1025 RC CAR. It is a 1:18 full proportional off – road vehicle with a very powerful motor. 4 Wheel Independent suspension system is adopted with a helical spring with high resilience for each wheel, which creates an impressive damping effect and a more steady drive. The Powerful 7.4V 1100mAh Li-ion Battery provides powerful drive to the car, up to 32MPH high-speed racing. You have about 15-20 minutes of play. If you want more, you can buy an extra battery. The car is very durable and can survive bad falls, flips, and scrapes. You can easily disassemble and assemble all parts of this car by a screwdriver. All parts can be purchased on Amazon separately.
6. AMOSTING S911 35MPH 1/12 Scale 2.4GHz Remote Control Monster Truck – Red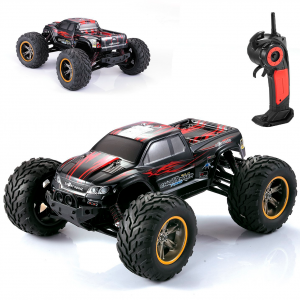 The next CR car in our review is AMOSTING S911.With Li-ion 9.6v 800mAh battery you get 10 minutes play time and a top speed 33+MPH. It has realistic all terrain tires with foam inserts. With a 2.4 GHz radio system you get remote control distance of 100 meters without any interference. This truck is not completely waterproof, but it has a protection from splashing water and waves in rainstorm or snow. Make sure you dry and clean the car timely to maximize the long-term performance. This remote control monster truck comes with a 90-Day free warranty to every original consumer, but man-made damage not included in the warranty. This is a high-quality truck at a reasonable price.
5. HOSIM All Terrain RC Car S911, 33+MPH 1/12 Scale Radio Controlled Electric Car – Offroad 2.4Ghz 2WD Remote Control Truck – Best Christmas Gift for Kids and Adults (Blue)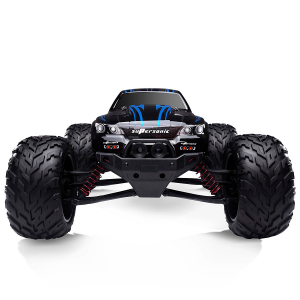 HOSIM All Terrain RC Car S911 has no problem going through the sand, grass, wet mud and marshy land. This CR car is powerful and amazingly fast with the speed limit up to 33mph. With a range of up to 260 feet and highly responsive steering and throttle, the ergonomic transmitter of the radio remote control car ensures superior control. This car is strong and durable and it has a great off-road performance, perfect for specialized operation, like turn, drift, and flip. The main disadvantage of this car is that you spend about 3 hours to fully charge the battery that gives you only 10 minutes of play. This product is backed by 30-Day Money Back Guarantee and 1 Year Replacement Warranty.
4. Remote Control Lamborghini Reventon 1/18 Scale RC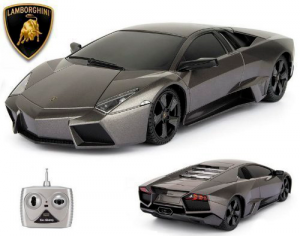 This remote control Lamborghini Reventon is ready to fulfill your need for speed. This RC car is crafted in a 1:18 scale to an authentic Lamborghini Reventon having realistic exterior, rims and tires. Your remote signal will be able to reach up to 30 feet away. Full function radio control allows you to take corners with ease and move in all directions: forward, reverse, stop, left and right. The remote control car requires 4 AA batteries and remote takes one 9v battery, not included. The driving performance of this vehicle is excellent. This is probably one of the most nicely looking RC cars and the price is affordable.
3. Maisto R/C Rock Crawler Radio Control Vehicle (Colors May Vary)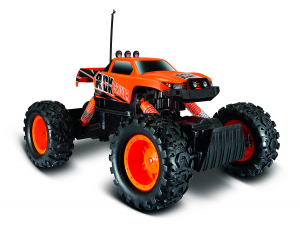 Take your radio control experience off-road with the all new Rock Crawler from Maisto. This off-road radio control truck boasts articulated suspensions, two motors, and low gearing to make for awesome rugged off-road action. This car runs easily, easy to control speed and steer, and a great toy to play with for all ages. Rock Crawler is 12.5" long and sports both articulated front and rear suspension, which gives good traction on all surfaces used on. Batteries required for this vehicle are not included. You will be pleased with the low price and the quality of this item. Overall, the Maisto is an amazing RC car that's solidly built, cheap and a lot of fun. We especially recommend it for RC beginners and people looking for a convenient and durable product.
2. Redcat Racing Electric Volcano EPX Truck with 2.4GHz Radio,Vehicle Battery and Charger Included (1/10 Scale), Red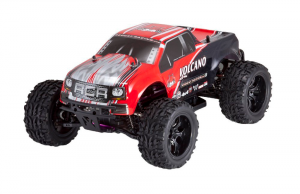 There's a reason why Redcat Racing is one of the market leaders in nitro RC trucks: They build high quality, affordable performance machines that are low maintenance and just a ton of fun to drive. Fast and powerful, the Volcano EPX is equipped with a 27T brushed 540 electric motor, with a heat sink and forward/reverse ESC. Shaft driven 4WD provides you with the necessary traction to maneuver the toughest obstacles and navigating tight spots. It's definitely one of the best RC trucks we've tested. It's big, fast, powerful, and very durable. This 1/10 Scale Monster Truck is available in 2 Colors (blue or red).
1. 1/14 Scale Ferrari La Ferrari LaFerrari Radio Remote Control Model Car R/C RTR Open Doors (Yellow) by FMTStore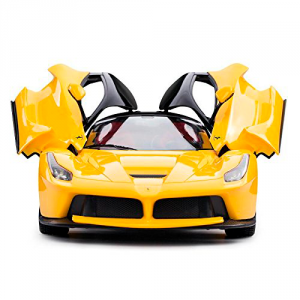 1/14 Scale La Ferrari is the best radio remote control car in our review. It has a very beautiful design. This scale model toy has the La Ferrari scissor style doors and features fully functioning front and rear lights making it perfect for driving during the day or the night. This car has a range of 20-30 meters, so you won't have to move from the comfort of your seat to drive it around. This car needs to be charged and can be used for around 17 minutes before recharging. This CR car would be the perfect present for anyone who loves Ferrari cars. This product has plenty of positive reviews on Amazon. We highly recommend buying this RC car. You will definitely be satisfied with your purchase.
---
Remote control cars are fun, they are entertaining and they are interesting to ride all day. One of the great things about remote-controlled cars is that there's a car out there for every type of user. No matter whether you are an adult or a kid, there is a remote control car to satisfy your fun appetite. RC cars price ranges from as little as few dollars to as much as a few hundred dollars for the premium quality brands. There are different types of RC cars that specialize in various things, such as being a rally car or a drift car or simply specializing in being the fastest remote-controlled car available.
People have already realized that RC cars are great fun to ride and they can be considered not only a kid gift but also a hobby. There are a ton of communities these days that are bonded because of their common interest in RC cars. Whether you are a little kid or an old person, if you love cars then a RC car is a good investment to go for. The fun is unlimited and good RC cars involve a lot of features for you to be engaged for a long time.