6 Best Radar Detectors to Buy in 2018
Some states have strict traffic laws that can charge you with an overpriced ticket for a minor accident or infraction. Fortunately, there are methods to prevent this from happening. One of which is to purchase a radar detector. The radar detector can locate, track, and warn well in advance of any impending police scanner. Amongst top radar detectors, there are plenty of similarities in features, pricing, and opportunity to save money by avoiding costly conversations with the law.
Even with an extensive selection of radar detectors available on the market, finding the best radar detector to suit your needs can be a challenging task. In order to help you complete your radar detector shopping checklist, we gathered up a great list of the 6 best radar detectors to buy in 2017. From basic radar units up to the top-quality options that can even block an officer's ability to read your speed, these detectors are the best options to keep you out of trouble.
Best Radar Detectors to Buy in 2018
5. Cobra ESD7570 9-Band Performance Radar/Laser Detector with 360 Degree Detection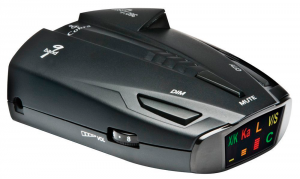 The Cobra ESD 7570 9-band radar/laser detector with UltraBright data display, has an ultra-compact design with an improved range for high performance with refined style. The ESD 7570 features a digital signal strength meter to provide relative proximity to the target, city/highway selector to reduce the frequency of falsing in densely populated urban areas. This tool warns drivers of the presence and/or approaching emergency vehicles, railroad crossing, and road hazard locations equipped with Cobra's exclusive Safety Alert transmitters. The ESD 7570 is an affordable radar/laser detector with reliable and proven performance. The unit provides 360-degree detection of radar frequencies and laser signals. It comes with an UltraBright Data Display and City/Highway modes. It is good budget radar to purchase.
Product information:
Product Dimensions:   2.7 x 1.3 x 4.1 inches
Item Weight:   10.4 ounces
Shipping Weight:   10.4 ounces
4. Whistler Cr90 Laser Radar Detector


Feature rich with a budget-friendly price, Whistler's CR90 radar detector is an affordable option that covers all the radar and laser frequency bands currently employed by law enforcement. On top of that, it adds an internal GPS that offers advanced alerts for threats like red-light and speed cameras. It can detect radars from all sides of your car and will display alerts in order of their priority. The CR90 will emit a different sound alert depending on the type of the radar that's detecting you. Feature rich with a budget-friendly price, Whistler's CR90 radar detector is an affordable option you will be satisfied with. Full dark mode is available for night-time driving, which makes the CR90 difficult to identify outside of the vehicle.
Product information:
Style:    CR90
Product Dimensions:   2.9 x 1.2 x 4.5 inches
Item Weight:   11.2 ounces
Shipping Weight:   11.2 ounces
3. Escort Max 360 Radar Detector (Black)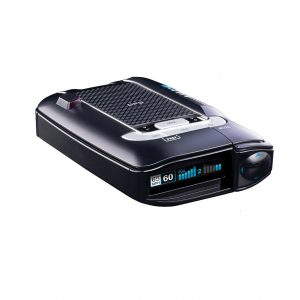 The Escort Max 360 is the most expensive radar detector in our review, and for a good reason. It features Bluetooth and GPS, as well as preloaded databases for speed and red-light cameras. At the heart of the device lies a powerful digital signal processor (DSP), which uses a microchip to automatically recognize and prioritize radar bands typically used by law enforcement. The device also offers 360-degree laser protection and has arrows that display where detection signals come from. Extra features include an over-the-speed-limit alert, display lights showing different types of radar detection and Bluetooth connection via your smartphone through Escort Live. Unmatched precision and detection make this tool one of the best radar detector to buy.  If money is no object, this is the radar detector you should pay attention to.
Product information:
Style:   Escort Max 360
Product Dimensions:   1.4 x 5.4 x 3.6 inches
Item Weight:   1.76 ounces
Shipping Weight:   1.75 pounds
2. Escort Passport 8500X50 Black Radar Detector, Red Display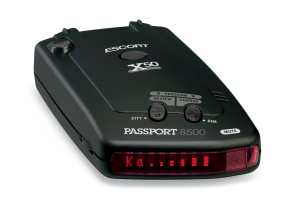 The combination of affordability, performance and a high-definition color display make this radar detector from Escort one of the best available on the market. The advanced technology that allows for a wide detection range is called digital signal processing (DSP) which provides maximum range, with minimum false alarms. Passport's multiple high-performance laser sensors provide maximum laser warning, with superior off-axis protection. The Passport 8500 X50 also includes our proprietary Traffic Sensor Rejection (TSR) software to eliminate false alerts. The improved model has a sophisticated new look and includes a fitted travel case and convenient SmartCord. Drivers who want the most ticket protection possible should consider buying this relatively cheap, easy to use, and effective radar detector.
Product information:
Style:   Radar Detector
Color:    Red Display
Product Packaging:   Standard Packaging
Product Dimensions:   5.3 x 1.2 x 2.9 inches
Item Weight:   2.4 pounds
Shipping Weight:   1.35 pounds
1. Escort Passport 9500IX Radar/Laser Detector (Black)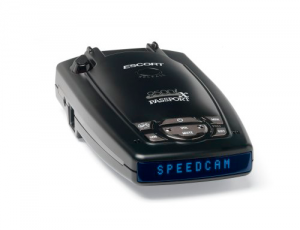 We select Escort Passport 9500ix as the best radar detector to purchase in 2018. The ability to provide maximum threat protection with minimal false threats is a fantastic aspect of the 9500ix. The internal GPS offers a comprehensive set of alert features and allows the user to mark a location as a speed trap, red light camera, speed camera and more. Crystal-clear voice alerts and a high-resolution display provide another level of excellence. With this radar, you will have the ability to place the detector anywhere on your windshield because it comes with a windshield mount and long smartcord. Multiple LEDs offer an easy-to-read display in all lighting conditions, with a night mode that dims the display to avoid being too bright. We recommend buying this product as it has all features you need at a reasonable price.
Product information:
Style:    Radar Detector
Color:   Blue Display
Product Packaging:   Standard Packaging
Product Dimensions:   2.9 x 5.3 x 1.4 inches
Item Weight:   8.3 ounces
---
The most obvious reason to buy a new radar detector is to have the latest technology available to help lessen the chance of getting a ticket. Speeding tickets are the worst. Radar detectors can tip you off on where those speed traps are, so you can avoid paying hefty fines and getting points on your license. A good radar detector will warn you of any approaching police scanner.
Newer radar detectors use GPS and databases of red light/speed cameras to help alert you of areas and intersections where you should slow down and take caution. These detectors also commonly use AutoLearn to weed out automatic doors and similar nuisance alarms when driving around the city, making your driving experience much more enjoyable and anxiety free. Another feature of modern radar detectors is that they integrate with smartphone apps to leverage community-based input on speed traps, thereby enhancing the base functionality of the detector to a scale never seen before. Find the radar detector that suits your needs and budget and save thousands of dollars in tickets.