7 Best Floor Jacks Reviews
A quality floor jack for your garage or automotive repair shop is an essential item for car maintenance. It's important to understand, if you are a vehicle owner, how large a floor jack you require. Frequently floor jacks come with a case and a range of spare tools that can be useful for automotive maintenance. Purchasing a floor jack is not always simple. You'll need to shop around a bit, check out reviews, and just generally make sure that the product meets your personal automotive requirements.
We try to make the purchase easier for you by offering our recommendations on the type of jack you need instead of searching through endless floor jack reviews. Here are top 7 best floor jacks reviews for you to make a wise choice. Each of these was chosen due to their performance, dependability, and versatility.
7 Best Floor Jacks to Buy in 2018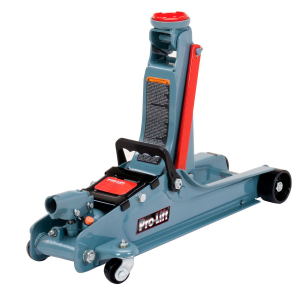 We begin our reviews with Pro-Lift F-767 Grey Low Profile Floor Jack.  The Pro-Lift F-767 is designed with low-profile cars in mind. Being one of the best automotive floor jacks it lifts a capacity of 2 tons and a lift range of between 3.5 and 14 inches. This allows it to slide underneath your low-profile car with ease. The hydraulic powered floor jack is constructed with durable and high-quality steel, making it a perfect long-term investment. Additionally, the inbuilt safety valve and patented bypass device prevent overloading and over pumping respectively. This is an excellent floor jack which will give you better access to low ground clearance vehicle. The price is very affordable, and you won't regret buying this unit.
Product Information
Brand:   Pro-Lift
Model:   F-767
Item Weight:   30 pounds
Product Dimensions:   17.9 x 5.3 x 8.5 inches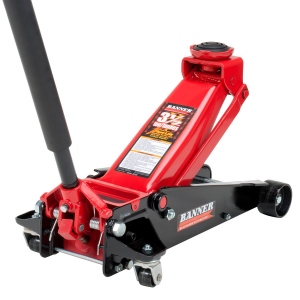 The next item on our list is the Blackhawk B6350 Black/Red Fast Lift Service Jack – 3.5 Ton Capacity. This floor jack is made out of heavy duty steel and is manufactured in China by Banner (now owned by Shinn Fu America Corporation). It has the standard trolley design with fixed from wheels and rear caster style wheels. It also features the swivel saddle that provides you with the easy jack positioning and user safety. Most reviews about this jack say that it's a decent floor jack for the money. Summing it up, this is a very reliable and durable jack that lifts quickly and efficiently. Do not waste your time! Purchase Blackhawk B6350 today!
Product Information
Brand:   Blackhawk
Model:   B6350
Lift Capacity:   3½Ton (7,000 Lbs.)
Item Weight:   85 pounds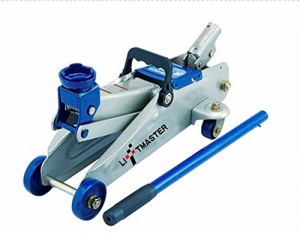 This trolley-hydraulic jack has a 360-degree swivel, allowing you for maximum flexibility on the job. It's light weight, increasing the portability and movement, to suit all of your needs. With a wide range of 5 to 13 inches, you can get a good lift, without the heaviness of similar tools. With this tool, you will able to lift a good bit of weight a small distance without requiring too much force. Don't let the lightness fool you; this unit is reinforced with a heavy steel frame. Lightweight and small size makes it easy to move and store. Even though it is the cheapest floor jack in our review, the quality remains high.
Product Information:
Brand:   LiftMaster
Item Weight:   8.9 pounds
Product Dimensions:   17.7 x 7.9 x 5.5 inches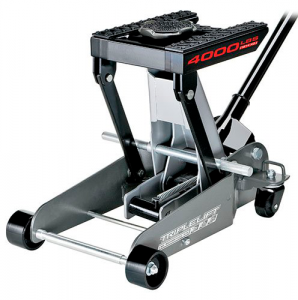 If you need to lift heavy loads in an easy and safe manner, the Powerbuilt 620422E Triple Lift should be your number one choice. This affordable floor jack has a lift capacity of 4000lbs, which makes it perfect for your SUVs and trucks. Powerbuilt has designed this floor jack with padded lift rails and a detachable lift saddle, which allows you to adjust the jack to suit different frames. This means that you can use the Powerbuilt 620422E for ATVs, motorcycles, cars, and trucks. A locking safety bar holds the jack in place once the vehicle is raised, which eliminates the hassle of supporting a lifted vehicle with jack stands. Despite its impressive lift capacity, the all in one Powerbuilt jack is constructed out of lightweight aluminum. Buy this highly durable and easy to use floor jack at a reasonable price.
Product information:
Brand:   Alltrade
Model:  Powerbult 620422E
Lifting Capacity:   4000lb, Tripple Lift
Item Weight:   85 pounds
Product Dimensions   26 x 17 x 9 inches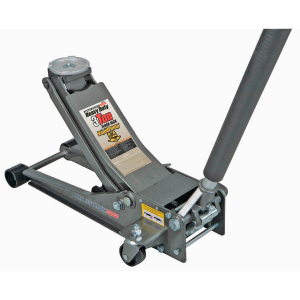 The number 3 in our review is Pittsburgh Automotive 3 Ton Heavy Duty Ultra Low Profile Steel Floor Jack. This 3 ton steel auto jack features a 5 in. to 18-1/4 in. variable lifting range to elevate your car, motorcycle or supply load in only 3-1/2 pumps! A protective foam bumper on the floor jack keeps your vehicle or materials from being damaged while lifting or lowering. With a knurled aluminum handle for a steady grip and a solid, welded steel construction, this rapid pump floor jack is built for comfort and heavy use. This superb quality floor jack is a great choice for both professional mechanics and hardcore automotive enthusiasts.
Product Information:
Model:   Pittsburg
Product Dimensions:   28 x 12 x 10 inches
Color:   Dark Gray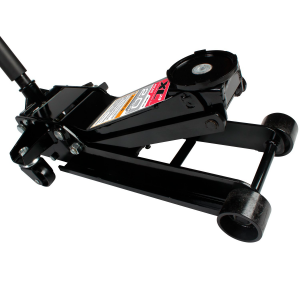 The Arcan XL20 jack is a sleek, low profile, durable and long lasting 2T steel service jack capable of taking on any job for professionals or weekend warriors. The Arcan true low profile design allows users to get under almost any vehicle to lift and comes at a significantly lower cost compared to other models in the market. The dual pump pistons allow for rapid rising. Universal joint release mechanism provides precise control. This model passes the 2009 ASME PALD standard, which is the industry's leading safety regulation for lifting equipment. It will provide you many years of hassle free, safe use. Decent quality of materials and excellent performing make this jack a great investment.
Product Information:
Brand:   Arcan
Model:   XL20
Item Weight:   67.3 pounds
Product Dimensions:   27 x 6.3 x 13.1 inches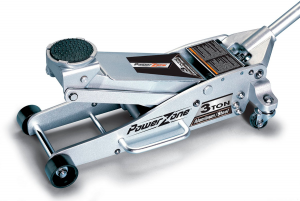 The Powerzone 380044 is undoubtedly the best floor jack for your money. This exceptional floor jack has been created with the average car enthusiast in mind, and it boasts of quality construction, easy operation, and portability. This reliable floor jack has been constructed with a stable base and strong aluminum frame, which allows it to lift up to 6000lbs without any extra effort. Furthermore, the Powerzone has a respectable lift height of between 4-inches and 18.25-inches, giving you sufficient clearance when you are tuning up your car. The sleek floor jack also has rolling caster wheels for portability and a rubber padded saddle for secure jack support. We certainly recommend buying this product as it has all features you need at an attractive price.
Product information:
Brand:   Milestone Tools
Material:   Lightweight aluminum and heavy duty steel
Item Weight:   59.1 pounds
Product Dimensions:   28.4 x 13.9 x 7.4 inches
---
When it comes to a floor jack, it is really a very important investment, because it is really an important tool in a shop and in the garage. Therefore, we should make a wise decision on buying the best floor jack. The best floor jack should reach underneath even the smallest vehicle in the vehicle fleet and also can lift up the bigger vehicles.
Floor jacks are intended to sustain a certain amount of weight for a certain amount of time. The type of floor jack you should buy really depends on whether you are doing relatively minor checks of the underside of your car for a couple minutes at a time. If you need to conduct deeper inspections of heavier vehicles or use the floor jacks for more extended periods of time, it would be a good idea to purchase a heavier duty floor jack. Make sure that you buy the best floor jack available to give yourself every opportunity to work more comfortably, more efficiently, and more safely. Getting the best floor jack your money can buy should be a priority if you do any type work on cars.