Alltrade – Floor Jack Review
Powerbuilt Triple Lift Jack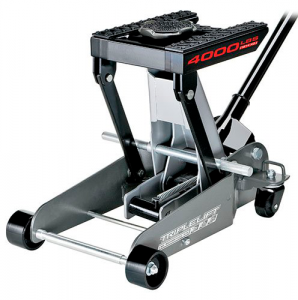 Are you a car lover who enjoys doing all the repair and maintenance activities such as changing your car oil, replacing a punched or damaged tire and other general car service? Then a floor jack is a non-negotiable tool to have, as sometimes you will need to raise your vehicle off the ground and crawl underneath to perform some specific task. While buying the best or appropriate floor jack can make your repairs easy and fun, purchasing the wrong jack can lead to frustrations and more expenses in getting your work done.
There are various models of Floor Jacks on the market today, which makes choosing and purchasing the right one a difficult task. With this review, we have summarised one of the best models in the market, which makes buying a quite easy and convenient one. Here is our top pick that you can get for your car:
The Powerbuilt heavy duty jack is a multi-purpose machine that reduces the stress and hassle of having to purchase, maintain and store jacks. Unlike other floor jacks, the Powerbuilt will perform both the function of lifting and standing of your car, SUVs, ATVs, motorcycles. The flexible design allows it to work well with multiple types of vehicle frames. The tool has both the lift saddle and padded lift rails for lifting and standing of your car. It is important always to feel safe especially when working underneath a vehicle that weighs several tons, that's why the Powerbuilt lift jack has a locking safety bar that holds the car when raised.
The jack meets and exceeds ANSI standards with a lifting capacity of 4,000 pounds. The 3-ton multi-function jack is designed to lift and hold vehicles are as low as 8-5/8″ without requiring an extra stand. The jack is sturdy and roughed enough to handle the toughest task, with 4,000 pounds and 18-5/8″ max lift height. The Powerbuilt jack is perfect to use on both smooth and rough surface as the patented design combines both lifts and holds in one unit.
Product information:
Brand:   Alltrade
Model:  Powerbult 620422E
Lifting Capacity:   4000lb, Tripple Lift
Item Weight:   85 pounds
Product Dimensions   26 x 17 x 9 inches
Lift range:   8-5/8″ to 18-5/8
Capacity:   2 ton
Standard:   Meets or exceeds ANSI and ASME
Folding:   No

If you are in the market for a standard performing product, then the Powerbuilt Heavy Duty Triple Lift Jack should be your pick as the jack makes a good addition to every garage or professional auto shop. Produced in China, the product is highly durable and easy to use. The design allows both a removable lift saddle and padded lift rails that allow the jack to adapt to almost all vehicle frames. The jack can easily lift your ATVs, trucks, cars and holds the safety bar in place when raised. Buy the best multi-wheel jack on the market today with an average customer rating of 4.5. Thanks for reading and we hope you make the best choice!