Arcan – Floor Jack Review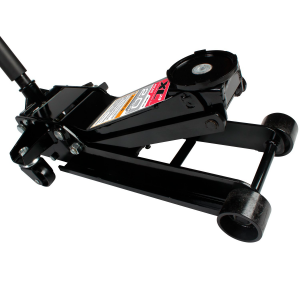 A garage is incomplete without a car jack to do all the heavy lifting. If you are a mechanic or you enjoy doing all the repairs and maintenance of your automobile, then you probably know how frustrating it could be when you have a bad or weak tool for your repair and maintenance. Buying the best floor jack for your repairs can save you from the stress and frustrations encountered during repairs and maintenance.
There are various models of Floor Jack on the market today, which makes choosing and purchasing the right one a difficult task. With this review, we have summarised one of the best models in the market, which makes buying a quite easy and convenient one. Here is our top pick that you can get for your car:
The Arcan XL20 is a professional quality 2-ton low profile aluminum floor jack that can go as low as other products can't for your car lifting and maintenance. With a minimum height of 3 inches and a maximum of 18 inches, the jack is best for lowered sports cars, SUVs, trucks, and pickups and other models. The jack has both ultra-low and extra high lift height to do your car lifting during maintenance and repairs. This floor jack is the best in the market that requires little effort to work efficiently in your garage. With 45.5 inches handle, those with small and tight garages can efficiently use the handle with few pumps and lift their vehicles with ease. The low profile jack complies with the ASME PALD 2009 standard and gets under cars easily.
The long handle of the floor jack means you can reach the jack effortlessly when needed and the lightweight aluminum frame saves some weight along the heavy duty steel lift arm, and the rest of the made-to-last construction make the XL20 best among other competitors. The floor jack handle only requires a slow twist to bring it back down smoothly with an easily controlled switch.  The floor jack lift range is as little as 3-1/2 inches all the way to 18-1/2 inches. The jack is easy to use with a safety feature that protects the device from being over-pumped when trying to lift the weight.
Product Information:
Brand:   Arcan
Model:   XL20
Item Weight:   67.3 pounds
Product Dimensions:   27 x 6.3 x 13.1 inches

If you are thinking about getting a professional mechanic for your car lifting, save yourself some money and get the Arcan XL20 that will always be in your garage when needed. The floor jack is durable, lightweight, easy to store and does a better job. The minimum lift height will fit most cars, trucks, SUVs, ATVs and much more. The floor jack is made of aluminum, and it is durable to use in any form of weather condition. The length and storage space won't be an issue; you will only spend little time lifting inside your truck. The service provided will leave you more than happy with the speed, strength, stability, lifting range and durability.