Having a good set of tires will make a huge difference and improve your driving experience. In this modern age that tires are designed to function or perform better in some situations like driving in good and bad weather condition and even off-road driving. If you live in an area where there are heavy rainfall and snowfall, you are likely going to get a set of all-season tires or winter tires and stay away from summer tires and vice versa. If you live off the road or mountainous area, then the off-road tires will be best in this situation.
There are several manufacturers of tire out there each promising optimum solution and performance for your vehicle, but how do you choose the right one? Here at xlraceparts, we review one of the best product in the market putting in some vital consideration like quality, performance, customer ratings, the manufacturer's history and other factors that affect usage and performance.
The Westlake Tire
Westlake Tire has been in existence since 1959, owned by Hangzhou Zhongce Rubber Company. The tire company is one of the world's biggest manufacturer of original factory and aftermarket/replacement tire for the car, passenger, touring and SUVs/light trucks. Westlake company has proven popular for customers looking for high quality and reasonable price; their tires include all-season tires, winter tires and high-quality tire for cars and trucks, SUVs, and minivans. The company's factory is focused on manufacturing high-grade tires that incorporate the latest technology, innovation and are environmentally friendly. For customers and drivers looking durability and value for money, the Westlake Tire is an excellent choice.
Westlake Tire is for budget-oriented customers. The tires are built in a large award facility in China and adhere to all specifications of the global market where they export their tires. The company has earned an excellent reputation for quality and excellent market price. Their production line includes ALL-Terrain tires and Mud tires that deliver on sand, mud, rock or dirt. The company also produces winter tires that offer maximum protection in the winter months. Also, Westlake provides radial and bias massive trailer tires, truck and bus radial tires. Westlake manufactures all variety of tires for different cars. The Westlake tire is a brand you can rely on for a pleasant driving experience. Here is a quick review of one of their latest products:
Westlake Touring Radial Tire – 215/60R16 95H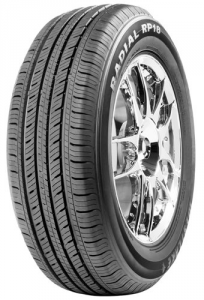 The Westlake Touring Radial Tire offers excellent performance all year round. The tire provides affordable price and high performance for cars, sedans, minivan, crossover. The Westlake tire has efficient siping and treads patterns that allow water dispersion with a good tread depth and an additional tread wears indicator. The weight is about 19.7 pounds with vertical siping patterns which are essential in traction at the same time increasing the stability of the tire. The tire offers superior steering reaction and can fit into 16 inches rim diameter. The product is one of the best with an excellent customer star rating and comments.
The RP18 touring all-season tire is one of the most popular and best-selling tires on the market. Built to fit into most cars, the RP18 is available in small and larger sizes (ideal for older vehicles with smaller fitments). The all-season tread compound and symmetrical tread pattern provide reliable traction on the dry and wet road. The non-directional tread pattern makes rotating much more comfortable for the tire and gives the tire much-extended tread life.
Product Information:
Brand:   Westlake
Model:   RP18
Item Weight:   22.6 pounds
Product Dimensions:   26.1 x 26.1 x 8.7 inches
Special Features:   tread_wear_indicator
Section Width:   215 millimeters
Aspect Ratio:   60
Construction:   Radial
Rim Diameter:   16 inches
Load Index Rating:   95
Speed Rating:   H
Tread Depth:   10 thirty_seconds_inches
One of the most important thing about buying the best tire is traction. You don't want a pair of wheels that only look good and beautiful your car; tires should be durable, have excellent adhesion, valuable, affordability among other factors. Westlake Touring Radial offers these, without compromising your driving experience by providing performance, value, and quality. It's easy to assume low-cost budget tires are just cheap with less quality performance. For some product that might be the case, but few models offer high products at an affordable price, and the Westlake RP18 is one of those products.