Safety, comfort of the ride, traction, braking, stability and the ease of handling depend on the condition and quality your tires have. When you select tires for your vehicle, you choice depends on the performance you are looking for, the area in which you live or drive. If you buy the proper tires, that will ultimately improve the performance of your car and will give you an enjoyable driving experience.
There are several manufacturers of tire out there each promising optimum solution and performance for your vehicle, but what shall you do to choose the right one? Here at xlraceparts, we review one of the best product in the market putting in some vital consideration like quality, performance, customer ratings, the manufacturer's history and other factors that affect usage and performance.
GOODYEAR TIRES
Charles Goodyear established the Goodyear company in the year 1898. The Tire Company is based in Akron and has extended innovation centers to Ohio, Colmar-Berg, and Luxembourg. The company manufactures both the Original Equipment and replacement tire for cars. Goodyear ranks among the world's largest manufacturer of automobile tires. With the aim of achieving standard performance, the Goodyear has raised its standard to the modern technology and innovation. The company produces tires for cars, crossovers, light trucks, utility vehicles, buses, tractor-trailers and other heavy-duty automobile tires. The company ensures your vehicle gets the best performing tires at an affordable price.
The American based company manufactures aftermarket as well as many other tire lines used as OEM (Original Equipment Manufacturer) on new vehicles. They own brands like Dunlop and Kelly Springfield, as well as a number of other popular brands. The company produces tires for all uses and vehicles, including on- and off-road cars, motorcycles, planes, etc. Goodyear is the top supplier of racing tires for NASCAR, NHRA and SCCA and other road racing cars. Their most famous lineups, which may be the best tires for your vehicle include All-terrain Wrangler, and Truck all-season among other brand. The company produces a quality tire for Passenger, Light Truck/ SUVs/ CUVs, Commercial Truck.  Here is a quick review of one of their product:
Goodyear Eagle Radial Tire – 205/55R16 89H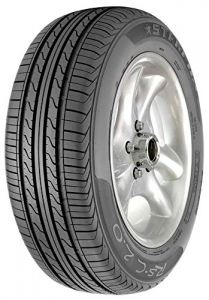 The Goodyear Eagle RS-A Radial model has been on the market for some time now and remains popular among customers looking for a good performance product. The tire brand represents an excellent choice among trucks, SUVs, jeeps drivers. The Goodyear Eagle RS-A Radial is an all season all terrain model, and it's designed to work well on paved surface and in difficult situations like dirt, sand, and gravel. Though the tire doesn't do well in deeper mud, it remains the best choice you can get for your car. Goodyear Eagle RS-A Radial provides virtually maximum stability, performance and comfort, and these are by far some of the best all-season tires on the market. There are many choices out there for aftermarket/replacement tire, but only few can withstand Goodyear Eagle combination of performance, value, and quality.
The Goodyear Eagle high-quality summer tire is manufactured to provide impressive handling as well as dependable wet and dry traction. The tire offers affordable price and high performance suitable for cars, sedans, minivan, and crossover. The tire has efficient siping and treads patterns that allow water dispersion with a good tread depth and an additional tread wear indicator. The Goodyear tires perform exceptionally well under the good or bad weather, plus their high silica rubber and orange oil-infused compound helps to make them durable and environmentally responsible. The tire pattern between the blocks helps to grip the snow, maintain its rigidity and channel water out during the rainy period. The tire is the best on the market that offers high performance for your car.
Product Information:
Brand: Goodyear
Model: Eagle RS-A
Item Weight: 20.4 pounds
Product Dimensions: 24.9 x 24.9 x 8.1 inches
Special Features: tread_wear_indicator
Section Width: 205 millimeters
Aspect Ratio: 55
Construction: Radial
Rim Diameter: 16 inches
Load Index Rating: 89
Speed Rating: H
One of the typical ways of testing of all seasons tires is by confirming how well a tire can handle winter season most especially during deep snow and icy roads. The Goodyear Eagle RS-A Radial ones work beyond expectation. The material used is silica, making it perfect for handling when driving your car. The tire is the best among other competitor brands with an average customer star rating. Buy the Goodyear tire today to improve your driving experience.