The importance of tire can't be overlooked as it is the only part of your car that touches the road. Several factors can affect the performance of your vehicle, but none can be significant as the car tire. Tires play an important role in safety, handling, down to fuel economy when driving. They also play a massive role in acceleration, steering, and the braking, and got to maintain control whether in heavy pouring rainfall, snow or during the dry weather. As a result of this, you have to manage your car tires regularly and purchase the best high-tech tires in the industry.
There are several manufacturers of tire out there each promising optimum solution and performance for your vehicle, but how do you choose the right one? Here at xlraceparts, we review one of the best product in the market putting in some vital consideration like quality, performance, customer ratings, the manufacturer's history and other factors that affect usage and performance.
The Kumho Tire
With over 50 years of experience, Kumho tire is a high-performance tire company that supplies quality, advanced technology combined with affordability. They offer their O.E.M automobile tires to customers all over the world. Kumho Tire started operation as Samyang tire company in early 1960 in South Korea. The company has its headquarter in Gwangju, South Korea as one of the largest tire manufacturers in the world. The Kumho tire is a subsidiary of the Kumho Asiana Group, along with Asiana Airlines, the second largest airline in South Korea. The company is dedicated to safety and high performance of all their products worldwide.
Kumho Tire exports tires to the majority of the world and has a global sales network organization. The company has a partnership deal with Dachan Tire company since 1991 providing automobile inner tubes and flaps. Kumho develops innovatively and offers computational tires using the latest materials produced in their state-of-the-art tire manufacturing plants. The company is focused on providing reliable products advanced technology that is better for customers and natural environment. Their product line ranges from Passenger, Light Truck/ SUV/ CUV, Commercial Truck.  Here is a quick review of one of their products:
Kumho Ecsta PS31 Performance Radial Tire – 215/45ZR17 91W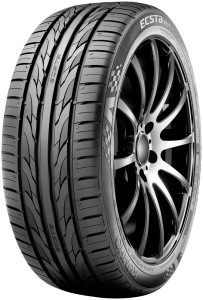 The new Kumho Ecsta PS31 high-quality summer tire is manufactured to provide impressive handling as well as dependable wet and dry traction. The Kumho company incorporated a high-tech summer tread compound to ensure traction, stability, and performance which gives the tire a high grip and added traction. Built for all kinds of cars, sedans, SUVs, the Kumho comes at a budget-minded price for customers looking for an affordable market price. The Kumho Esta PS31 is the best summer tire for your sports coupes and your high-performance sedans. Kumho Ecsta PS31 provides virtually maximum stability, performance, and comfort, by far the product is one of the best all-season tires on the market. The high rigidity construction produces high-speed handling capabilities giving you a smooth ride as well as reducing the noise when driving.
Without a doubt, the price makes it an attractive option for budget-minded customers, but beyond that, the tire performs quite well. With an average 4.9 customer star rating, the tire stands out among other competitors. The Kumho tire has efficient siping and treads patterns that allow water dispersion with a good tread depth and an additional tread wear indicator. The siping is longitudinal and angled well which helps the tire to last for a very long period and prevent tread wear at a reduced rate. The non-directional tread pattern makes rotating much more comfortable for the tire and gives the tire much-extended tread life.
Product Information:
Brand:   Kumho
Model:   Ecsta PS31
Item Weight:   21.2 pounds
Product Dimensions:   17 x 17 x 3.8 inches
Section Width:   215 millimeters
Aspect Ratio:   45
Construction:   radial
Rim Diameter:   17 inches
Load Index Rating:   91
Speed Rating:   W
Tread Depth:   10.3 thirty seconds inches
Customer Reviews:   4.9 out of 5 stars
Are you looking for the best quality and high technology tire for your car, truck, or SUVs? The Kumbo offers the solution. The Kumho engineers strategically place tread dimples to help dissipate heat from tread blocks, optimize high-speed durability and for the tire overall long life. The Kumho tire is often used as your O.E.M or an upgrade to your factory tires.