The Crossover Vehicle : Kia Sorento R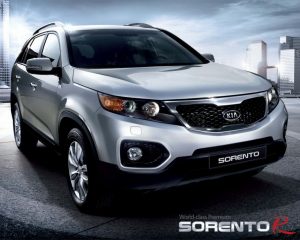 Hats off to the design team at Kia Motors. While design chief and ex-Audi man Peter Schreyer is getting the credit for the overall looks of the all-new Sorento R, the biggest improvements go much deeper than the exterior sheet metal.
By removing unwanted and unnecessary complexity that characterized the previous model, the all-new model has re-emerged as a much more user and driver friendly vehicle while still retaining its recreational appeal.
Even though the new model has grown in size and spaciousness, the design team has managed to shed more than 200kg in weight after abandoning the ladder chassis from the previous model and simplifying the four-wheel drive system.
Safety and towing ability have not been compromised in the weight reducing exercise with Electronic Stability Control, traction control, dual front, and side and curtain airbags standard across the range.
The safer mono cocque body shell achieves a towing capability of up to 2.5 tonnes with a braked load. Interior space has also been increased to accommodate a third row of seats and up to seven passengers (not overly big ones in the third row) on three of the four models being offered to Kiwi buyers.
Kia Motors now sees the Sorento as a "crossover" which means a greater leaning towards a car- based vehicle.
"While retaining much of its off-road capability, the new Sorento R is much improved for on-road driving in all weathers and surface conditions, which is what 99% of buyers require", says Todd McDonald, General Manger of Kia Motors New Zealand.
Diesel is the only option being offered by Korean Manufactuer with an outstanding all-new third generation common rail R-series engine mated to an equally superb newly designed light weight 6-speed sequential shifting automatic or a 6-speed manual transmission.
The new R2.2-litre diesel produces 145kW @ 3800rpm and 445Nm @ 1800-2500rpm when partnered with the automatic, both significant increases over the previous 2.5 liter engine, but more importantly clearly ahead of many competitors in this segment of the market. The engine meets Euro 5 emission regulations and has claimed combined fuel consumption figures of 7.4L/100km for the automatic and 6.6L/100km for the manual.
Diesel particulates (soot) are trapped by the filter to help reduce air pollution (and ultimately lung related health issues) created by the combustion process, especially at high temperatures such as those found in a diesel engine. No doubt it will be fitted eventually, we certainly hope sooner rather than later.
The new four-wheel drive system is permanently on demand and in most driving conditions will power the front wheels only until it senses slippery conditions at which time drive is automatically feed to the rear. The system can also be locked into a 50:50 four-wheel drive mode for more extreme conditions. This will automatically disconnect once a predetermined road speed is reached.
In place of the previous more complicated low range gearing the new Sorento R four-wheel-drive models have Hill Descent Control which reduces the downhill momentum to a safe 8km/h and Hill Start Assist which prevents the vehicle rolling back on a slope.
In another first, the car will be available in front-wheel-drive only, for those who want the practicality of a 7-seater but don't have a need for 4WD.
In keeping with the crossover theme McPherson strut suspension is used in the front and a new fully independent multi-link system replacing the old live rear axle. In our recent press drive the Sorento R provided a comfortable and capable experience.
With both sales and market share increases this calendar year (3% and 37% respectively up to September) the all-new Sorento R will only continue to raise the Kia profile and continue to create plenty of nervousness with its competitors.