Bakflip Tonneau Cover Cleaning Tips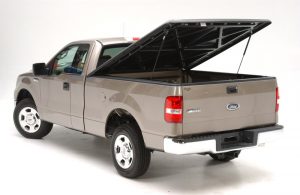 Bak Bakflip tonneau covers are one of the leading folding tonneaus in the market. Made with high-quality aircraft grade materials, they are built to last for a long time. As a matter of fact, they may even outlast your pickup truck! Bakflip tonneau covers also guarantee great flexibility as well as maximum security and protection for your truck bed and cargo. They allow full access to your truck bed while giving your cargo and truck bed the best protection against the harshest weather condition and elements as well as from prying eyes and hands. But in order for your tonneau cover to remain in great shape and looking good as new for a very long time, regular cleaning must be made.
There are two methods for you to clean your Bakflip truck bed cover: You can turn to drive-thru car wash as well as skip the wax, or perform the cleaning and washing yourself. The latter is a lot more practical and a whole lot simpler compared to you believe. Bakflip truck tonneau covers such as the Bakflip G2, HD or F1 don't require special cleaning agents. All you'll need is a solution of mild soap and clean tap water. Before you start, you have to park your own pickup truck in a tinted area to prevent damaging your truck bed cover as well as your pickup truck.
The first thing you need to do is spray water o n your Bakflip tonneau cover. This removes the dust and grit stuck on the tonneau's panels. Do not proceed with scrubbing the tonneau cover right away to avoid scratching the surface of your tonneau cover. Next, take a sponge and dip it in a solution of equal parts of water and mild soap. Start from the center and move towards the edges. Do not scrub hard to avoid damaging the surface. If gentle side-to-side scrubbing will not suffice, get more solution and allow the area to soak for a few minutes before scrubbing again.
Once you're done, rinse the actual Bak tonneau cover with a hose and allow the tonneau cover to dry. You can spray protectant on your tonneau cover once it's dry. Wipe then reapply the protectant two or three times, allowing the protectant to dry in between applications. Before you use a protectant, make sure that they are safe for your tonneau cover. You can use Armorall or 303 protectant which will preserve your tonneau's surface.
You have to stay away from protectants which are ammonia based because this could damage the top of the tonneau cover's panels. Always refer to your own tonneau cover's documentation to know which cleaning agents and protectants to use for your own truck bed cover.
The Bak Bakflip is one of the most sought-after folding tonneau covers in the industry. Check out for different styles of these bakflip at Tonneau Covers World.