5 Best Wheel Chocks in 2018
You might be surprised to know that one of the most important safety products in a garage is also the one that many people overlook. We're talking about wheel chocks. When your car or truck is jacked up or on car ramps, chocks prevent it from rolling. Just because your vehicle is in gear or has the emergency brake applied, there's always the possibility of something going wrong. Think of wheel chocks as a backup safety device the same way we use jack stands even though a floor jack may be supporting the vehicle. Even the best wheel chocks are inexpensive and will last you for years.
Wheel chocks also referred as the wheel stops or wheel blocks are readily available in the market in a variety of styles, sizes, and shapes. The wheel chocks could be easily made from different types of materials. Take a look at 5 best wheel chocks to buy for your car.
Best Wheel Chocks to Buy in 2018
5. FloTool 11930MI Heavy Duty Wheel Chocks, Set of 2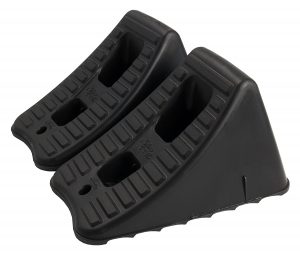 We begin our review of the best wheel chock with FloTool 11930MI. This is a black wheel chock that has a solid bottom and can be placed against the wheel of a parked vehicle to help hold it steady. It is made of durable plastic that resists slipping, wear, and weather. The product should be used only on the flat surface. The patented design will hold back a lot of weight, but be careful to never drive over these chocks or you may bend the ribs which give them stability. Backyard mechanics and home handymen will have dozens of uses for non-slip wheel chocks that are solidly built and easy to use. Size matters when it comes to wheel chocks, so make sure you are purchasing a set that is suitable for your particular needs. It can be a safety device that can be used with ramps and any other lifting devices.
4. MaxxHaul 70072 Solid Rubber Heavy Duty Wheel Chock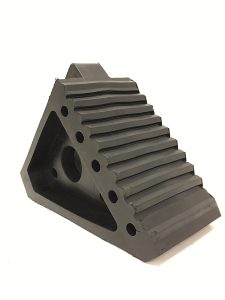 The next wheel chocks we recommend are MaxxHaul 70072. With an overwhelming approximate size of about 8-inch length x 4-inch width x 5-inch height, the MaxxHaul's product offers a compelling competition to the other wheel chocks available on the market. Empowered with the solid rubber construction, it is a powerful wheel chock that could be utilized with your trailers on the level ground. This wheel chock provides super traction to your vehicles. MaxxHaul solid rubber wheel chocks feature all weather construction and a rubber traction pad that make them the perfect choice to keep your vehicle or trailer secure in any climate. The non-slip surface is oil resistant to provide superior traction. MaxxHaul wheel chocks are lightweight yet durable enough to keep almost any vehicle or trailer in place. We guarantee you will be pleased with the low price these wheel chocks cost.
3. Camco 44492 Super Wheel Chock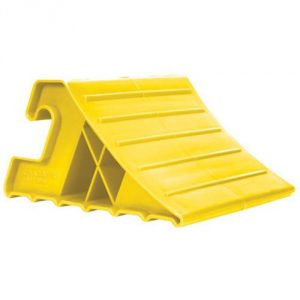 Camco 44492 Super is definitely one of the best wheel chocks available for sale on the market. This wheel chock is designed to keep your trailer in place so that you can re-hitch with confidence. They are bright colored, and so you won't overlook removing them when hooking the camper back up. It comes as a set of two. It is lightweight to ease portability and storage when not in use. It is constructed of durable hard plastic with UV inhibitors and is easy as well as effective to use. This product is very lightweight and easy to move in place. With such a great performance and affordable price, you will be satisfied with your investment. Measuring 5.5″ x 8.5″ x 10″, these wheel chocks are for use with tires up to 29″.
2. Camco 44414 Wheel Chock – Pack of 2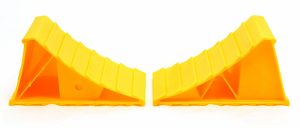 Camco boasts a long-standing tradition of customer service and excellence in the RV industry. Camco 44414 Wheel Chocks are made for use with tires up to 26? tall and come in a highly visible yellow. The rubber chocker come as a pack of 2 and are loaded with the goodness of durable hard plastic incorporated with the UV inhibitors which makes it very easy to use and are effective as well as efficient in play. With dimensions 8.4×6.0×5.1 inches, the product derives its origin from the US and weighs 1.5 pounds which make it a powerful competitor to support your vehicle with confidence. We recommend these for anyone looking for an inexpensive wheel chock for storing their trailers on level ground. Camcos are probably the best of the plastic-type models and are actually made in the USA.
1. YM W4194 Solid Rubber Wheel Chock with Handle, 8-3/4″ Length, 4″ Width, 6″ Height – Pack of 2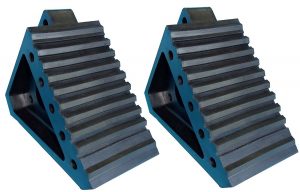 The number one in our review is YM W4194 Solid Rubber Wheel Chock. These are top quality rubber wheel stops at a good price. This durable, solid rubber wheel chock designed for use with heavy-duty loads. Non-slip rubber bottom maximizes the grip when the vehicle is parked on the chock and can endure high heaviness. Plus, it is made with rubber handle for you can take it and transport it to everywhere. These are awesome chocks you can trust. It is lightweight to enable you to carry it easily when you need and store with ease when not in use. It is wise decision to spend your money on something that will give you reliable services for years. These wheel chocks will hold your truck and car uprightly for daily maintenance.
---

Anytime you lift one end of a vehicle, you should use the best wheel chocks possible for all tires remaining on the ground. If you own a set of vehicle ramps, high-quality chocks are a great companion tool to give you more stability and enhanced safety. Good wheel chocks will be light enough and small enough to store behind the seat for emergency use, and strong enough to last for years. Rubberized wheel chocks will always give you the best performance, gripping the surface they rest on to prevent sliding. Keep in mind, though, that wheel chocks are designed to prevent a tire from moving and are not large enough or strong enough to use for other purposes.
Wheel chocks come in play to keep a vehicle from rolling when the opposite end is lifted. Wheel chocks are at times used in conjunction with medium-large parked vehicles to make sure that the vehicle does not roll and is safe for the property nearby. The wheel chocks could also be used as off road chocks during construction when the builders and constructors are required to park their vehicles in tough areas that do not offer roadways yet, and the land is uneven.