5 Best Oil Drain Pans for Your Car in 2018
Vehicles can be hard to maintain. You need to own various parts and tools you can get your hands on. Everything should be ready in your garage by the time you need to perform maintenance. You must also get these parts/tools ready for oil flush or oil change. In emergency situations such as oil spills or leakage, you must acquire the best oil drain pan. Changing your oil is an important part of regular vehicle maintenance. Over time, oil can lose its fluidity and become overly viscous. Changing this oil will help keep your car's internals well-lubricated and clean. When your car's engine is lubricated and clean, it will provide a much smoother and quieter ride for your vehicle.
Below are the 5 best oil drain pans for your car that will make a fine addition to your garage tools. Read similar and distinctive features to compare and assist you in deciding which one to buy.
Best Oil Drain Pans for Your Car to Buy in 2018
5. Hopkins 11838 FloTool Oil Drain – 15 Quart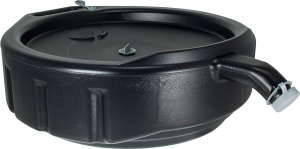 FloTool, by Hopkins Manufacturing, offers the most comprehensive and highest quality offering of fluid handling products. Hopkins 11838 FloTool Oil Drain is an oil drain pan that can drain and store as much as 15 quarts of used oil. The top section of the oil drain pain does not come off which means less spill when you are changing oil or checking out all of your vehicle's fluid levels. FloTool also comes with "No Spill Oil Spout" that is great for eliminating spills as well as messes. Its molded groves design helps to drain oil filters swiftly. If you are looking for oil drain pan that can provide easier as well as cleaner means for change oil, this oil drain pan is the right choice for you. This is the greatest purchase for multiple car owners, having both small and large vehicles.
Technical Details:
Brand:   Hopkins
Item Weight:   1.81 pounds
Product Dimensions:   18 x 24 x 6.7 inches
4. Lumax LX-1632 Black 15 Quart Drainmaster Drain Pan and Waste Oil Storage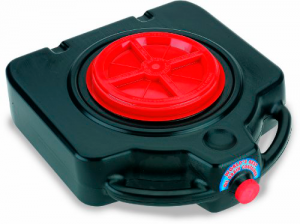 The Lumax LX-1632 has a unique design and a 15-quart capacity that's perfect for storing oil changes worth of old oil. One of the more useful features of this pan is its wheels. These wheels rest under the pan so that you can easily roll it under a car when you need to drain. Also, once you remove the red cap, this pan has a fairly large orifice for oil collection. This red cap is secured with an O-ring seal that helps reduce the overall amount of potential leakage from the pan. Another really useful feature that we liked was the two sturdy handles at the top of the container. These are great for hefting the pan, especially when it is heavy with old oil. While this is a plastic container, it definitely has no issues storing other chemicals like antifreeze and gasoline.
Technical Details:
Brand:   Lumax
Item Weight:   2.5 pounds
Product Dimensions:   19 x 16 x 5 inches
3. FloTool 42003MI Drain Container

The FloTool 42003MI Drain Container has some great design notes that make changing your oil a little more convenient. It lays flat and can be turned upright when full, and it also has two dedicated areas for storing the additional necessary components of an oil change. Firstly, it stores the used oil filter that you'll need to drain and change; the product has a specific indentation for this device. Secondly, there is also a spot to store your car's oil plug as well. The cap on the body of this product doesn't have a rubber seal or gasket, but for the most part it doesn't leak much, if at all. We also really liked the vent cap for this product so that air can flow in and out of the container.
Technical Details:
Brand:   Hopkins
Model:   42003MI
Item Weight:   3.75 pounds
Product Dimensions:   17.2 x 20 x 6 inches
2. Lisle 17942 Black Plastic 4.5-Gallon Drain Pan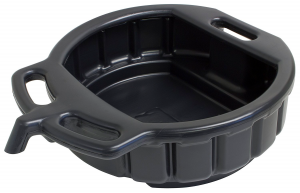 Lisle 17942 Drain Pan is a black, plastic oil drain pan used to drain/hold approximately 4.5-gallon of oil or used fluids. It is specifically created for easy transfer of liquids. The product is made from polyethylene material, which makes the exterior smooth. The material is also chosen because of its ability to resist chemicals and solvents. Apart from the aforementioned, polyethylene makes the product easy to clean after each use. You can wash it or wipe it with a cloth without difficulty. It also has large grip handles useful for transport. The built-in large handles make your movement from one place to another easier. Placing the automotive liquids in larger containers can be done conveniently. If you want a hassle-free oil change solution, you have to purchase this product. Its features will help you make a not-so-messy way of draining, storing, pouring, and transferring oil.
Technical Details:
Brand:   Lisle
Item Weight:   5 pounds
Product Dimensions:    18.5 x 22.8 x 6.6 inches
1. ATD Tools 5184 Black Drain Pan – 4-1/2 Gallon Capacity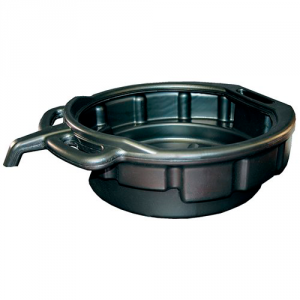 ATD Tools 5184 Black is undoubtedly the best drain pan in our review. This black 4-1/2 gallon drain pan features a large spout for easy pouring. The molded handle makes carrying, pouring and storing extremely easy. Its anti-splash lip helps prevent spilling when carrying or pouring. This drain pan is 6 inch deep and has a 15.25-inch diameter. You can transfer the oil into a large jug or container without any kinds of hassle. This product is helpful to have a cleaner and mess-free oil change or fluid transport/disposal. This drain pan by ATD Tools is reasonably priced for its amazing features. If you want to make sure to have convenient and stress-free oil change, you can never go wrong with ATD Tools 5184 Black Drain Pan. Purchase this superb product, and you will be satisfied with your choice.
Technical Details:
Brand:   ATD Tools
Model:   5184
Item Weight:   8 ounces
Product Dimensions:   2 x 3 x 4 inches
---
Owning your personal oil drain pan is a must for your garage. If you feel that going to the automotive shop for an oil change is a hassle and costly and you can do it on your own, you need to get one now. You can save money and at the same time reuse your automotive fuels when you do an oil change at home. In emergency cases wherein leakage take place, you can do oil drainage right away without depending on any automotive service provider. Just make sure that you have the best oil drain pan that matches your own vehicle.
The selection of a quality and appropriate oil drain pan can make the oil change process much cleaner, simpler, and safer. The best oil drain pan will handle the full quantity of the largest vehicle you own and allow you to empty it easily in an appropriate disposal or storage container. If you're changing oil in more than one vehicle at a time, consider a larger pan with a higher capacity to prevent having to stop and find a disposal facility in between changing the oil in two cars. While not always an exciting purchase, a quality oil drip pan can be a vital part of one's collection of automotive tools!