6 Best Wheels to Buy in 2018
An automobile should be an ongoing process. You're never going to be "done" with your car, because it's always going to require new work, new refreshes, and new accessories or parts, depending on what you're doing with it. If you really care about your ride, chances are you've been tempted to dress it up a bit. One of the most obvious, and easiest, ways to do this is by purchasing a nice set of wheels.
Putting custom wheels on your vehicle can spice up your ride to bring back some of that new-car excitement. New wheels can also improve driving performance. But choosing tires and wheels for today's automobiles is a lot more complex than it used to be, given all the smart technology built into modern vehicles and the huge variety of tire types now available. If you want to purchase a new set of wheels, check these top 6 best wheels on the market.
6 Best Wheels to Buy in 2018
6. Pro Comp Steel Wheels Series 51 Wheel with Gloss Black Finish (15×8″/5×4.5″)


Pro Comp has the right steel wheels for your off-road adventures. Made with the best materials available, thicker welds, and extremely tight tolerances, these steel wheels are perfect for those who want a set of rims without the additional expense of alloys. These Pro Comp Steel Wheels series 51 wheels have gloss black finish, and the size is 15×8-inch. If you want a rough and ready steel rim that will get you wherever you want to go and back this beast is built just for you. They are specifically designed to handle off-road punishment with a top-of-the-line raw material, thicker welds, and fitments that maximize clearance. These wheels are made with Pro Comp's state-of-the-art production technology which enables them to offer these steel wheels at a reasonable price giving them the best value on the market. If you are looking for a hardy wheel that looks as good as it performs and doesn't break the bank, there's no reason not to order a set today.
5. Motegi Racing MR118 Matte Black Finish Wheel (18×8″/5×4.5″)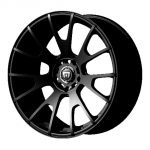 The race-bred wheels from Motegi Racing are designed to perform under the extreme conditions generated by enthusiastic driving of modern performance car. Through technical partnerships with leading professional racing teams, Motegi Racing wheels are inspired by the performance. Motegi Racing was conceived to develop the most advanced performance wheels through innovations in design and engineering. Through the development of high-quality wheels, they provide to demanding customers a product that delivers the ultimate performance in racetracks and street. The technology and design follow a true philosophy of pure performance, allowing the form of the wheel to follow the function necessary to succeed in different racing environments. The size of these matte black painted finish wheels is 18 inches x 8 inches.  Whatever your passion in performance automotive is, Motegi Racing is your partner in the pursuit of authentic performance. This product is backed by a lifetime structural and a one-year finish warranty against peeling or lifting of finish.
4. American Racing Custom Wheels AR172 Baja Satin Black Wheel (16×8″/5×114.3mm, 0mm offset)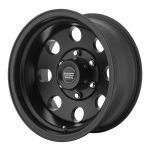 If you are looking for truly classic custom wheels, there is no place better to go than to American Racing, the company that invented the custom wheel! BAJA is the name for a reason, throw a set of the American Racing AR172 Baja wheels on your truck or SUV and hit the trails in style. These American Racing wheels are built to last out of cast aluminum. The rugged and aggressive look of these wheels is what your truck or SUV is missing. The BAJA AR172 wheels come in either satin black for those going for the murdered out look or a polished finish for a sharp look. Either way, you will not be disappointed with the look of theses wheels. These wheels come in a diameter range of 15 to 17 inches in various offsets with a 5, 6, or 8 bolt pattern. These wheels look fantastic and are of the highest quality!
3. Pro Comp Alloys Series 31 Wheel with Flat Black Finish (16×8″/6×139.7mm)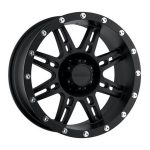 Whether you are customizing your rig for style or for attitude, Pro Comp Wheels has an alloy wheel for you. Pro Comp Alloys are designed using State-Of-The-Art Low-Pressure-Casting Technology providing unsurpassed wheel strength, style, and value. Pro Comp Alloy Wheels combine head turning style, light weight, durable finish in black, graphite, milled, chrome, polished and dual-tone finishes. These wheels allow for massive brake clearance for today's performance Jeeps, trucks, and SUVs. Pro Comp's line of alloy wheels includes styles that fit a hardcore off-roading rig to styles that fit a clean, classic street cruising vehicle. Pro Comp's alloy wheels feature chrome or a variety of black finishes/textures. They have high offset brake clearances so that drivers can accommodate larger, more aggressive off-road tires. The low-pressure-casting manufacturing process used to produce Pro Comp's wheels ensures superior wheel strength. Pro Comp Alloys also incorporate a high offset brake clearance for today's performance trucks and sport utility vehicles.
2. Helo HE835 Gloss Black Machined Wheel – (20×9″/6×5.5″)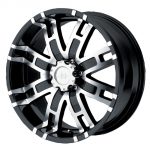 Add a custom touch to your ride with these Helo Series HE835 wheels. The incredible features of Helo Wheels are brought by advanced technology used to manufacture this awesome Custom Alloy Wheels. Helo Wheels HE835 in Gloss Black Finish is constructed with a premium 8 Spoke Design with Machined Lip Accents. These Rims by Helo Wheels provide a customized and modernized appearance to the vehicle. Its gloss black finish complements the looks and adds flair to the exterior. Helo Wheels HE835 Gloss Black Finish is available in 17, 18, 20 and 22 Inch Wheel Sizes. With this product, you also get a lifetime structural and a one-year finish warranty against peeling or lifting of finish. These are one of the best wheels available for sale on the market. We guarantee you will be pleased with the performance, excellent look and fair price of these superb wheels.
1. Helo HE878 Wheel with Satin Black Finish (17×9″/5×5″)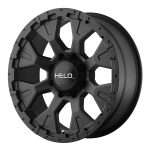 Helo Wheels adds great improvement to the appearance of any vehicle. They are designed and made by one of the most experienced cast wheel manufacturers in the market. This is reflected in how the design is adapted to make the most of the casting process, and in how the wheels are designed to minimize the risk of lip cracking or folding. These satin black wheels are not only stylish, but they are also durable and long lasting. The Helo brand offers excellent value in its diverse product line, with fitments suitable for passenger cars, light trucks and SUVs. Custom Street looks for stock, lowered or lifted trucks, and SUV's, as well as most passenger cars. Clean styling in both chrome and black painted finishes, Helo Wheels deliver the look and style you are after with the value you are looking for. These are high-quality custom wheels that can take the brunt of daily driving.
---
For certain drivers, aftermarket wheels aren't just an option, they're a necessity. One of the first things they do after buying a car is going out and buy a set of fresh rollers to match their new purchase. It's a grand notion, being able to drastically alter the way your car looks with little more than a new set of alloys and some high-grade rubber to wrap around them.
Wheels make the look. They take your vehicle from ordinary to custom in minutes. Tires make the ride. They put the fun back into driving, keep you glued to the road, or win races. Whether you're aiming for some lightweight wheels that offer maximum shine or going for a more heavy duty option to handle that off-road workload, it pays to know what type of wheel will best suit your needs. Discussing the quality of a wheel can be a difficult business, as different wheels are built for different purposes, whether for performance, for looks or for overall toughness. There are literally thousands of different wheel configurations to choose from in today's market, so if you haven't found the right wheel yet, read this article and find wheels that suit your needs.