5 Best Fire Extinguishers in 2018
One of the most important items for any shop, and one that gets overlooked far too often, is a fire extinguisher because you need to have the best fire extinguisher you can get. According to the occupational safety and health policies of most countries, fire extinguishers are essential accessories that most buildings, premises, and establishments are required to have. They are also very essential when it comes to putting out car and boat fires. A warning which applies to all fire extinguishers is to store them in a cool, dry location. However, with so many of these extinguishers on the market, it might be hard to select the best. When purchasing your extinguisher, always go for an efficient, lightweight, compact and durable product that is easy and safe to use and store. Most people prefer rechargeable ones as they are more cost effective. Below are top 5 best fire extinguishers available for sale on the market today.
Best Fire Extinguishers to Buy in 2018
5. Kidde 466204 Pro 10 MP Fire Extinguisher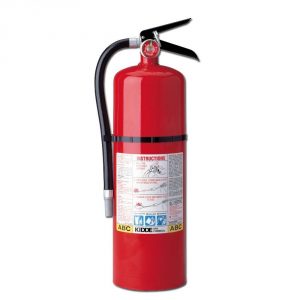 The Kidde Pro 10MP is part of the Proline Series and is a rechargeable steel cylinder ABC multipurpose fire extinguisher.  It has an easy-to-read pressure gauge and is great for the home and industry.  The Pro 10MP is a dry chemical fire extinguisher containing monoammonium phosphate which handles all three classes of fire; Class A for trash, wood and paper, Class B for liquids and gases, and Class C for energized electrical equipment.  It has a discharge time of 19 to 21 seconds, a discharge range of 20 feet, and an operating pressure of 195 psi. This product features clear instruction labels, showing the steps required to operate the fire extinguisher, as well as an easy-to-pull safety pin. The impact-resistant metal valve, handle, and lever, as well as the powder coated cylinder for corrosion protection allow for long-lasting durability. A UL-approved wall hanger will ensure easy placement in any part of the office or building. This product is backed by a six-year limited warranty.
Technical Details:
Part Number:   408-466204
Item Weight:   16 pounds
Product Dimensions:   5.2 x 8.3 x 21.6 inches
4. 
Kidde 466112 ABC Pro Multi-Purpose Dry Chemical Fire Extinguisher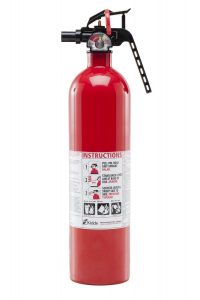 The Kidde 466112 ABC Pro Multi-Purpose Dry Chemical Fire Extinguisher, and it is designed to fight basic fires common to the home, including those involving fabrics, plastics, wood, flammable liquids, and electrical equipment. It is fitted with an easy-to-read pressure gauge that tells you the fire extinguisher is charged. This Kidde Fire Extinguisher is durable and easy to use. The fire extinguisher is warranted for six years, and its metal pressure gauge helps ensure that the fire extinguisher is charged and ready for use. This extinguisher is durable and corrosion resistant, featuring a rust- and impact-resistant nylon handle and a light but durable aluminum cylinder. The sure-grip handle and operating lever make the extinguisher less likely to slip from wet or oily hands and easier to operate for people with arthritis or weakness of the fingers. A large bilingual nameplate on the extinguisher provides easy-to-read instructions for use during a fire.
Technical Details:
Part Number:   466112
Item Weight:   8.12 pounds
Product Dimensions:   4.5 x 6 x 17 inches
3. Kidde 466180 Pro 5 Carbon Dioxide Fire Extinguisher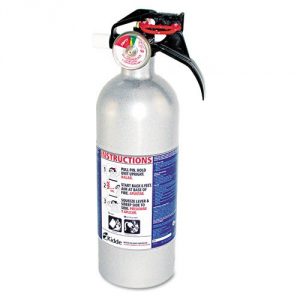 Kidde 466180 Pro 5 Carbon Dioxide Automobile Fire Extinguisher is the top of its class, when it comes to automobile safety. This fire extinguisher is a lightweight one, weighing only 2.9 pounds. The dimensions of 10.9 x 3.2 x 3.2 inches allow this fire extinguisher to be kept in the car without taking up too much space. This fire extinguisher comes in a great small size that the car owner is bound to love. With such proportions, the extinguisher becomes easily portable due to its lightweight characteristics. The Kidde 466180 has also proven its worth when put to test by various vehicle owners. The extinguisher may be small, but it has a blast that ensures any small fires are handled within no time before they escalate into the large ones. This extinguisher also comes with mounting brackets that would ensure it is well secured in your car, at your place of convenience. It is advisable to put fire extinguishers in spots where they can be easily accessed and spotted.
Technical Details:
Part Number:   408-466180
Item Weight:   6.8 pounds
Product Dimensions:    0 x 0.2 x 0.8 inches
2. Kidde 21005779 Pro 210 Fire Extinguisher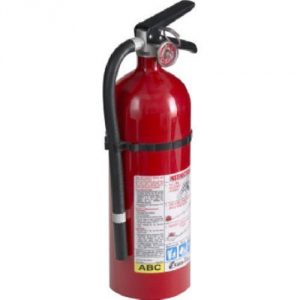 A large fire extinguisher such as this 7 pound model gives you protection for a larger area, or against bigger fires which are likely in a garage or workshop. The Kidde Pro 210 is designed for private and commercial settings of that nature. It is rated for electrical, chemical and ordinary combustibles, so you are protected against anything. Some fire extinguishers are only rated for things like wood or paper, and may even pose a danger when used on chemical fires, but the Kidde Pro, with 4 lbs. of dry fire retardant, is useful against almost any fire you may experience. This top rated model comes with a wall hanger to help you mount it securely in a safe location. Assembled in Mexico from globally sourced components, it's backed by a six-year limited warranty. This item is certainly one of the best fire extinguishers available on the market.
Product information:
Style Name:   1 Pack
Product Dimensions:   4.5 x 4.5 x 15.7 inches
Item Weight:   7 pounds
Shipping Weight:   7.25 pounds
1. Amerex B500, 5lb ABC Dry Chemical Class A B C Fire Extinguisher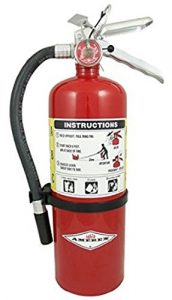 The best fire extinguisher in our review is Amerex B500. It is long-lasting and reliable extinguisher, with a perfect size for general home use. It will work on all kinds of fires: trash, wood, and paper; flammable liquids; and electrical blazes. It weighs 10 pounds, has 5 pounds of powder, and has a 2A, 10B-C rating. The Amerex B500 has all-metal valves and comes with a wall mount and a pressure gauge. Reviewers like that unlike many home fire extinguishers, this one is refillable. They also say that its 14-second discharge is enough to put out substantial household blazes, but at about 15 inches tall, the canister is still small enough to fit in a cabinet or in other tight storage spaces. The metal handle and trigger also earn a lot of praise for sturdiness and durability compared to cheaper plastic versions. It comes with a six-year warranty. We highly recommend buying this excellent product. We guarantee that you will be pleased with your purchase.
Technical Details:
Part Number:   90-500
Item Weight:   10 pounds
Item model number:   90-500
Size:   1
---
A fire extinguisher is basically a handheld device made up of a high-pressure can and a hose. It is used to extinguish small manageable fires before they escalate into something bigger, and that would lead to massive losses or fatalities. Having the most up-to-date fire extinguisher is vital to protect yourself and your family. Installation of fire extinguishers has become a safety measure that is required by law in most countries if not in all. It is important to find the right fire extinguisher in whatever situation, from house fires to automobiles fires. Being equipped with a fire extinguisher is the next step in protecting yourself and your loved ones.
The increasing number of reports relating to car fires has tremendously increased. This has necessitated the designing of fire extinguishers that would be perfect for cars. These fire extinguishers offer a variety of feature that makes them stand out, and best fit for handling fires related to motor vehicles. We are talking about a fire extinguisher that is capable of handling fires that are oil, grease, gasoline or electricity-based efficiently. These extinguishers are as well very portable with some providing a mounting bracket to be used when installing the unit in your vehicle.