5 Best Cassette Adapter To Buy in 2018
If you like traveling with music, you need to take plenty of CDs. Music makes a long car trip go by quick, but radio stations do not always play your favorites. Choosing the needed disc while you drive is not safe and carrying a large number of discs can be uncomfortable. Carrying personal media devices such as smartphones, IPhone, iPod, MP3 Players is a great way to take your music with you. If you have a cassette deck in your car, a cassette adapter is an excellent way to connect your favorite music to your automobile. With this tool, you can enjoy your music and share it with the whole car for the entire trip. We have collected 5 best cassette adapter to buy of different price range:
5 Best Cassette Adapter To Buy in 2018
5. BESDATA Universal Car Cassette Player Adapter with 3.5mm Male Jack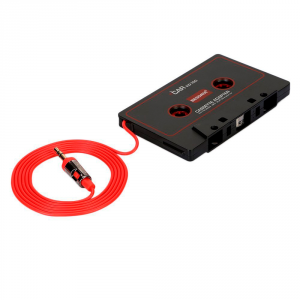 With the Besdata universal car cassette player adapter, all of the music stored on your iPod, iPhone, Android phone, or MP3 player is just a click away. Simply connect the cable into your player's headphone jack, pop the cassette adaptor into your car's cassette player and all of your music is now playing through car's audio system. The cable of this adapter is really long, so even if you have a big car and have to put the phone in the back, you will still have some extra cable space. This tape is great, very cheap and gives great sound quality. At well under 10 dollars, it is a great buy.
Technical Details:
Brand:   Besdata
Model:   FBA_KD100
Item Weight:   2.4 ounces
Product Dimensions:   4.4 x 4.4 x 0.8 inches
4. Monster MBL AI 800 CAS-ADPT WW Cassette Adapter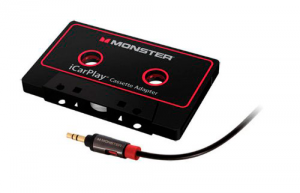 This is a fairly simple device that takes audio signals from your iPod/iPhone/Music device and allows a cassette player to read those signals. The sound quality is great for car audio, the same as you would get from a CD or otherwise. Since cassette decks in cars are not always laid out in the same manner, Monster AI 800 cable can be moved from one end of the cassette to the other. This allows for hassle-free operation, no matter how your car's cassette deck is laid out. The cord is a decent length and a high-quality sounding makes this product a great purchase.
Technical Details:
Brand:  Monster
Item Weight:   4 ounces
Product Dimensions:  5.1 x 1.4 x 7.1 inches
3. 
Reshow Travel Cassette Adapter for Cars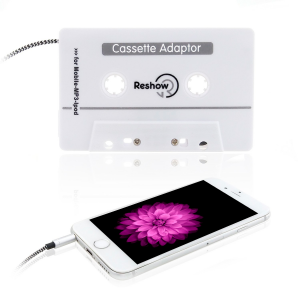 With Reshow Car Cassette Player Adapter you will be able to play your favorite music right from your cell phone or any other media device. You do not have to spend money to replace your car's cassette deck. It will be more convenient to change audio track, just click the change button of your player, no longer to change tapes. This cassette adapter's size just the same as the traditional tapes. Premium material of digital magnetic head makes it better sound quality and be more durable. It is an inexpensive product with a simple and stylish design that would be a great addition to your car. It works great and has a clear sound.
Technical Details:
Brand Name:   Reshow
Item Weight:   2.08 ounces
Package Dimensions:   6.7 x 4 x 0.8 inches
2. NETWIND Retro Highway Audio Car Cassette Tape Adapter for Travel Cassette Converter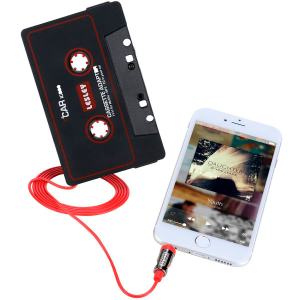 Keep your tape player in your car and connect our adaptor to any 3.5mm headphone jack to listen to digital music. With this cassette adapter, you don't need to take too many tapes in your car. It will allow you to listen from your CD or MP3 player with the use of an integrated aux cord. Pocket-friendly size, portable, lightweight and easy to use, gives you more fun on driving. You will be pleasantly surprised that the sound quality is excellent in this price range. Now whether you are going down the block or cross-country, you will have plenty of music for the whole trip with this car audio cassette adapter.
Technical Details:
Brand Name:   NETWIND
Item Weight:   2.08 ounces
Package Dimensions:   6.3 x 5 x 1.2 inches
1. Insten Car Cassette Tape Deck Adapter Compatible with 3.5mm Jack Audio MP3/CD Player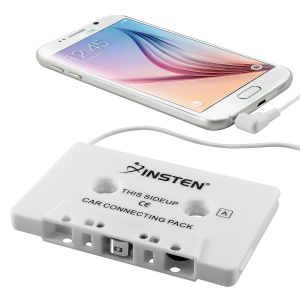 The number 1 in our list is Insten universal car audio cassette adapter. This is a simple and great cassette adapter which is used for the main purpose of listening to music from all types of electronic devices. If you own this cassette adapter you don't have to carry tapes anymore. It will help you expand your driving pleasure. The auxiliary cord is around 3 feet long, which makes it more than long enough to place your smartphone or music player anywhere you want. It has also a silent mechanism that reduces mechanical noise on the road. This is the best cassette adapter to buy with great sounding which makes the drive more enjoyable and comfortable. We highly recommend buying this product. You will be pleasantly surprised with the superior quality sound you get.
Technical Details:
Brand Name:  Insten
Item Weight:  1.6 ounces
Package Dimensions:  7.5 x 4.4 x 0.6 inches
---

If you have an old car that has only a cassette deck, but you want to listen to music from your smartphone or mp3 player, you have 2 choices. The first one is to renew your car stereo head unit which is quite costly. The second choice is to buy an inexpensive cassette adapter with aux cord. Purchase a car audio cassette adapter which is a thing that can help you to enjoy your music with your old car. All car audio cassette adapters in this review are made by a premium material of digital magnetic head for better sound quality which makes them more durable. This tool is really easy to use, and it absolutely gives you more fun on your driving. These cassette adapter kits are inexpensive, they worth less than 20$. Consider buying this simple tool and you will enjoy your favorite music whenever and wherever you want.
Choose one of 5 best car audio cassette adapters which you can consider to be yours. Find one that is durable, reliable and has a good sounding. Follow our recommendations and you will be satisfied with your choice.