How to Purchase Salvage Cars with Limited Risk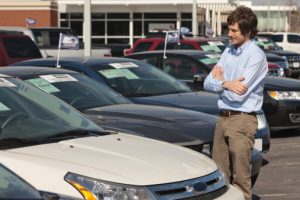 When you know how to buy salvage cars you can save thousands of dollars on your automobile purchase. Without the right foreknowledge however, this is pretty risky business. In order to maximize your spending dollars there are several things you should know about purchasing a vehicle in this fashion.
Because you are opting to shop through salvaged title cars, it is important to remember to be entirely flexible on what you are looking. Many times consumers find their ideal vehicle, but discover a less than stellar history that makes purchasing an unwise investment. Try not to look so much for specific makes, models or colors, but for cars that have a history that you can work with financially when it comes time for maintenance and restoration.
With a vehicle history report you can identify exactly why the car has been salvaged. These are inexpensive and super important in helping ensure that you get a fair deal. In some accidents, when there is no real bodily injury to the driver, the insurance company will total it out more quickly than otherwise.
These salvaged cars are likely to have evidence of body damage and might well need extensive repairs, but it is often the case that restoration is not so costly as to entirely offset the earned savings. In these instances, you can get a pretty good car that needs some repair, and have a better chance of locating one with problems that can be fixed easily and cheaply.
Flood cars however are different. While they may appear to be in top notch condition, the evidence of flood water exposure may begin to show itself in no time at all. When the weather warms you may notice evidence of damp mold and mildew and with time there may be significant rust issues. Electrical connection may also suffer from latent water damage with time, which can often make buying these cars a nightmare. If you have your eye on a car but know from its history that it has been exposed to flooding, the best thing to do is to contact a local, trusted mechanic who can inspect the car and offer informed advice.
One of the best types of salvaged cars to purchase are those whose owner failed to pay the registration or maintain proper licensing. These cars are seized vehicles and because they have not been totaled out they are the most likely to not need extensive repairs. If you invest in these however it is still good to do a bit of maintenance and detail work before putting it out on the road. If an owner has been too strapped to register the car it is likely that they have not had enough money for regular oil changes and fluid checks as well.
In many cases however, you will have to pay the local fees for registration, this however, depends upon the dealer that you purchase it from. Many reputable dealers of salvage cars restore the title and incorporate this expense into the price. For many reasons, this is often the best way to go when purchasing a car with a salvaged title.