Jeep Renegade Lift Kit Review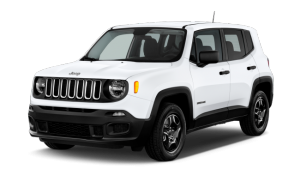 The original Jeep Renegade came more than three years ago. Since then, we haven't seen bigger changes. This is still a good-looking small crossover designed for the urban jungle. Developed along with Fiat, this is the smallest model in Jeep's lineup. This manufacturer has always been known for great SUV and crossover models, but this one acts much better on the road. It has a lot in common with Fiat 500X, featuring same platform, mechanics, engines, etc. Depending on the market, there are several engines in the offer for this crossover. Still, the most common units are Fiat's 1.4-liter turbo inline-four with around 160 horses and Chrysler's familiar 2.4-liter unit which is good for about 180 horses. While small Italian engine comes paired with a 6-speed manual transmission, the larger 2.4-liter unit delivers its power through a 9-speed automatic gearbox. Another interesting thing about this model is a wide offer of different trim levels and variants. These versions are different not just in terms of standard equipment, but in other aspects such as styling, mechanics etc. Still, the suspension is pretty much the same on all models, so the product we are going to talk about can be used even as Jeep Renegade Trailhawk lift kit.
 Perfect Lift Kit for Jeep Renegade
 This product from TeraFlex came quickly after the launch of the original model, as 2015 Jeep Renegade lift kit. It features excellent quality and comes with following characteristics:
Product Information: 
Brand: TeraFlex
Item Weight:  20 pounds
Package Dimensions:  14 x 14 x 7 inches
Item Model Number:  1351200
Manufacturer Part Number:  1351200
Folding: No 
Despite numerous parts that this kit includes, installation is actually pretty simple. Without much effort, you'll quickly transform this small city crossover into a pretty capable off-roader. With higher ground clearance, your Renegade will be ready for much bigger challenges. It fits all Renegade models from 2015, as well as the new second-generation Compass that came last year. 
Features of the TeraFlex 1351200 Lift Kit
 This Jeep Renegade lift kit comes with all necessary parts that will make this tiny crossover a capable off-roader. Designed and manufactured in the United States, this product offers components of excellent quality, which promises great improvement of performances, as well as long-term use. Considering that the recently-launched new-generation Jeep Compass share many parts with Renegade, this kit could be used for this model as well.
As we've already mentioned, this package consists of hi-quality components. It is designed to make your crossover more capable. The package includes things like 1.5" offset front IFS strut spacers, front sway bar quick disconnects, rear strut spacers, rear subframe spacers and several other components. Complete hardware passes 1,000-hour salt spray corrosion test, which promises great durability. Considering that there are several trim levels in the offer, it's not wondering that some versions feature different wheels size. Fortunately, this kit covers a pretty wide range of sizes, up to 17-inch wheels with 225/65 tires.
This is a specially-designed lift kit for Jeep Renegade but perfectly fits new Jeep Compass as well.
Despite this off-road adjustment, which will make your Renegade of Compass far more capable, the great thing about this lift kit is that it doesn't compromise with the on-road capabilities. Your vehicle will become more capable, but on-road driving dynamics and performances won't be sacrificed.
Purchase and Installation
By purchasing this lift kit, you'll make this crossover more capable. With its small dimensions and modest ground clearance, this model has always been considered as an urban crossover. Still, with only minor modifications, you can make a serious off-roader of it. This kit seems pretty convenient. It is a perfect solution to lift this crossover. Moreover, the product fits the new-generation Compass as well.
Another great thing about this product is easy instalment. According to the manufacturer, it takes only five hours, which sounds pretty quick considering all the parts that are included in this kit.
Buy the Best Lift Kit
Go for this Jeep Renegade lift kit by TeraFlex, which offers great quality for a reasonable price.