7 Best Car Battery Charger Review
If there is one thing a car owner fears more than having an accident, that would be getting stuck with an empty battery. How many times has it happened to you or one of your friends? Even the most careful drivers can forget the lights on when leaving for a "quick" grocery trip, or have kids who ended up staying in the car playing music, or get stuck in a bad weather situation – there are so many reasons why batteries go empty, but there's only one solution to prevent it from ruining your day.
The solution is a portable car battery charger that can quickly boost your vehicle juice and let you drive wherever it is you needed to be. So let's see what options you have to choose from various battery chargers for cars available on the market.
Here's the 7 Best Car Battery Chargers To Buy in 2018
#7 Stanley JC509 1000 Peak Amp Jump Starter with Compressor
Stanley portable battery charger for car offers a powerful (500 amps) start to revive the car battery from whatever condition. The absolute maximum is 1000 amps which is more than enough for any dead battery situation. All you need to do is simply hook (there's a convenient light on the Stanley battery charger to help you see in the dark) the charger and then start your car – and you are good to go!
Nobody wants to carry around dead weight and we don't expect battery troubles to happen often. That's why thinking about usability, the manufacturer also included USD ports that you can use as power bank to charge your phone or other devices.
The product is also available without compressor is you are looking for a cheap car battery charger, since this will bring the price down considerably.
Technical Details:
Brand:   STANLEY
Model:   J5C09
Item Weight:   18 pounds
Product Dimensions:   11.2 x 8 x 13.5 inches
#6 Schumacher SE-5212A 2/10/50 Amp Automatic Handheld Battery Charger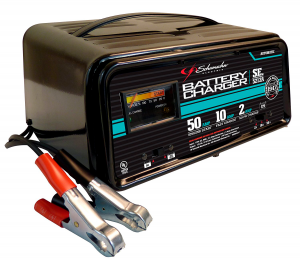 Schumacher portable battery charger for car is a quite modern device that offers three charging modes from maintaining (just 3 Amp) to charging (6 Amp) and jump-start charging (the maximum power of 12 Amp). Its digital system will automatically go from the maximum charging to a lower maintaining mode to keep the battery going. It will also adjust to the kind of battery you are trying to charge.
The safety is assured by an automatic system that will not let the charger kick in if it's hooked up wrong (the connections are reversed). While the convenience to the user is assured by a digital display showing all the necessary stats: battery charge progress, power used and etc.
Technical Details:
Brand:   Schumacher
Item Weight:   10.5 pounds
Product Dimensions:   5.2 x 10.5 x 8.2 inches
#5 Schumacher SC-1200A-CA SpeedCharge 12Amp 6/12V Fully Automatic Battery Charger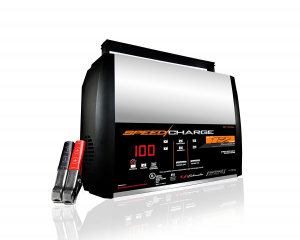 This Schumacher battery charger can quickly revive your battery with a 50 Amp mode or charge it to 100% in up to 5 hours of operation. It might seem like a long time (especially that a 2 Amp mode can take up to 12 hours to feed a 12 volt battery), but taking into account it's tiny size – Schumacher Handheld battery charger is totally a win for portable solutions.
Schumacher portable battery charger for car is made to prevent overcharging by means that it automatically turns into an uphold mode when the car battery is fully charged. All the functional information is lighted with LED lights.
The design of a heavy weight metal charging box will especially appeal to those who are planning to use this device on a ranch. Overall, it's a nice heavy-duty helper with a light portable size.
Technical Details:
Brand:   Schumacher
Item Weight:   1 pounds
Product Dimensions:   4 x 3 x 12 inches
#4 Black & Decker BC15BD 15 Amp Bench Battery Charger with Engine Start Timer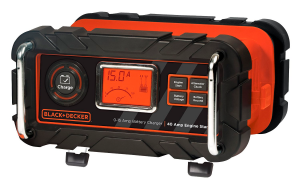 Black & Decker cheap car battery charger is a powerful tool that can charge most of the car batteries in less than 8 minutes. Its automatic system can determine the size and type of the vehicle battery so you don't have to worry about compatibility or settings.
This Black & Decker portable car battery charger also cares for checking your alternator to make sure the car doesn't go dead soon after you charge the battery.
It is easy to use: connect two cords and press a charge button. The screen will tell you if you connected the cables wrong and what is the charging percentage.
Technical Details:
Brand:   BLACK+DECKER
Model:   BC15BD
Item Weight:   6.95 pounds
Product Dimensions:   12.4 x 5.8 x 9.9 inches
#3 Beatit 800A Peak 18000mAh 12V Portable Car Jump Starter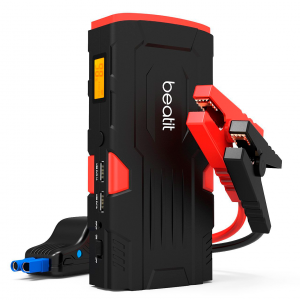 Beatit portable car battery charger is one of the most heavy-duty propositions on the market – its capacity is 18000mAh and it can shoot 400 to awake your vehicle. This is more than enough to satisfy the needs of big 3 liter car engines.
Snan battery chargers for cars have in-built technology that determines optimum voltage and mode needed for your battery. This is extremely important to prologue the life cycle of your electric appliances.
Additional handy features include two USB ports, flashlight, handy stand to use outside of the car, various adapters for different input ports and SOS signal option.
Technical Details:
Brand:   Beatit
Item Weight:   1.19 pounds
Product Dimensions:   7.2 x 3.4 x 1.5 inches
#2 NOCO Genius G750 6V/12V .75A UltraSafe Smart Battery Charger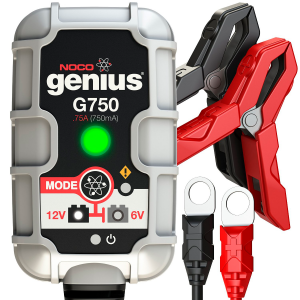 Noco portable car battery charger can be used not only for cars, but also for motorcycles, boats and lawn mowers. It can charge pretty much any kinds of batteries used in modern devices or vehicles adjusting to their kind and size automatically.
It is one of the quickest chargers on the market, but can be sensitive to power outage problems if you plan to use it regularly around household. The unit is made of high quality materials that can handle a lot of travelling.
Last but not least, Noco portable battery charger for car can really be called portable, since it is very lightweight and small in size.
Technical Details:
Brand:   NOCO
Model:   Genius Battery Charger – 750mA
Item Weight:   1.26 pounds
Product Dimensions:   10.5 x 10 x 4 inches
#1 BEATIT TECH 600A Peak 14000mAh 12-Volt Portable Car Jump starter Booster Battery Charger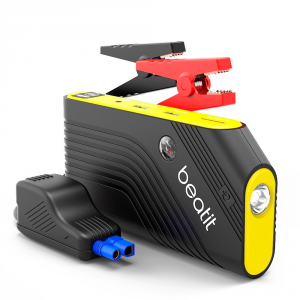 Beatit portable car battery charger is another strong representative in this category, putting out 14000 mAh with 600 Peak Amp might. It is small yet carries enough power to completely recharge a motorhome battery, not talking about car or motorcycle ones.
It takes about 30 minutes to jump start a regular car and about an hour for a pick-up truck. And if you are simply storing it for emergency situation, why not use it to charge a phone or an iPad? There are a couple of USB ports available for that.
Technical Details:
Brand:   Beatit
Item Weight:   2 pounds
Package Dimensions:   10 x 6 x 4 inches
---
Considering the reviews this unit got, it might as well be considered a cheap car battery charger, since you get three products (starter, charger, emergency led light) in one tiny box.
Having to hear the dead battery sound isn't the end of the world (unless you are at the end of the world where nobody can find you for the next couple of days). But it is such a frustrating experience that it always pays off to have a battery charger handy. Choose any of these products available online or in stores and you will be always prepared for whatever life hits you with!